The Excellence Center (EC) in Hebron, Palestine is seeking persons who are able to write critically and clearly about the many different activities occurring at the EC. The activities may include daily events taking place at the EC, the educational system in Palestine, volunteering in Palestine, studying Arabic, and community events, among many others activities.
You can join The Center throughout the year at a time that suits you. The Center will work with you so that you can choose when you would like to start and end your exciting volunteering time in Palestine.
The Center also offers flexible schedules that run from one one to three months (1 to 3 months).
Volunteers should be able to meet the following obligations and duties:
Collect information and necessary materials from EC staff, students, international volunteers, interns, and EC students and others in order to facilitate the writing of articles.
Submit two articles per day subject to critique and acceptance by EC staff. Articles may be required to be revised to achieve final approval.
Articles should be between

500 – 1000

words. (one to two pages)
Articles will be written to inform international readers about life in Palestine and opportunities in living here; therefore, writers should have a writing voice that is both engaging, direct, and clear.
Requirements for Writers:
Writers should have experience in writing or a strong motivation to write about Palestine
English fluency in speaking, writing, listening, and reading is required, and any other language fluency is an added plus.
You must be between 22 – 70 years old in order to apply. The Excellence Center welcomes all nationalities!
Writers for the Excellence Center will:
Live in Hebron with a Palestinian host family if desired;
Visit Palestinian local universities, and other institutions and organizations specializing in culture and education.
Learn spoken Arabic from native speakers and communicate on a daily basis with native speakers. Arabic lessons are three hours per week.
Attend cultural evenings that feature entertainments and activities;
Volunteer Program registration fee:
Excellence Center will charge a registration fee of $200 a month (US).
The EC will offer pre-departure support, accommodation with a local host family, some meals, and assistance and coordination while residing in Palestine, three hours a week of Arabic lessons, and some visits to various sites within the city of Hebron.
The Excellence Center accepts applications year round for this program.
Traveling to Palestine on your own?
No worries, you've come to the right place!
You will easily meet many Palestinian university and school students as well as community members with a variety of interests. Especially in Hebron, Palestinian people love to meet new people from different cultures and exchange ideas and experiences.
Moreover, the Excellence Center hosts many international visitors from all over the world who will be studying, volunteering, visiting or interning at center. Of course you will engage with them in some educational and community activities that the Center organizes.
Everyone at the Excellence Center – Palestinian students, international visitors and staff – are like one family and there are always activities to do together. Hebron is a good place for international visitors to stay at and offers a great social atmosphere.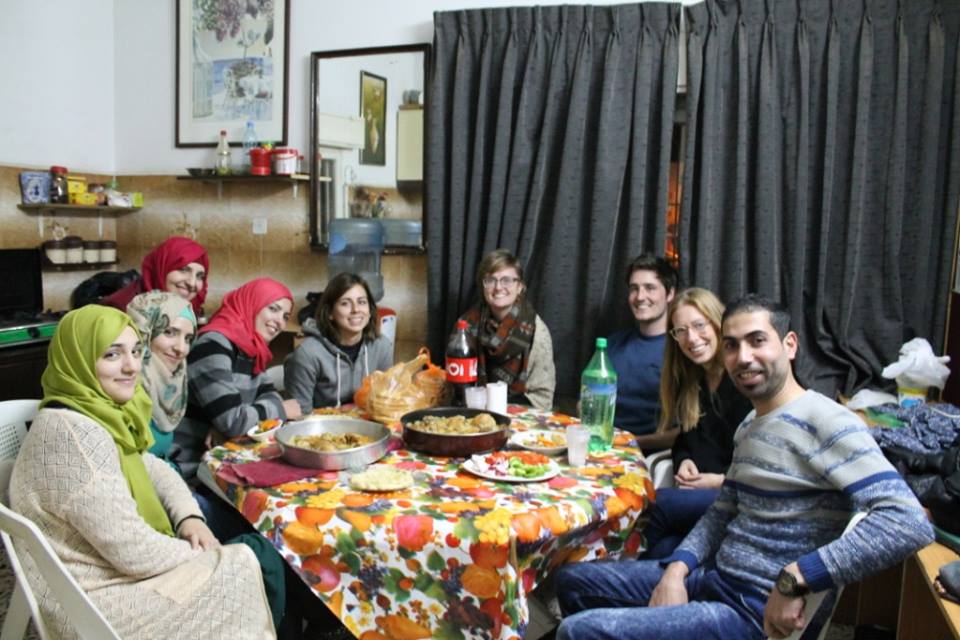 Will I be the only volunteer in Hebron?
Every month the Excellence Center has new internationals coming to Hebron and the Center to participate in the various different programs offered by the Center.  So, you will not be the only one!  The internationals who come to us often organize and plan various different gatherings and trips together.  For example, they have gone to Tel Aviv, Jerusalem, "couch surfing" in the Galilee, and other similar activities.  You will have good company!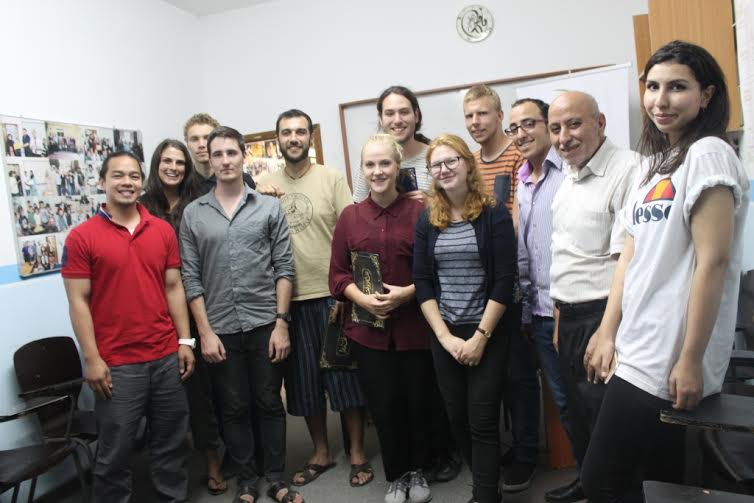 Arriving in Palestine:
The easiest way to get to the Excellence Center in Hebron, Palestine, is to fly to Ben Gurion (Tel Aviv) Airport.  From the airport to Jerusalem and onto Hebron it takes about two and one-half hours by shared taxi and/or bus.  One can also fly into Amman, Jordan and then continue by land directly into the West Bank; however, be advised that it takes considerable more time to use this route, and may be more expensive as well.
Visa:
 Upon arrival at Ben Gurion Airport you will be granted a tourist visa valid for 90 days. There is no need to obtain a visa prior to leaving home.
Enrollment in the Program:
Upon your enrollment as a volunteer writer, further travel instructions will be emailed to you.
Applying:
To obtain an application, please email Rafat@excellencenter.org, Volunteer Writing Article in Palestine as subject line. We will email you the application form.
If you have further questions, please email at  Rafat@excellencenter.org
Whatsapp:+972599479880
Additionally, please visit our website at: http://excellencenter.org/
Visit our Facebook page at:  https://www.facebook.com/ExcellenceCenter
And our account page at:  https://www.facebook.com/RafatECHebron
Watch our videos on YouTube at :https://www.youtube.com/channel/UCsQSLdFZWZcBm6Uj0XMYuKg
For more information visit:  https://www.facebook.com/ExplorePalestine
We look forward to seeing you in Palestine!