The Excellence Center (EC) in Palestine provides Arabic Language courses for internationals who would like to come and live the daily life of Palestinian in the city of Herbon, Palestine. Our programs are suitable for all levels of Arabic language learners. Students can choose regional or standards (Classical) Arabic according to their needs.

Please click here to watch a short film about Study Arabic in Palestine program.
The program combines studying Arabic and fully engaging yourself in Palestinian culture and history. The Program offers the choice of learning Modern Standard Arabic or the Palestinian dialect, or a combination of the two. Each student can freely choose what he or she prefers to learn. The Center will provide all the books and all learning materials. 

The Arabic studies' program is one of the programs at Excellence Center that offers international students the opportunity to combine the study of the Arabic language with living the Palestinian daily life.

Targeted group
Maybe you are coming directly from the university and want to improve your theoretically acquired language skills or are planning to conduct fieldwork? Are you preparing to conduct business in the area or even planning to live here? Is your family from Palestine but your stay abroad has alienated you from the Arabic language and Palestinian culture a bit? Or are you just fascinated by learning new languages in different countries – and don't have knowledge of Arabic yet?

Whatever your motivation or level of Arabic we offer the right courses and group constellations for you. It's difficult for you to study in big groups?  You have the choice of studying Arabic in a group of (4), (5) or on a one-on-one independent study basis. We are looking forward to having you in our class!

Why Arabic at Excellence Center in Hebron Palestine?
– The hospitality of Palestinians and the pleasant climate poses a great attraction to overseas students.
– The program is one that will give you the opportunity to acquire an impression of events in one of the most politically ambivalent regions of the world.
– The program provides you with a chance to visit unique tourist attractions with a non-touristic perspective including: Bethlehem, Rammallah, Nablus, Jerusalem, Jenin and the Dead Sea in Jericho
– The program intensively offers both standard Arabic and Palestinian Arabic using up-to-date teaching techniques.
– Our Center is well-qualified, all of our teachers have an excellent educational background and will be happy to assist you.
– Besides developing your Arabic language skills, students can experience various aspects of Palestinian culture through living with a host family, field trips, as well as the Excellence Center's activities that will be organized during your stay.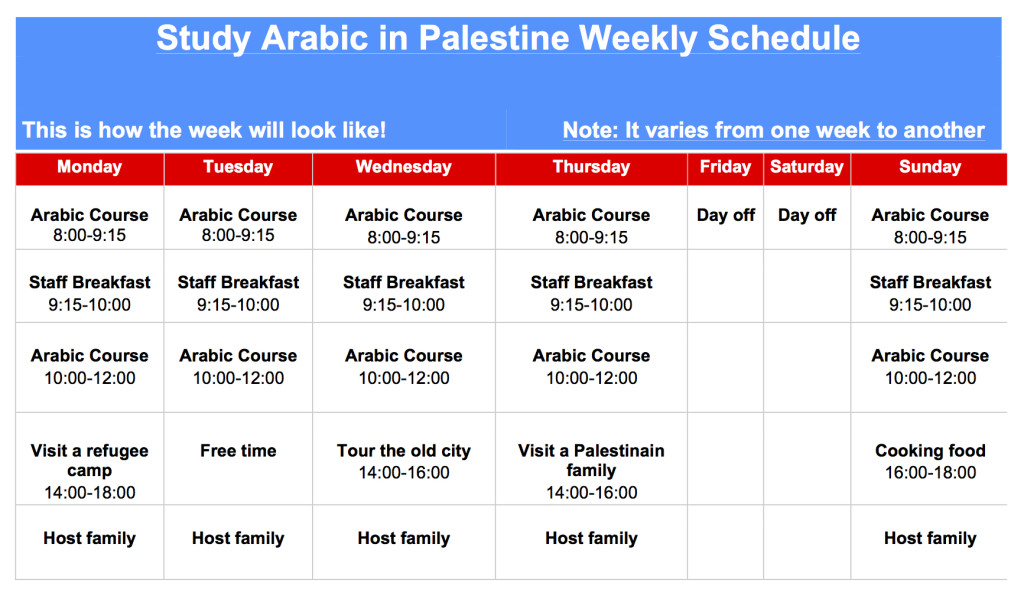 – Excellence Center will issue participants a certificate upon completion.
– Different immersion activities are offered to help students obtain a better understanding of our culture including:
-Home stays with a Palestinian host family
-Palestinian language partners
-Engagement with Palestinian youth in cultural and educational activities.
-Field trips

As an international student learning Arabic, you will have the opportunity to meet Palestinian university students, members of the Hebron community, and local actors.

The Excellence Center offers a curriculum and books for all levels including
– Starter Courses: the main target group in this course are Arabic learners who do not have any prior knowledge of the Arabic language and would like to start learning the alphabet. This course will allow students to gain proficiency in reading and writing Arabic as well as conducting small talk.
– Beginner Arabic Course: These kind of courses have been designed for participants who have basic knowledge of Arabic and would like to develop their speaking, writing, reading, and listening skills.
– Intermediate Arabic Courses: Typically, this course provides students the opportunity to converse in Arabic with Arabic natives speakers to improve their conversational skills. Moreover, we focus on the improvement of students' reading, writing and listening skills.
– Advanced Arabic Courses: Students concentrate on refining their speaking and writing skills on this level.

Traveling to Palestine on your own?
No worries, you've come to the right place!
You will easily meet many Palestinian university and school students as well as community members with a variety of interests. Especially in Hebron, Palestinian people love to meet new people from different cultures and exchange ideas and experiences.
Moreover, the Excellence Center hosts many international visitors from all over the world who will be studying, volunteering, visiting or interning at center. Of course you will engage with them in some educational and community activities that the Center organizes.
Everyone at the Excellence Center – Palestinian students, international visitors and staff – are like one family and there are always activities to do together. Hebron is a good place for international visitors to stay at and offers a great social atmosphere.

Staying with a Host Family
 Excellence Center offers international students a stay with a Palestinian host family to practice their Arabic skills, learn more about the Palestinian culture and to experience daily Palestinian life. 

Travelling to Palestine
The Excellence Center will organize calls with you via Skype, write invitation letters, send travel instructions, and offer you advice on different topics related to your travels.
When the Courses Take Place
You have the choice between studying Arabic in our Palestine Intensive Program which takes place at the 1st day of each month.  You have the choice to participate on any of these dates. The second program is offered year round on an individual basis, Please click here for more information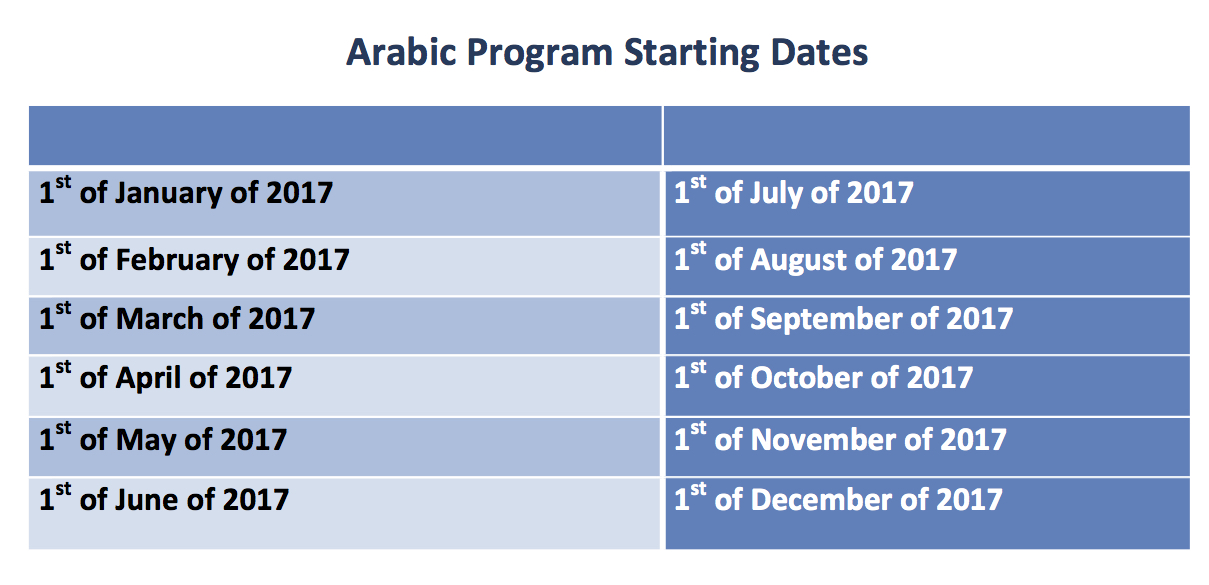 The Study Arabic in Palestine monthly Cost and number of hours: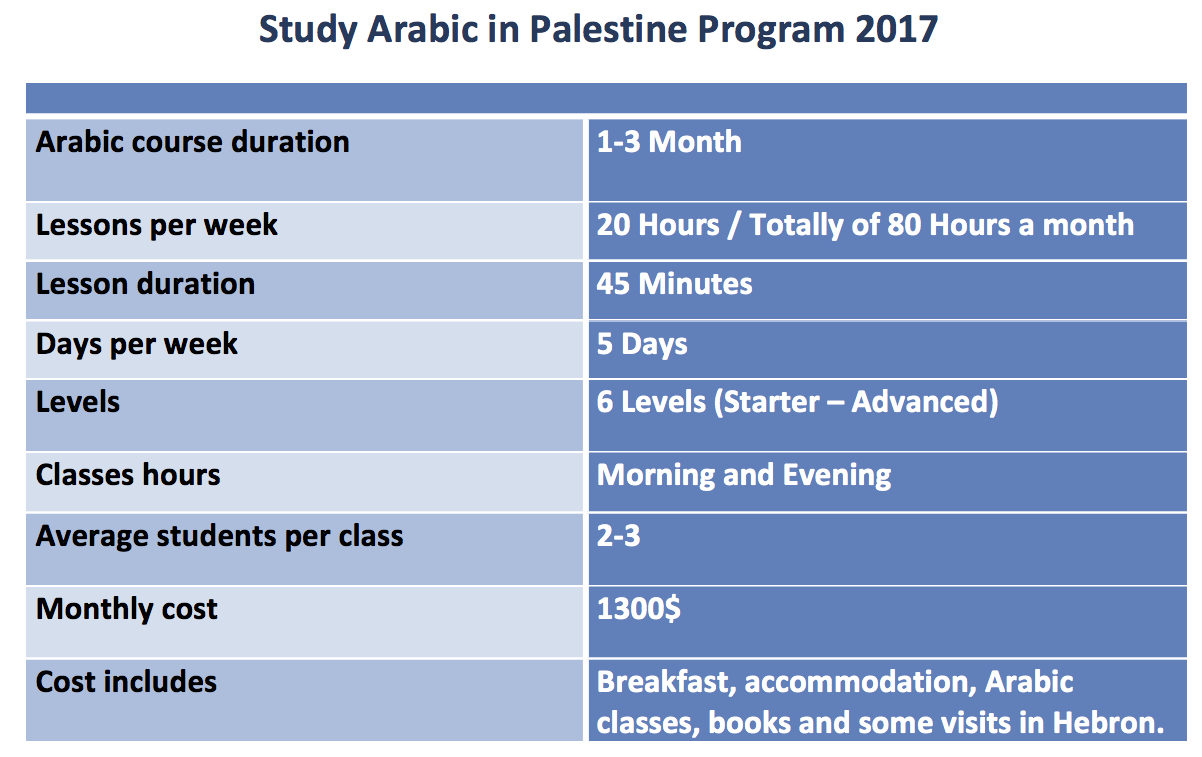 – The cost will include breakfast, the accommodation, Arabic classes, as well as some visits to different institutions in the city of Hebron. Some examples include the old city of Hebron, glass and ceramic factories, local companies, refugee camps and public parks as well as local universities such as the Palestine Polytechnic University and Hebron University.
Levels and Duration
Students with previous knowledge of Arabic are expected to take a placement test after their application to assess their level of Arabic. Students with no knowledge of Arabic will take a starter Arabic course.  The Arabic Intensive Program mainly concentrates on speaking, reading, writing, and listening skills
How to get the Application Form
Please send us an email to  at: Rafat@excellencenter.org, Study Arabic in Palestine as subject line. We will then send you the application form.
Which Airport Should I Start Checking for Flights to Palestine?
The easiest way to get to the Excellence Center in Hebron, Palestine is to fly to Tel Aviv Airport (Israel). It takes about two and half hours from the airport to the Excellence Center in Hebron via shared Taxi.
You can also fly to Amman, Jordan and then cross to Palestine, but it takes more time and is more expensive.
Travelling to and from Hebron
You may find all needed information here
Visa
Upon your arrival at Ben Gurion Airport, Israel, you will be granted a tourist visa valid for 90 days. There is no need to obtain a visa ahead of time.
Application Deadline for the Arabic Intensive Program
Please submit your application via email  at least 15 days prior to the starting date of Arabic Intensive Program in December, March, June and September
Additional information
Please click here to find more information regarding accommodation, visa and the application process, etc.  To watch a short film about studying Arabic at our center in Palestine, please click here.
Find Us Online
Should you have any questions, please do not hesitate to contact at Rafat@excellencenter.org
Whatsapp:+972599479880
Instagram: www.instagram.com/theexcellencecenterinpalestine/ 
For more information, please visit our website: http://excellencenter.org/
Excellence Center's Facebook page: https://www.facebook.com/ExcellenceCenter
Excellence Center's Facebook account: https://www.facebook.com/RafatECHebron
Watch us on Youtube: https://www.youtube.com/channel/UCsQSLdFZWZcBm6Uj0XMYuKg
Visit and Explore Palestine: https://www.facebook.com/ExplorePalestine
Thank you very much. We would be happy to have you in Palestine!