The Excellence Center invites you to study Arabic on a one-to-one basis with an Excellence Center Arabic teacher.  As an Arabic student, you will have the opportunity to customize your Arabic course according to your needs and wishes.  Our teachers will prepare a curriculum to meet your needs, whether your wish is to study Palestinian spoken Arabic, or Classical/Standard Arabic.
Please click here to watch a short film about Study Arabic in Palestine program.
A custom curriculum can be focused on your particular needs and wants, whether they be reading, writing, or speaking and listening needs. Additionally, courses can be fashioned to meet the needs of international students who wish to conduct studies for their universities.  A curriculum can be constructed for you that will address language needs that are required to carry out such studies.
Who teaches the individual Arabic classes for the Excellence Center?
The Excellence Center employs teachers who are bachelor degree holders in either Arabic or English Studies.  Starter learners are placed with Palestinian teachers who speak good English in order to facilitate the learning process.  Arabic students who already speak fair to good Arabic are placed with teachers who speak basic English, and the communication between student and teacher is in the Arabic language.  In addition, Arabic students have the choice of taking lessons with a Palestinian teacher who speaks English and Arabic, or a teacher who speaks only Arabic.

When do the individual Arabic classes takes place?
International students themselves determine the schedule for Arabic classes, both the start and end dates.  Students have the freedom to attend Excellence Center Arabic classes on a schedule as arranged between the student and administration.  Classes can be scheduled from one week of study up to three months. The classes themselves are conducted at the Excellence Center Sundays through Thursdays, 9:00AM to 12:30PM.

Where do I live while taking Arabic classes?
The Excellence Center arranges your residence during your stay in Hebron.  Usually female students live with a local Palestinian family, and male students may reside with a Palestinian family or in independent housing that is supervised by the Excellence Center. Living arrangements are in accord with Palestinian culture.

How do I travel to Hebron, Palestine?
The easiest way to travel to Hebron, is to fly into Ben Gurion Airport, Tel Aviv, Israel. From there, the student rides a Sherut (shared taxi) to Jerusalem.  From Jerusalem it is about an hour ride by Service (shared taxi), or bus,to Hebron. The total travel time from the airport to Hebron is about 2.5 hours.
It is also possible to fly into Amman, Jordan, and then cross into Palestine/West Bank, but it takes considerable more time and is more expensive
Upon enrollment in the Study Arabic in Palestine individual program, travel instructions will be emailed to you.

Do I need a visa to enter Palestine?
No prior visa is needed for Americans, Canadians, and most Europeans in order to enter Palestine.  Upon your arrival at Ben Gurion Airport you will be granted a tourist visa that is valid for 90 days.

How do I apply to study Arabic in Palestine at the Excellence Center?
Simply email Rafat@excellencenter.org  and type "Arabic Individual Course" in the subject line. The Excellence Center will email you back an application form which you return at your convenience.  Upon receiving the form, we will contact the applicant to discuss program details and to answer their questions.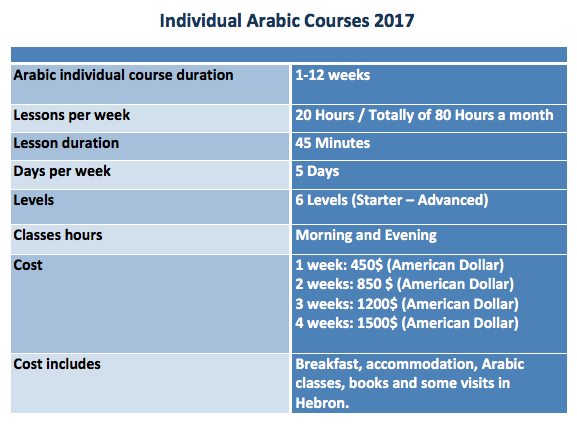 – The cost will include breakfast, the accommodation, Arabic classes, as well as some visits to different institutions in the city of Hebron. Some examples include the old city of Hebron, glass and ceramic factories, local companies, refugee camps and public parks as well as local universities such as the Palestine Polytechnic University and Hebron University.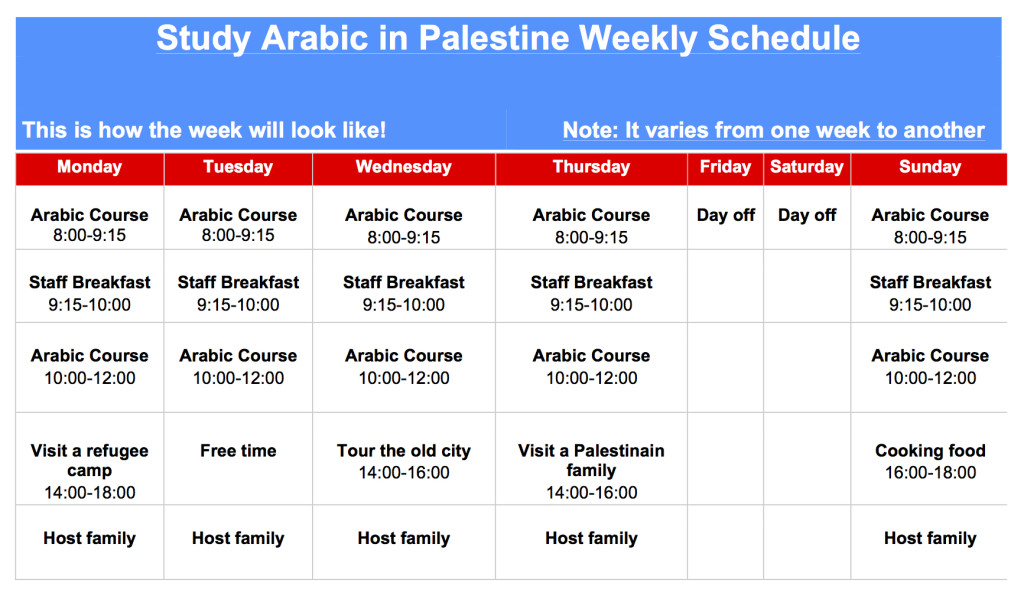 What do I do when I'm not studying Arabic?
In addition to Arabic classes, international students participate in many cultural, social, and community activities in Hebron.  The Center organizes trips to various historical, cultural, business, governmental (and non-governmental) venues, as well as refugee camps. International students can volunteer to participate in community activities that the Excellence Center organizes.  A real plus are the many activities that you will participate in with your Host Family, including, but certainly not limited to, going to market and cafes, cooking, visiting relatives, and social occasions.

Will I be the only student in Hebron?
Every month the Excellence Center has new internationals coming to Hebron and the Center to participate in the various different programs offered by the Center.  So, you will not be the only one!  The internationals who come to us often organize and plan various different gatherings and trips together.  For example, they have gone to Tel Aviv, Jerusalem, "couch surfing" in the Galilee, and other similar activities.  You will have good company!

These are only some of the experiences that await you as an Arabic student with free-time to explore.  Ahlan w Sahlan!  Welcome!
Application Deadline for the Arabic Intensive Program
Please submit your application via email  at least 30 days prior to the starting date of Arabic Intensive individual Program.
Additional information
Please click here to find more information regarding accommodation, visa and the application process, etc.  To watch a short film about studying Arabic at our center in Palestine, please click here.
Find Us Online
Should you have any questions, please do not hesitate to contact at Rafat@excellencenter.org
Whatsapp:+972599479880
Instagram: www.instagram.com/theexcellencecenterinpalestine/ 
For more information, please visit our website: http://excellencenter.org/
Excellence Center's Facebook page: https://www.facebook.com/ExcellenceCenter
Excellence Center's Facebook account: https://www.facebook.com/RafatECHebron
Watch us on Youtube: https://www.youtube.com/channel/UCsQSLdFZWZcBm6Uj0XMYuKg
Visit and Explore Palestine: https://www.facebook.com/ExplorePalestine
Thank you very much. We would be happy to have you in Palestine!