Volunteer in Palestine Program from 1-12 weeks 
Are you interested in coming to Palestine? Would you like to live with a Palestinian host family? Would you like to volunteer with school and university students as well as community members? Do you want to learn about the Palestinian culture, situation and the Arabic language? If the answer is 'yes' to one of the above questions then Excellence Center for Education and Training Services, would like to invite you to volunteer in Hebron-Palestine . As a volunteer in Palestine, you will have the opportunity to experience Palestinian daily life and familiarize yourself with the area's rich history.

The program will provide volunteers with an entertaining, enriching, and dynamic stay. Furthermore, volunteers will have the opportunity to meet Palestinian university and school students as well as community members.
To get an idea about the program, please here 
Our Volunteers from all over the world participate in many educational, cultural, and community activities during their program. Added to that, the Excellence Center arranges trips to the old city, visiting some Palestinian families, and local industries.

Excellence Center's vision is to give something back to its society by providing inexpensive language training and some free educational training. We aim at becoming one of the foremost educational institutions and enhancing the Palestinian professional society by providing the highest quality language instruction and vocational training. International volunteers and interns play an important role in achieving Excellence Center's vision.

Excellence Center's programs are multifaceted and growing. There are many opportunities for volunteers to make a crucial difference. Volunteers can play an important role in contributing to the local community's wellbeing and in building bonds of understanding. Many opportunities are offered on projects supporting the education and focusing on community development.

Area of volunteering in Palestine with the Excellence Center
Our initial thoughts on volunteering at the Center are as follows:
– Educational and cultural activities such as organizing weekly workshops for the Palestinian community on different subjects e.g. cultural differences, writing resumes, writing formal emails
– Helping Palestinian teachers in assessing Palestinian students' English.
– Organizing activities according to your interests and passions such as painting workshops, writing workshops, handicrafts, filming, photography.
– Organizing fun and entertaining activities for Excellence Center's students
– Teaching conversational English with other Palestinian and international teachers at the Center, and helping other teachers in preparing course outlines.
– Administrative activities such as helping Excellence center's staff and interns in writing reports, making schedules, printing materials for the classes etc.

The Excellence Center aims at achieve a diverse cultural exchange and social dialogue with the Volunteer in Palestine Program by hosting people from around the world. These diverse perspectives will enrich the activities and programs at the Excellence Center. You will see true Palestinian life and be introduced to new points of view. The Volunteer in Palestine program promises a positive and enriching experience.
Volunteer in Palestine Program provides the opportunity for international volunteers to:
–  Live in Hebron, including trips to the old city, holy sites and local refugee camps
–  Learn spoken Arabic from native speakers and embrace the opportunity to communicate with locals (3 hours a week)

–  Travel to historical locations and nearby cities including Jerusalem, Jericho, Ramallah, Nablus and Bethlehem on your own.
–  Spend time and live with a Palestinian host family, if desired
–  Visit Palestinian universities, local institutions and organizations specializing in culture and education
–  Eat local Palestinian foods and desserts
–  Attend cultural nights featuring entertainment and activities.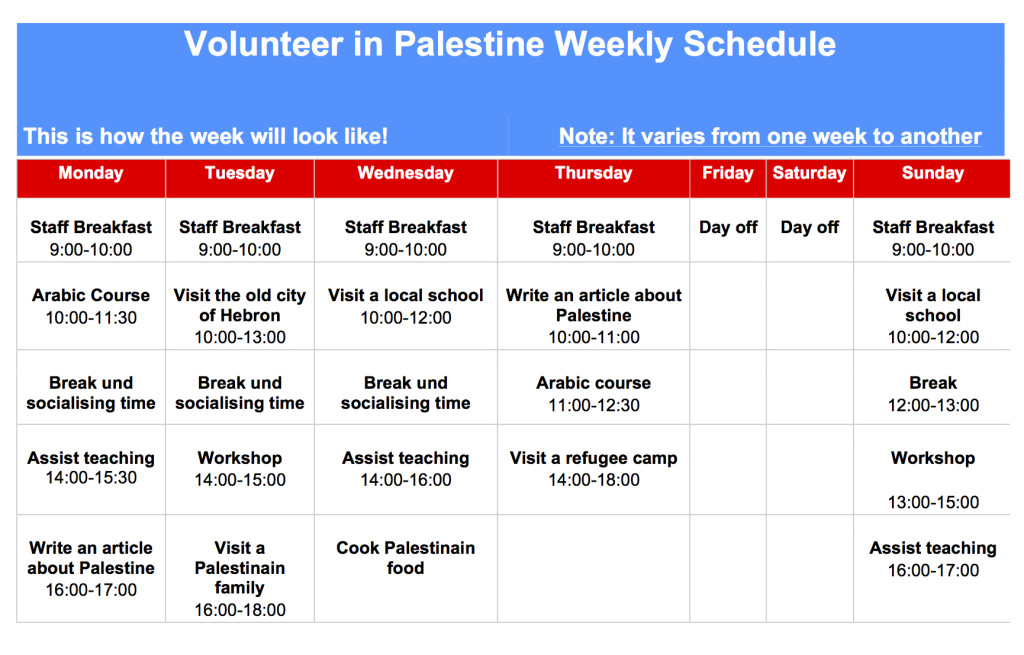 Associated Fees
Since the Excellence Center does not receive any fund from any governmental or non-governmental organizations, Excellence Center charges a fee of 695$ a month or 230$ a week.  The program fees include:  pre-departure support, accommodations, breakfast, full coordination while volunteering in Palestine, 3 hours per week of Arabic lessons, and some visits to different sites in the city of Hebron.

Traveling to Palestine on your own?
No worries, you've come to the right place!
You will easily meet many Palestinian university and school students as well as community members with a variety of interests. Especially in Hebron, Palestinian people love to meet new people from different cultures and exchange ideas and experiences.
Moreover, the Excellence Center hosts many international visitors from all over the world who will be studying, volunteering, visiting or interning at center. Of course you will engage with them in some educational and community activities that the Center organizes.
Everyone at the Excellence Center – Palestinian students, international visitors and staff – are like one family and there are always activities to do together. Hebron is a good place for international visitors to stay at and offers a great social atmosphere.

Eligibility for volunteer in Palestine program
People who are between 18 – 70 years old are eligible to participate in the Volunteer in Palestine Program. All nationalities and majors are welcome! You do not have to have any degree to participate in this program.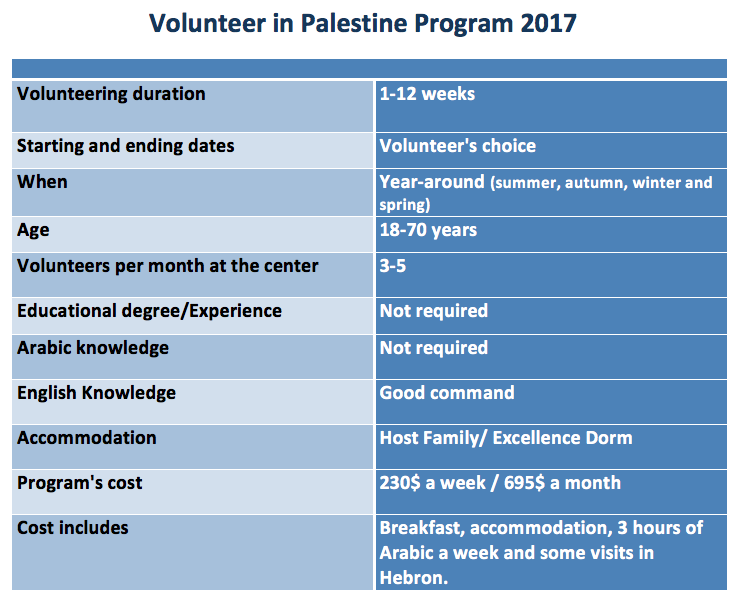 When "Volunteer in Palestine" takes place
Excellence Center is looking for volunteers year-round. Volunteers decide when they would like to start and Excellence Center organizes so. We are very flexible when it comes to starting and ending dates. Participants freely choose their volunteer period.

Which Airport Should I Start Checking for Flights to Palestine?
The easiest way to get to the Excellence Center in Hebron, Palestine is to fly to Tel Aviv Airport (Israel). It takes about two and half hours from the airport to the Excellence Center in Hebron via shared Taxi.
You can also fly to Amman, Jordan and then cross to Palestine, but it takes more time and is more expensive.
Visa
Upon your arrival at Ben Gurion Airport (Tel Aviv Airport), Israel, you will be granted a tourist visa valid for 90 days. There is no need to obtain a visa ahead of time.
Travelling to and from Hebron, Palestine
You may find all needed information here
Volunteer in Palestine Program's duration
Volunteers can participate in the program for the duration of one week to three months.

Additional information
To know what other volunteers experienced, please click here .Please click here to find more information regarding accommodation, visa, application process, etc
How to get further information and the application form
Please send us an email to Rafat@excellencenter.org, Volunteer In Palestine  as subject line. We will then send you the application form.
Should you have any questions, please do not hesitate to contact at Rafat@excellencenter.org
Whatsapp:+972599479880
Instagram: www.instagram.com/theexcellencecenterinpalestine/ 
For more information, please visit our website: http://excellencenter.org/
Excellence Center's Facebook page: https://www.facebook.com/ExcellenceCenter
Excellence Center's Facebook account: https://www.facebook.com/RafatECHebron
Watch us on Youtube: https://www.youtube.com/channel/UCsQSLdFZWZcBm6Uj0XMYuKg
Visit and Explore Palestine: https://www.facebook.com/ExplorePalestine
Thank you very much. We would be happy to have you in Palestine!