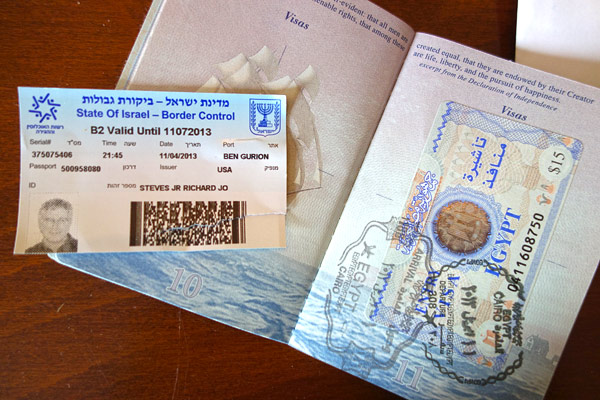 Getting an Israeli Stamp on Your Passport: Many volunteers and students coming to the Excellence Center are aware of the complications related to having an Israeli stamp in their passport. Many have heard rumors that having this stamp will severely limit their travel options or make them a target for detainment or expulsion from certain countries. To put a rest to rumors, and provide potential volunteers and visitors with the facts, we will discuss here the visa policies of Israel and the impact of having an Israeli stamp in your passport.
For many years, visitors to Israel, whether entering via air from Ben Gurion International Airport in Tel Aviv, or by one of the border crossing with Jordan or Egypt, would receive an Israeli visa or stamp on their passport, just as they would if they visited any other country. The impact of this, however, was the potential limiting of travel options for foreign visitors. Since prior to the foundation of the State of Israel, the Arab League has imposed a boycott of the Jewish community in the former Mandate of Palestine. This boycott carried over and was intensified after the founding of Israel and the wars that followed.
One aspect of the boycott is that participating countries will deny entrance to their country for Israeli citizens and passport holders. A smaller number will deny entry to anyone with an Israeli stamp in their passport or evidence of entering the State of Israel. Sometimes this could include stamps from other countries, such as a Jordanian exit stamp at the Allenby Bridge (the Jordanian-Israeli border crossing). Jordan, Egypt, and the Palestinian Authority signed peace agreements with Israel and no longer participate in the boycott, Mauritania never applied the boycott, and Algeria, Morocco, and Tunisia do not enforce it. Other Arab and Muslim nations however, including Iraq, Lebanon, Libya, Sudan, Syria, Yemen, Iran, and most of the Gulf Cooperation Council (GCC) members will still deny entry to travelers with an Israeli stamp.
Recognizing this dilemma, and the inconvenience it causes visitors, Israel began issuing visa slips on separate pieces of paper with entry and exit records and 2D barcodes in January of 2013. Today, those traveling through Ben Gurion Airport can expect to receive one of these slips. Implementation of this process has been slower at border crossings. While Jordanian border crossings are supposed to issue the slips, volunteers have overheard stories of foreigners receiving stamps at these crossings as recently as 2015.
Most volunteers at the Excellence Center receive a visa slip and do not need to worry about any impact to their future travel plans. If, however, by some chance one should find themselves with an Israeli stamp in their passport there is a relatively easy fix. For a fee, most people can receive a new passport from their government, even getting an emergency one from their country's embassy is travel plans necessitate it. Some nations, such as the USA, UK, Canada, and Germany, allow citizens to hold two separate passports, meaning one could simply keep one passport for traveling to and from Israel, and another for traveling to countries like Saudi Arabia or Lebanon.
Many rumors circulate among travelers that paint a far grimmer picture of the challenges of entering and exiting Israel than is reflective of reality. While there have been issues traveling to Israel and Arab nations using the same passport in the past, the vast majority if today's travelers should have no such issues.