What should I expect from Winter in Palestine?
|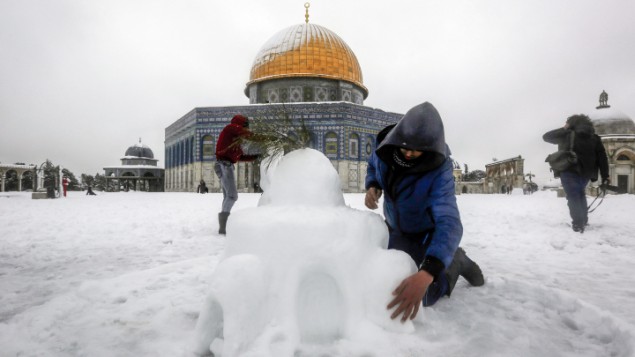 What should I expect from Winter in Palestine? Winter in Palestine is relatively cold, of course not cold as Europe but still cold comparing to other neighboring countries like Egypt.  In Palestine our winter spans about three months' duration and the temperature sometimes does fall below zero. During the winter, Palestine experiences seven hours of sunshine, while there are about thirteen hours of daylight during the summer.
What makes Palestinian houses colder than European ones in winter?
In Europe, there are central heating systems everywhere: in the houses, malls, shops, supermarkets and even in the toilets. Unlike Europe, Palestinian houses lack central heating systems. Very few Palestinian houses use such heating systems due to the high cost, which most families cannot afford. Palestinians use electric heaters or rely gas heating. Over the past six years Palestinians have begun to also use fireplaces, they are cheaper and heat larger areas of the home.
Should I wear a heavy jacket?
Jackets, long underwear and sweaters are necessary for spending winter in Palestine. During winter, the temperature can reach zero and in some cases it -1 or -2, especially if it snows. Yet, snow is not a usual happening in Palestine, over the last few years it has snowed four times.  Some streets in Palestine are unpaved and this means that in the rain these roads turn muddy. Thus, wearing good shoes is important.
What does daily life in Palestine during the winter look like?
Normally, in winter Palestinians prefer to stay at home. They go to work in the morning and come back to their houses when the sun goes down which is around 4 or 5 pm. Palestinians seem to do less activities during the winter compared to summertime. This is common among people all over the world.
There are not many weddings or special occasions during winter. The cold weather makes people less active and unwilling to do many activities. Palestinians prefer to stay home, by the heater and in front of their TVs.
Jericho is the Place to visit in winter
If you are visiting Palestine in winter for tourism, relaxation and pleasure, we recommend a sojourn in Jericho where there are number of resorts, such as Jericho Resort Village, or the Dead Sea which borders Jericho.
At the Dead Sea you can also take advantage of the famous mud that is beneficial for your skin due to high concentration of Dead Sea minerals that upgrade the skin's natural processes.
People in Palestine also like to go to Jericho during the winter since it characterized by its warm weather, reaching a temperature of 20C. In addition, there are many parks in Jericho that provide outdoor activities for families and visitors alike. It is worth mentioning that Jericho is believed to be one of the oldest inhabited cities on earth. Its history goes back to 10,000 years BCE which provides your journey with a dual purpose.