" I'm a University student from Germany and I volunteered at the Excellence Center for one month. My main task was supporting the English teachers with their classes at the Center. I would practice discussion questions with the students, help with colloquial exams or do short presentations about German or Western traditions and food. A lot of times I went to high schools in nearby villages where I taught together with another volunteer. We were able to prepare and hold a lot of those classes on our own, dividing the lesson in a theoretical part and a game part where the students had the chance to practice what they've just learnt in a more fun and interactive way. Additionally I did a few one-on-one conversational classes with older students at the Center.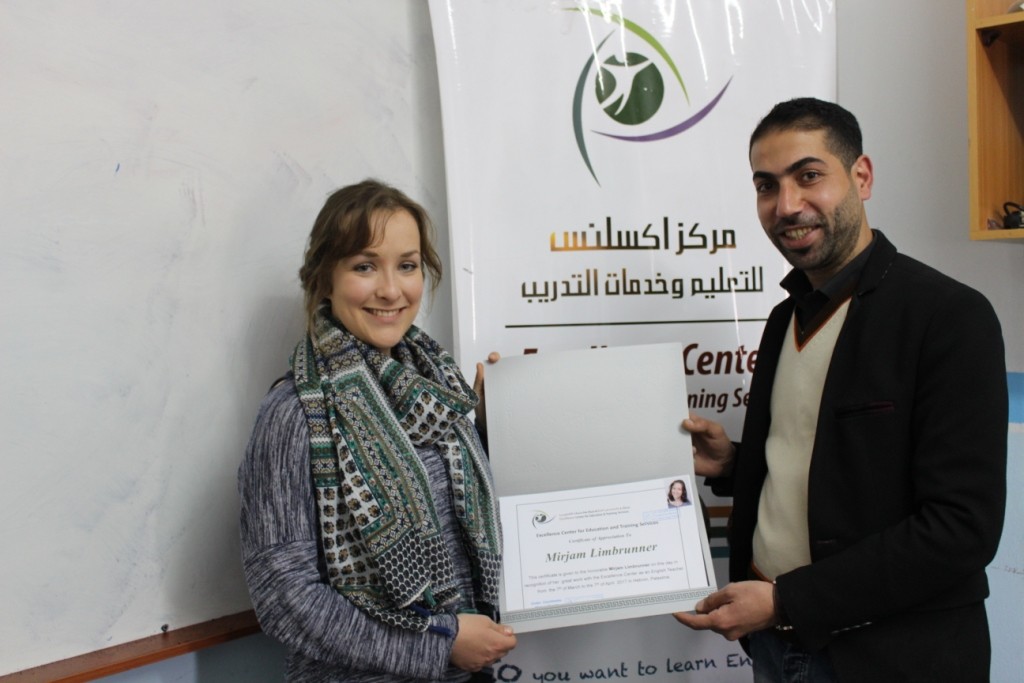 Twice a week I had Arabic lessons with one of the teachers from the Center. I always enjoyed the classes and felt like they were very effective, focusing only on conversational skills that I could apply and practice right away during my daily life with my host family.I chose to learn the Palestinian dialect so that I would be able to communicate with the locals. Apart from these classes I learnt a lot just by being around my host family or trying to talk to taxi drivers, shop keepers or people on the streets. As I wasn't a complete beginner, but had a good basis from Arabic classes at home I felt like I could definitely collect a lot of new vocabulary and learn how to have basic small-talk conversation. Apart from that, one month is not enough to make any major progress if you don't commit to studying Arabic full time. But my time here gave me a lot of motivation to keep going and improve my Arabic skills at home.

At the Excellence Center I likedthe relaxed atmosphere and friendly relationship between the volunteers and the teachers. Sitting together for breakfast or coffee between classes in the kitchen or on the rooftop has become something I was looking forward to every day. Being around other volunteers and sharing with them the experiences you make with your host family and hearing about what they experience was very important to me and the communal spirit among the Internationals definitely contributed to the positive atmosphere at the Center. Also the staff was very supportive and I always felt comfortable talking to them about any problems or questions that came up during my stay. The students seemed very excited about the foreigners and a lot of times during the breaks they came to say Hi, shake your hand or take pictures with you. I would not have thought that so many people here are so passionate and motivated about learning English.
From time to time, the Center organized trips around the city to show us the local businesses and cultural sites.I went on a tour to the Ceramic, Clothes and Camel Factories and another time one of the teachers took us to the Old City of Hebron and told us about the complex situation between the soldiers and Palestinians that still live there. Apart from that, on the weekends I did a lot of trips with the other volunteers. We visited Jericho and the ruins of Hisham's Palace, Bethlehem and the wall, Jerusalem, Nablus and Jenin. The shared taxis are an easy and considerably cheap way to get around on your own. In some places, like Jericho, it is better to have someone take you with a car. With my host family I spent one day at the Dead Sea doing a barbecue, which was a great experience as well.
Living in Hebron definitely took some getting used to for me, but after a couple of weeks, once I had a better orientation of the central areas and figured out the taxi system, I felt more comfortable. Especially the Old City with the Ibrahim Mosque, the market and Tel Rumeida are very interesting and beautiful places to visit. Being here gives you the opportunity to learn a lot about the occupation and the current situation between Palestinians, settlers and soldiers, which is a sad, but significant part of life in the Westbank. The host family can make or break your volunteering experience, as you will probably spend a lot of time with them. Family in general plays a huge role in a Palestinian's life, so during your time there you will probably meet a lot of uncles, aunts, cousins and sisters or brothers in law. Therefor it's important to feel comfortable around them and if you don't, to tell the people at the Center. This is why I decided to change host family after one week and have been very happy with my new one. I really enjoy spending time with them in the evening, eating and watching TV or going out for dinner to a restaurant or a relative's place. Being around the family in the house is also the perfect way to practice Arabic vocabulary that learn during class.
I was a bit concerned about the security situation and about not being able to walk around freely at all or experiencing incidents between Palestinians and soldiers on the streets. But after I got to know the city I felt safe and walking around Hebron during daytime turned out to not be a problem at all. Knowing the directions in Arabic or having someone write them down for me helped a lot to avoid confusion with the taxi drivers. I was surprised that travelling inside Palestine was not an issue at all. Anywhere I've went so far, service drivers and people on the streets were very considerate and always ready to help when I didn't know how to get from A to B and happy to practice their English with me. Also traveling to Israel for the weekend is no problem at all when going through Jerusalem. The only thing that I always had to keep in mind were the Palestinian and Israeli holidays to make sure I don't get stuck on the way, as I was traveling on Friday and Saturday most of the time.
I think what I came to appreciate the most about Palestine is the hospitality of the people that start treating you as part of the family right away. Of course I loved the food, like hummus and pita and the traditional Makhluba. Being with the other volunteers at the Center, traveling with them on the weekends and sharing with them all the new experiences was very important to me as well.
I do believe that volunteering with the Excellence Center and living with a host family gives volunteers a unique opportunity to dive into the Palestinian culture and learn spoken Arabic while contributing to the community of Hebron. The two days off during the week are a perfect amount of time to travel around the area and explore Palestine together with other volunteers. The best recommendation that I can give to future volunteers is to take any chance to engage with the locals, try to speak as much Arabic as possible and ask questions if you're curious about certain things. You might be surprised about their openness and their generosity. At the same time being able to clearly communicate when you don't feel comfortable with something and to not be afraid of insulting them by not accepting every offer is just as important in order for you to make the best of your time here in Palestine."