Thanksgiving in Hebron, Palestine
|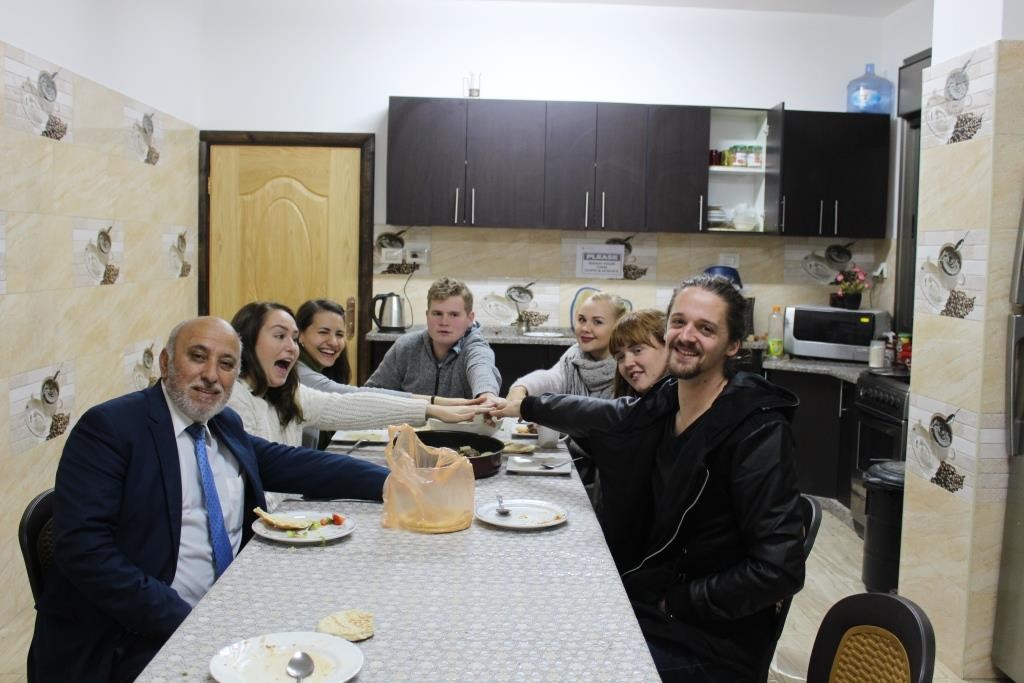 For many Americans, Thanksgiving is a time to enjoy good with friends and family. This year however, our volunteers and students from the United States spent Thanksgiving in Hebron, Palestine away from their families. Rather than spend the day like any other however, our volunteers celebrated Thanksgiving Palestinian style!
A traditional American Thanksgiving meal consists of dishes such as stuffing, mashed potatoes, cranberry sauce, green beans, and of course, turkey. Unfortunately, these dishes aren't commonly eaten in Palestinian households and the volunteers would have to search long and hard to find the ingredients in a local grocery store. At the entrance to the Old City, there is a butcher shop which several volunteers pass by on a regular basis. In addition to the butchered chicken and lamb, the owner keeps cages of live chickens to the side, as well as several turkeys. "I thought about buying one for Thanksgiving, but the other volunteers talked me out of it," Connor, from the USA, said.
Ola, another volunteer in Palestine from the USA, decided that instead of a turkey, the volunteers  in Palestine could have apple pie. Walking down to Bravo, a supermarket down the street from the Excellence Center, Ola was able to buy everything she needed to bake an apple pie for less than $15 US. She spent the afternoon with other volunteers and Palestinian staff at the center cutting apples and making the dough before sharing the pie together that evening.
Apple pie was great for dessert, but the volunteers in Palestine were still hungry for dinner. Because a traditional American Thanksgiving meal would be too hard to prepare, the Excellence Center volunteers went out for a traditional Palestinian dinner with some other foreign volunteers in the city. At Salah Restaurant, the volunteers in Palestine got a chance to eat many of the same foods they had become accustomed to in Hebron. However, they also got a chance to eat some rarer food traditionally reserved for feasts.
Several of the volunteers in Palestine opted to try stuffed sheep neck, a dish consisting of a sheep's neck cooked and stuffed with spiced rice, served alongside a spicy sauce and a dry yogurt sauce. The neck is so big that it takes two people to eat, so volunteers had to pair up to split the dish. Another option available to diners was camel meat. Though not eaten on a daily basis in Palestine, camel meat is still available in butcher shops and served in certain restaurants. Likewise, while more common in Egypt, pigeon was also available at the Salah Restaurant, as was a salty chicken liver dish.
While being away from family for the holidays can be tough but in Hebron, volunteers will find close friends and all the comforts of home.