Public figures who visited Palestine: No doubt that Palestine was and still is a place that people from all over the world have heard about. What this area has witnessed throughout history has made it remarkable and worth visiting. The Palestinian people welcome visitors with open arms and many are amazed by the hospitality they are greeted with.
More than just general travelers are interested in visiting the West Bank and Gaza, known public figures such as actors, artists, musicians and politicians come to see Palestine as well. They are drawn to Palestine due to the depth of its history, the opportunity to visit such old and important sights, the hospitality of its people as well as experiencing cultural events.
Jeremy Hardy is a well-known British comedian. He can be heard on BBC Radio 4 broadcasting shows such as "The New quiz, I am Sorry I haven't A Clue" and, "You Will Have Had Your Tea." He was also in TV shows like, "Blackadder Goes Forth" amongst many others. In addition to his career as a successful comedian, Jeremy is keen to express his solidarity with Palestine and his support of Palestinian human rights.
During the second intifada in 2002 Jeremy visited the West Bank and shot a documentary titled, "Jeremy Hardy vs. the Israeli Army" and was directed by the Palestinian director Leila Sarsour. Once again in 2017 Jeremy visited the West Bank with his fellow comedian Imran Yusuf. When questioned about his interactions with the Palestinian people he replied that Palestinians are very welcoming and hospitable.
The American pop star and sister of the late Michael Jackson visited the West Bank in Palestine as an ambassador for UNICEF in 2014. Jackson came to the Yatta High school in Hebron. She was so happy to meet the Palestinian students at the school that she posted on Twitter captioned, "Beautiful Palestinian Students!"
Banksy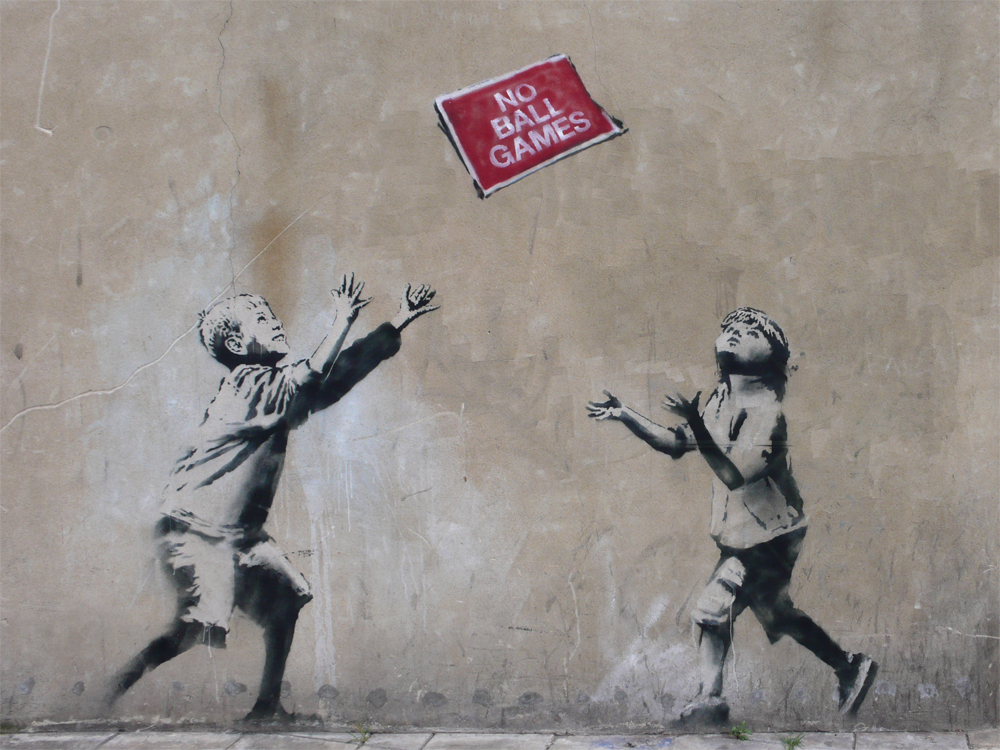 Banksy is a famous and also unknown English graffiti artist. He is believed to be Robert Panky, born in 1974 and originally from the town of Yate, near Bristol in England. There is no confirmation of the true identity of Banksy and his biography is still anonymous. His various drawings have appeared in many sites in Britain, especially in Bristol and London, as well as around the world. In Palestine, the West Bank also embraced his work on the separation wall which encompassed a variety of political, cultural and moral themes.
Conan O'brien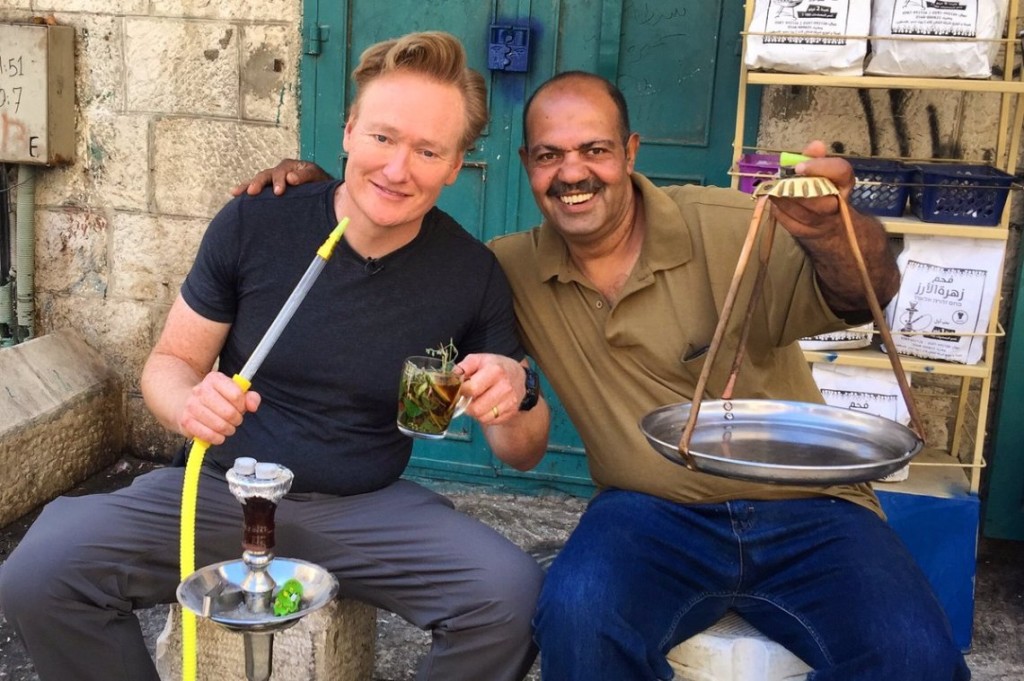 Recently, American talk-show host and comedian Conan O'Brien travelled to Israel to film an episode of his show Conan. Unlike many visitors and celebrities who travel to Israel, Conan took time out of his schedule to visit and film in the West Bank. As his show is of a comedic nature, Conan did not discuss the politics of Palestine and the conflict with Israel in depth. But his visit and the exposure he gave to the Palestinian people was widely celebrated in Palestine.
During his time filming in Palestine, Conan visited Bethlehem, Aida Refugee Camp and Jerusalem. While in Jerusalem, Conan was given an overview of the old city by the director of the King David museum. After cracking jokes about the Irish Catholics, the Armenians, and the Hyatt Hotel, Conan surprised his host by jokingly detailing U.S. President Donald Trump's plan for a peace deal in Jerusalem. The plan included redesigning the city to include a hummus fountain, a Trump hotel and casino, and condominiums for Jews, Muslims, and Christians to rent together. Mexico would pay for it, according to Conan.
American presidents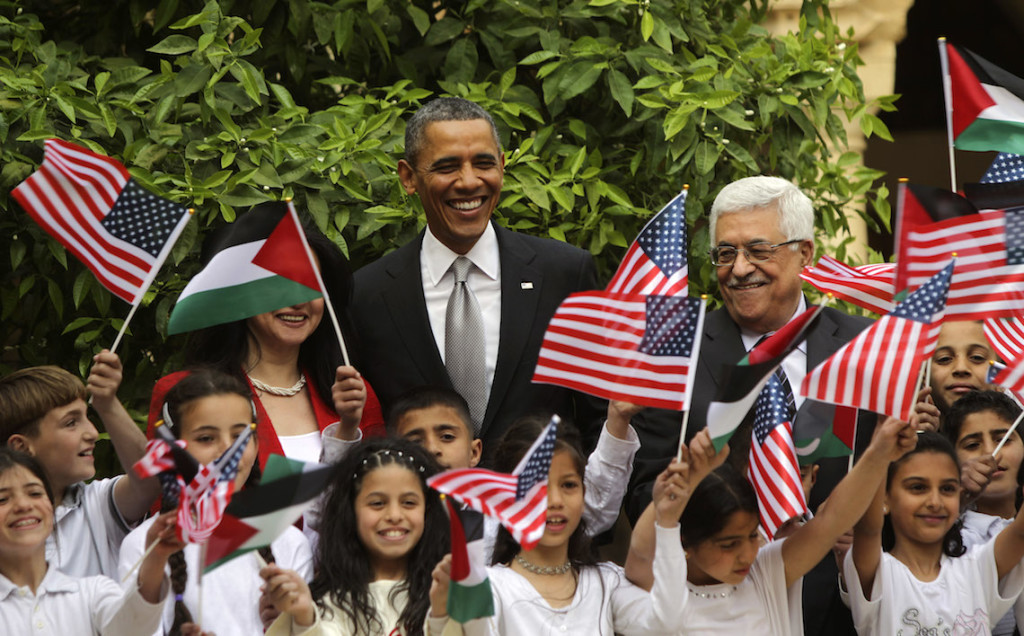 Palestine has welcomed not only celebrities and artists but also politicians. During the last 20 years, Palestine witnessed visits from some of American presidents to discuss with the peace process between Palestinians and Israelis and how this process would lead to a two-state solution. Yet none of these visits accomplished their goals.
On March 23, 2013, US President Barack Obama visited Palestine after the Palestinian Authority obtained recognition of Palestine as an observer state in the UN General Assembly.  Obama met the Palestinian President Mahmoud Abbas in Ramallah to discuss the Palestinian-Israeli peace process.
Obama was not the only US president who visited Palestine, former US President Bill Clinton, also came to Gaza during the era of President Yasser Arafat in 1998 and attended a meeting of the Palestinian National Council. Additionally US President George W. Bush also visited Ramallah in 2008 to push forward the peace process.
Football players have also had the opportunity to visit Palestine. Barcelona's entire team, including Lionel Messi and Brazilian star Neymar, visited the West Bank. This was the first visit for the Catalan team and it was described as historic. The team visited a stadium in Dura, Hebron and about 25,000 men, women and children attended. The football stars exhibited their athletic skills to the fans and gave advice and guidance to about 40 Palestinian children in an open, hour-long discussion session.