My Experience in Studying Arabic in Palestine
|
Kiki Hoeher from Germany, she studied Arabic course  at the Excellence Center in Hebron, Palestine, after she finished the Arabic course, she wrote the followings  "My Experience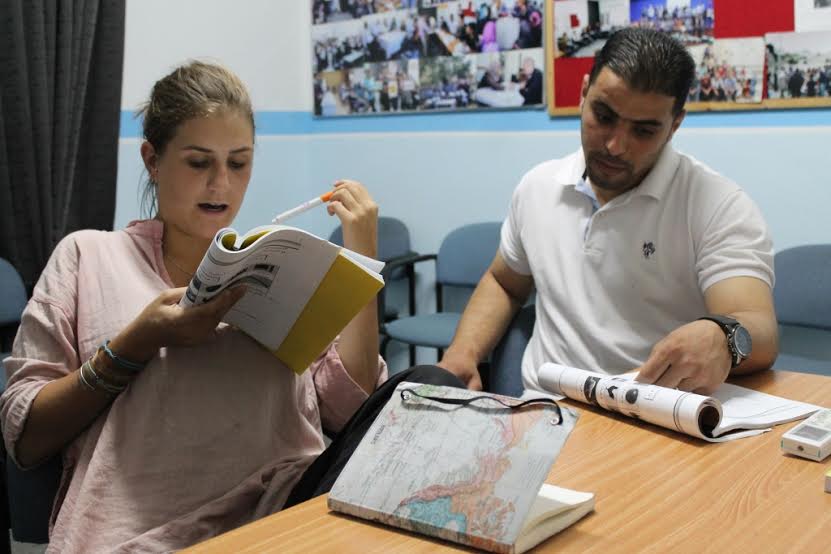 in Studying Arabic in Palestine":
"The Excellence Center is a place that I can highly recommend to anyone who is thinking about studying Arabic seriously and to anyone who wants to explore Hebron and meet authentic Hebronites who will go out of their way to help you.
I initially stumbled across the Excellence Center by searching online for Arabic lessons in Hebron and also heard about it through some of my Hebronian friends who have taken English at the Center. I am doing a course at the Center where I receive 30 hours of private Arabic lessons, which I can divide according to my own schedule. The Excellence Center then tries to find a teacher who fits me according to my level of language skills and to my personality. This shows what type of school the Excellence Center is and the things that are important both for the learning process and for the more personal, individual experiences of their students.
The teachers are very flexible and spontaneous in terms of the lesson schedule and adapt to the students' needs. The atmosphere in the school is very easy-going, comfortable, and friendly. It is a very intimate environment. The place is so welcoming and there is always someone hanging around the kitchen with whom to have a conversation. You will instantly feel at home when you enter the Excellence Center, at least when you have your first cup of tea or Arabic coffee in your hands. Not only will you learn Arabic during your classes, but also during the time you spend in the Excellence Center with the staff there.
For anybody who is thinking about coming to study Arabic in Palestine in a unique and challenging context, the Excellence Center in Hebron is most definitely something I would recommend to anyone. Hope to see you there soon!."