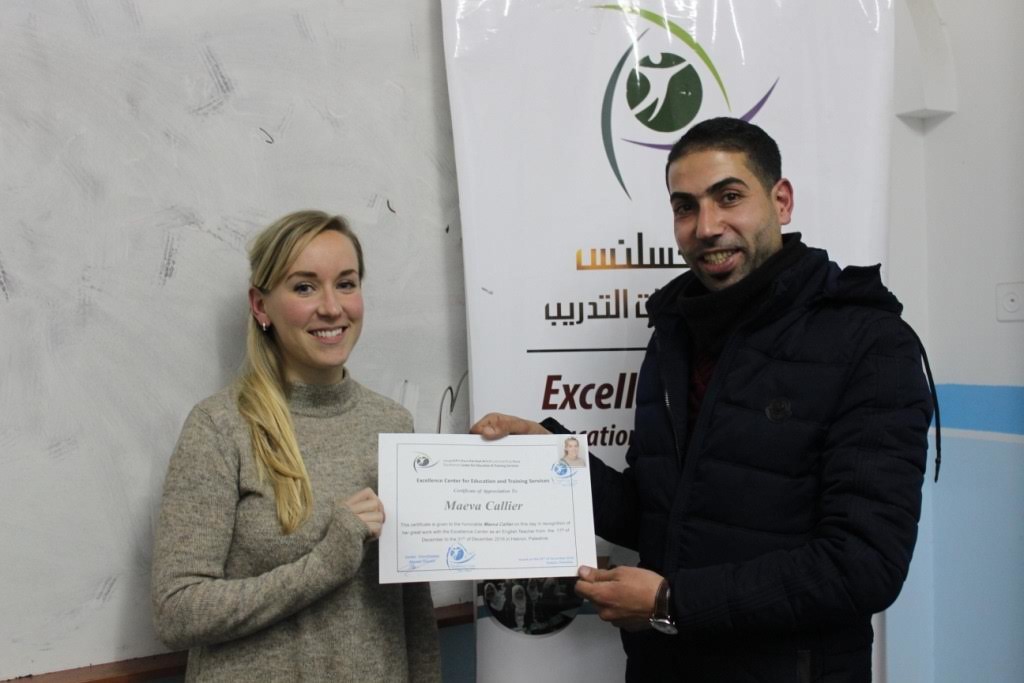 My name is Maeva and I am currently doing my masters in humanitarian action at the university of Geneva. I volunteered at the Excellence Center by sharing some teaching techniques to local teachers, encouraging university students to learn English and writing articles about my experience in Palestine.
Unfortunately, my time in Hebron was much too short. In hindsight, I would have chosen a time where I can stay for at least a month and preferably in summer.  At the center, there are volunteers and Arabic learners. Unlike the latter, Volunteers do not have consistent schedules. Some days I would start at 11 am and finish at 6pm and others, I would start and 9am and be off at 3pm. It all depends on the weekly schedule we are given.
Throughout the week, the center organizes small trips to the sights that must be visited. On Fridays, the Center organizes longer trips to other cities in Palestine. I strongly recommend going with the group as they take you to certain secluded and unique areas that are not mentioned in the mainstream sights to see.
I was fortunate enough to be in Palestine for Christmas and didn't miss the opportunity to be in Bethlehem on Christmas Eve. Naturally, it was fairly crowded but the atmosphere was festive and very enjoyable. The Center was kind enough to give us Christmas day off so I ventured with another volunteer to Jerusalem and roved the old city for hours. I was surprised to see foreigners carrying large wooden crosses around Jerusalem. I suppose it is some kind of pilgrimage that simulates the Christ's path to his crucifixion (?)
In Hebron, I live with a host family that will go above and beyond to ensure my comfort and happiness. They have two highly active children (whom I share the bedroom with) and always have delicious meals ready for when I get home. They invited me to join them to a relative's wedding in Jericho. It was my first time attending a conservative, traditional wedding with the women separate from the men and I truly enjoyed the experience.
With regards to the security in Palestine, the only time I felt slightly ill at ease was during our trip to a street where the occupation is extremely visible – Alshohada street. A young settler was doing his daily jogging with a riffle around his chest which to some, can be quite shocking. I strongly recommend to all visitors to take a stroll on this street for many reasons but I will let you figure out why for yourself!   
Whether you are planning on learning Arabic or volunteering in Hebron, I would truly recommend the Excellence Center. The staff is kind and professional, the activities are fun and the overall experience is very enriching.