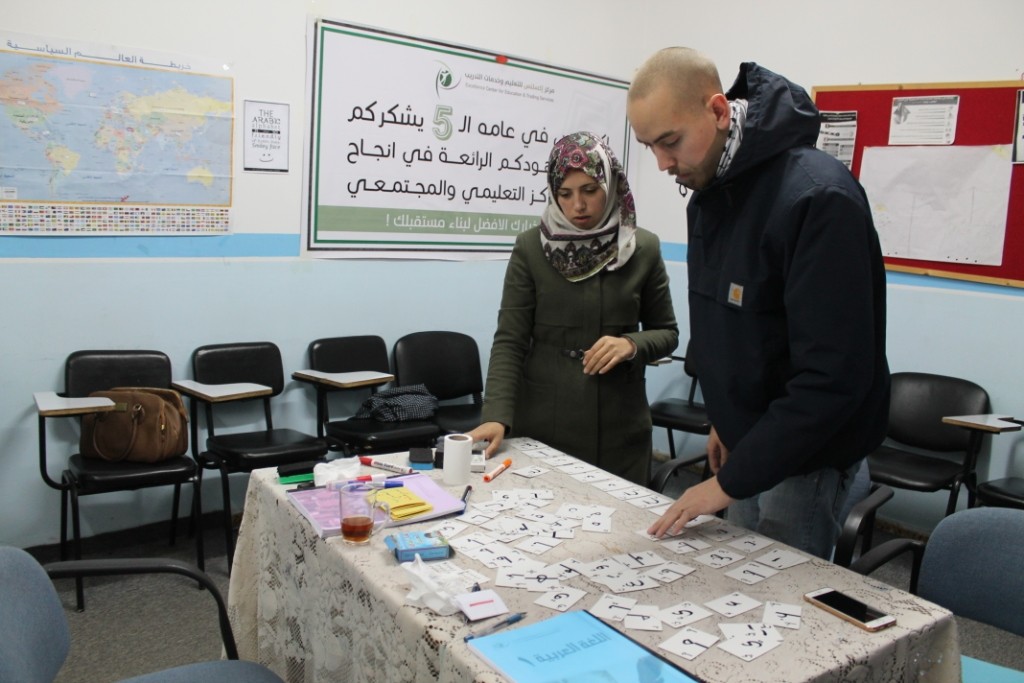 "After graduating with a master's degree in politics from Lund University in Sweden, I decided to finally make a serious effort to learn Arabic. Having only very basic knowledge of the language from self-studies and travels in the Middle East, I decided that the only fruitful strategy for me was to take an intensive course, and importantly, to do it in a place where I would be completely immersed in the language.
As a politics graduate focused on peace and conflict studies, Palestine has for a long time evoked my interest, in academic as well as political terms. During a short trip to the region two years back, the city of Hebron particularly caught my interest. While that visit lasted only for a day, I was stunned by the peculiar combination of its wonderful old architecture, amazingly friendly inhabitants, and indeed the blatant presence of the occupation in the city.
Hence, when I found out about the Excellence Centre and its Study Arabic in Palestine Program, I was convinced it would be the perfect place for me to realize my ambitions. So far, the decision to come here has definitely not been a disappointment.
I am living at the Excellence Centre's flat together with a couple other male volunteers and students. From there it takes roughly ten minutes by foot to the Centre, and it's just a few steps from the buzzling vegetable market and the old town. The location means that it's never far from a tasty 3-shekel falafel, or pretty much anything else you could imagine buying in the plethora of small shops that crowds the neighbourhood.
For a Westerner – even for someone like me who has lived in the Middle East before – Hebron is, at first sight, extremely different from back home. The traffic seems chaotic, the streets appear to constitute an enormous labyrinth, the sounds and smells are intense and strange. However, with the Excellence Centre as a solid base, and most of all surrounded by the endlessly friendly and welcoming inhabitants of Hebron, I very soon felt right at home in the city. After a day or two, I confidently crossed the streets at the busy roundabouts, found my way in the neighbourhood despite the lack of street signs, let the smell of grilled chicken guide me to the closest shawarma shop and could tell the time hearing the call to prayer.
When I, on occasion, have found myself confused as to which direction to head, a friendly local has most often appeared to lend me a hand. Even late at night, on pitch-dark back-streets – street lamps are not a certainty here – I have never felt insecure. Because of the occupation, there are of course incidents of violence directed against Palestinians, but as long as one stays away from demonstrations and the like, as a Westerner, you can feel completely safe.
As an Arabic student, I have 3 hours of one-to-one class each morning with a fantastic teacher. The structure of the program makes the learning process very intense, but also very flexible. Hence, together with my teacher, I can set the pace and decide the focus of the teaching, according to my capacity and my needs.  
In the afternoons, I usually have to continue studying for a few hours, but there are also often opportunities to join in on a trip or another activity arranged by the Centre. And, even if I just take a long stroll through town, I never have to feel bad for not studying, since a walk in Hebron always turns into an improvised Arabic lesson in practice.
With the help of my teacher at the Excellence Centre, and the Palestinians I meet every day here, I am confident that at the end of my 8-weeks stay here, I will finally have reached my goal of being able to speak Arabic with confidence". Jakob from Sweden