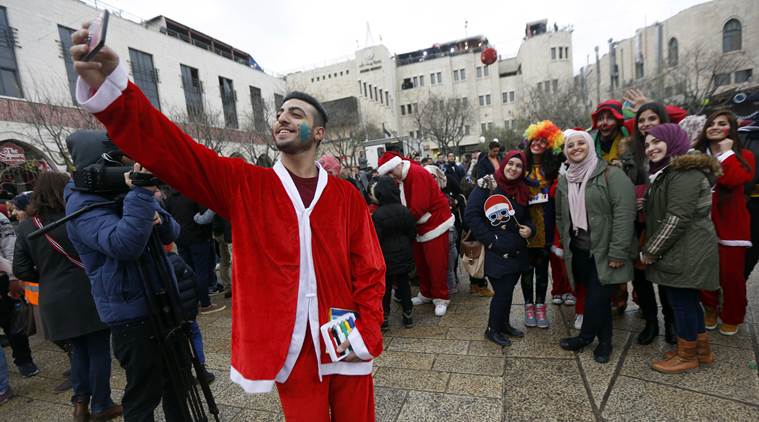 How Christmas looks like in Bethlehem, Palestine? Many Christians from all over the world come to Bethlehem city because it is believed to be the city of Jesus's birth. The Church of the Nativity was erected over the spot of Jesus's birth, and it is frequently filled with pilgrims with different languages and cultures.
Thousands of Palestinians and foreign tourists including the Palestinian President Mahmoud Abbas, a number of global and regional figures, and Arab diplomats attend the celebrations in the church every year.
The city streets during Christmas time are filled with Christmas trees and bright lights. Palestinian shops all over the city open their doors to sell food for the feast and decorations, as well as Santa Clauses red robes. Christmas decorations not only remain up long after December 25th because the Orthodox Christmas lasts until early January and the Armenian Christmas lasts until late January.

The event starts with the lighting of the Christmas tree and the playing of musical hymns to celebrate the birth of Christ. In addition, musical bands from number of countries from all over the globe come to join this event through their performances.
In Bethlehem, Christians and Muslims live side by side in peace regardless of their differing views and affiliations. This harmony adds to the special beauty of the city which can be seen on ground when you walk in the city center and see how the Church of the Nativity and the Mosque of Omar bin al-Khattab share the same location in the heart of the city.
In 2014, the celebration of Christmas coincided with the Muslim celebration of the birth of the Prophet Muhammad for the first time since 1558, 457 years! Their shared joy united the city's population and increased a feeling of kinship across religions.
Christmas in Bethlehem, Palestine has a different feeling than celebrations in other parts of the world. Celebrating on the land where Jesus was born in a manger over two thousand years ago is an indescribable experience unlike anything you've ever seen.