Visit Palestine and live the daily life of Palestinian 
Visit Hebron, Ramallah, Bethlehem, and other cities in Palestine. Excellence Center provides tours and travels to different cities in Palestine.

Have you been interested in travelling to Palestine, but don't know where to start? Do you want to see the historical and biblical sites in Palestine, but need assistance preparing? Or do you want to immerse yourself in Palestinian culture while gaining a deeper understanding of contemporary issues surrounding the Palestinian people? If so, the Excellence Center in Hebron, Palestine, might be the most important avenue in your exploration of Palestinian sites and culture.

Excellence Center provides different courses and services, including the planning of travel itineraries for foreigners visiting Palestine, to make their experiences more comfortable and educational. Excellence Center will assist you in your travel arrangements to Palestine, as well as within Palestine. We can provide you a stay with a host family or arrange some other form of accommodation to your liking.

We can show you around the old city of Hebron and accompany you to the Cave of the Patriarchs, the burial site of the prophet Abraham and his family. Furthermore, we offer additional travels to historical sites e.g. the Nativity Church in Bethlehem, the Dead Sea in Jericho, the old city of Nablus, Jerusalem etc.

In order to experience authenticity during your stay in Palestine, we can provide you with Arabic courses, seminars on culture, dance courses, visits to universities and NGOs, media and local actors, refugee camps, meeting with Palestinian youth, etc.

Whatever your travel needs are, Excellence Center can meet them and is happy to assist you in your discovery of Palestine. Excellence Center is open year-round, and can assist you any time of the year. The Visit Palestine program can be flexibly organized from 5 to 30 days.

Proposed program for Visit and Explore Palestine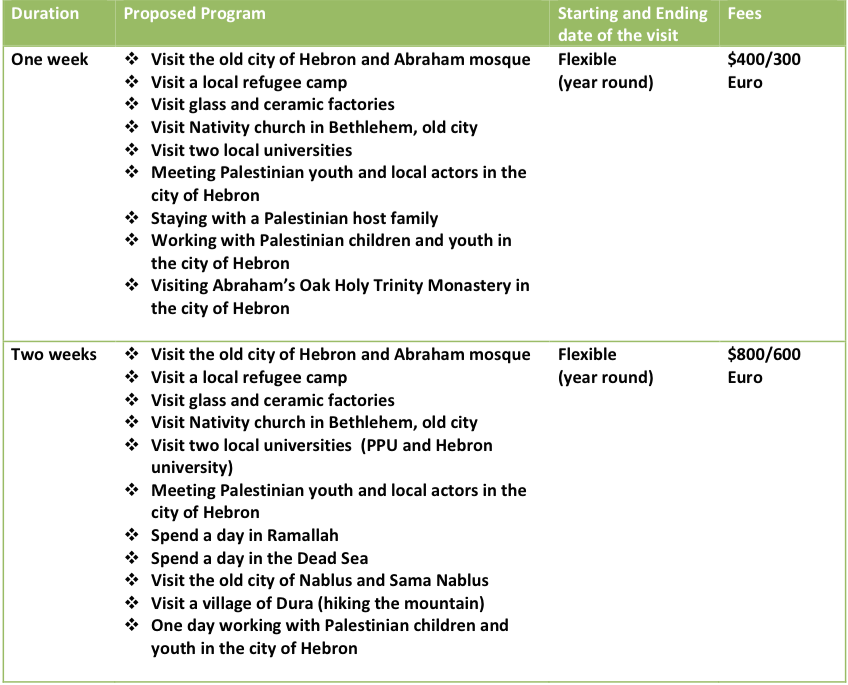 * The cost will include most of the meals and accommodations. Note: We are flexible to make individual arrangements and visits to participants.

We render our service organizing with you via Skype, writing invitation letters, sending travel instructions, and giving you advice on different topics related to your travels.

Which Airport Should I Start Checking for Flights to Palestine?
The easiest way to get to the Excellence Center in Hebron, Palestine is to fly to Tel Aviv Airport (Israel). It takes about two and half hours from the airport to the Excellence Center in Hebron via shared Taxi.
You can also fly to Amman, Jordan and then cross to Palestine, but it takes more time and is more expensive.
How to Apply? 
Groups, individuals, students and families are welcome to apply for the Visit Palestine Program.  Please email us today  to take the first step in your epic journey through Palestine! Email: Rafat@excellencenter.org. please mention in the subject line Visit Palestine.
How to get more information 
Should you have any questions, please do not hesitate to contact Mr. Rafat Shantir at Rafat@excellencenter.org
Whatsapp:+972599479880
For more information, please visit our website: http://excellencenter.org/
Excellence Center's Facebook page: https://www.facebook.com/ExcellenceCenter
Excellence Center's Facebook account: https://www.facebook.com/RafatECHebron
Watch us on Youtube: https://www.youtube.com/channel/UCsQSLdFZWZcBm6Uj0XMYuKg
Visit and Explore Palestine: https://www.facebook.com/ExplorePalestine