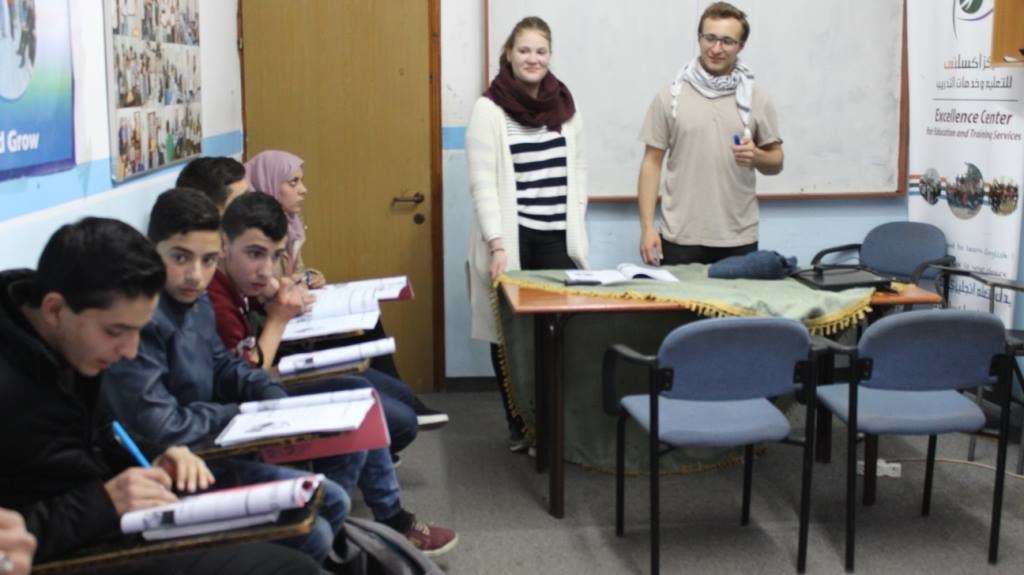 "My name is Jana Lindner and I'm a volunteer from Germany. This was my first time to Hebron and the West Bank in general, where I have been doing the teaching program with Excellence Center for the past 2 weeks and it has truly been one of the best experiences I've had so far.
I have had teaching experience before as I've been volunteering with another NGO in Tanzania in 2016 but volunteering here in Palestine was something completely different, challenging in another way.
In my time volunteering here I was helping local teachers with their English classes, as well as  planning different English lessons suited to the individualities of the pupils, which also was the most challenging part, working with a lot of students with completely different English levels.
During my stay I also had 6h of Arabic lessons with my great teacher Ahlam. As for the Center's Palestinian teachers, they were very enthusiastic and willing to teach us as much as possible.  I am a university student studying Middle Eastern studies and political sciences as well as Arabic, so it was an amazing opportunity for me not only to learn an Arabic dialect but also to practice my spoken Arabic with my host family.
Therefore I can only recommend this to everyone that is learning Arabic or wants to learn Arabic.
One of the best parts about the whole experience definitely  was the love and respect as well as the courteousness and generousness that people in Palestine as well as my host family would constantly express. Locals would always be so excited to see us and they would always want us to eat or have coffee and tea with them.  I've been having a lot of very warm and friendly conversations with people from many different backgrounds . Having travelled to a lot of other Arab countries before, I think my visit to Palestine is going to be the one with the best memories at pretty much every turn. I have never experienced a country with such a great hospitality like Palestine.
The country also has various different landscapes and it is very easy to visit other cities around the West Bank or even in Israel.
I have been doing trips to Ramallah, Jericho, Jerusalem and Bethlehem, all of them very different and very beautiful. Yet, nothing can compete with Hebron. It definitely is my favorite place to be in Palestine.
The staff from Excellence Center is more than willing to provide you  with any information.
All in all, the Center is more than dedicated to its work and providing local communities with help for English classes as well as caring about their students and the well being  of their volunteers. So if you're   thinking about volunteering in Hebron, the Excellence Center is the place to be.
I'm leaving with a lot of great memories and I'll definitely be back to Hebron sometime soon, staying for a longer time, as 2 weeks were definitely not enough."