Video: Meet Jakob from Sweden
|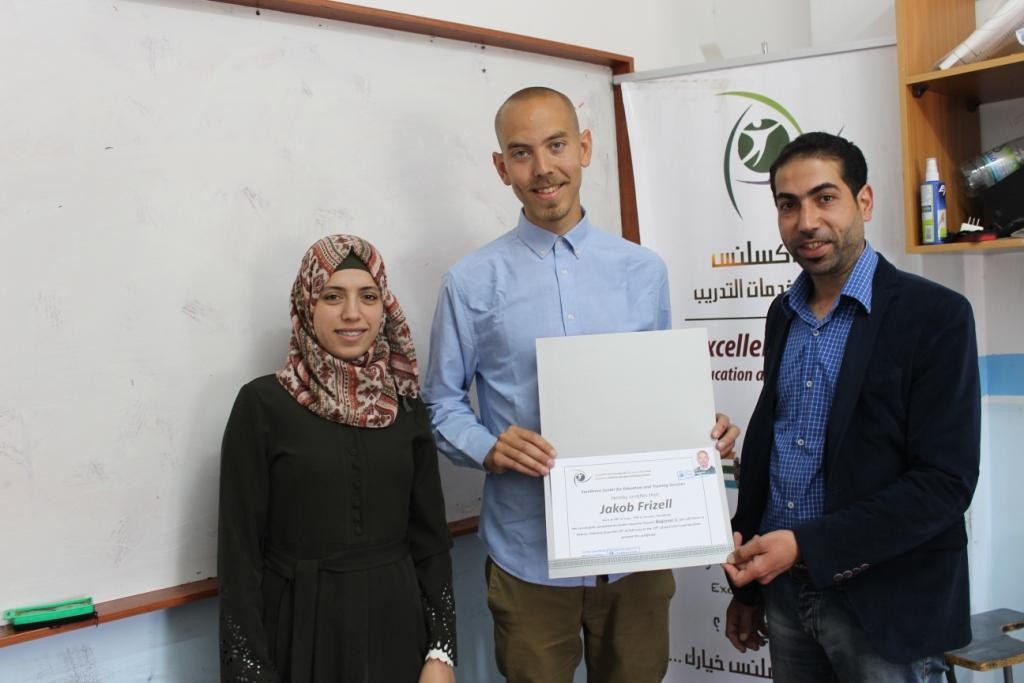 "After having finished my 8-week intensive Arabic class at the Excellence Centre I can now conclude that the decision to come to Palestine and Hebron to finally learn Arabic was a good one. Not only did it pay off fantastically in terms of acquiring a new language, but in terms of gaining unique experiences together with lovely people.
I came to Palestine with a long-held wish to learn Arabic, but with only very basic knowledge of the language. Notwithstanding some vocabulary and knowledge of the alphabet, I was not able to construct even the simplest sentence.
However, within a few days of one-on-one class – of which I had three hours each day – I had already acquired a glossary enabling me to express myself in simple conversations. The structure of the lessons, with full attention to the individual progress of the student, is definitely a demanding one as it forces you to stay focused 100% of the time (no kicking back at the back of the class – your teacher will surely notice). The positive side of this is of course that you are forced to practice what you have been thought, immediately and constantly.
While – I have to confess – I did struggle for quite a while with those verb conjugations, I very soon noticed the pay-off of the hard work in the classroom. Indeed, for each week that passed, the daily spontaneous conversations with falafel vendors and kids on the street became more rewarding. Having never regarded myself as particularly good at languages, I can now, after 8 weeks of intensive Arabic class, not only make myself understood in most everyday interactions, but – given a dose of patience on the receiving part – can actually express abstract opinions on e.g. news and political events in Arabic.
Even if my studies took up a lot of my time, I am happy to say that my experiences outside of the classroom have been just as positive. The atmosphere at the Centre is familial and there is always someone there – be it a teacher, volunteer, current or previous student – ready to pour you the next cup of Arabic coffee and chit-chat about the peculiarities of Palestinian weddings. The staff is always ready to help out with practicalities and once in a while they arrange trips to different sights in and around Hebron.
It is a fantastic experience just to have lived for a short while in Hebron. It has a beautiful ancient city centre where you can wander around and admire the many hundred years old houses stacked on top of each other, while buying delicious fresh vegetables from the surrounding countryside or admiring the traditional and locally made ceramics, glass and embroideries. And be sure, wherever you walk in the city, you will encounter the hospitality of the Palestinians – often meaning a coffee and a friendly conversation in Arabic, if not an invitation to a family dinner or wedding.
Hebron, however, is an intense and, indeed, a conservative city; add to that the Israeli settlements and partial military control. It all makes for an incredibly interesting experience, of the Middle East in general, and the Palestinian situation in particular. I was nonetheless glad to be able to hop on a service to Bethlehem or Jerusalem a few times to just relax and do some sightseeing.
For someone coming the Middle East for the first time, Hebron will be an intensive crash-course in itself. But with the help of the staff at the centre and the always welcoming locals, you will soon feel at home. Indeed, you will probably feel a bit Palestinian when you leave. Just one advise though: bring warm knickers – while I got used to basically everything in Hebron very quickly, I never really accustomed myself to the cold of the early spring months. With a pair of warm socks and a wool sweater, however, you can manage most things.
Keeping that in mind; if you quickly want to learn Arabic and if you want get to know Palestine better, the coming to the Excellence Centre in Hebron will not let you down."