Two months ago, 30 Palestinian students began a Starter Conversational English class at the Excellence Center located in Hebron. The class teacher was a Palestinian English-speaker named Alaa Doudin with the help of some international volunteers who are participating in the volunteer in Palestine program this summer in Hebron, Palestine.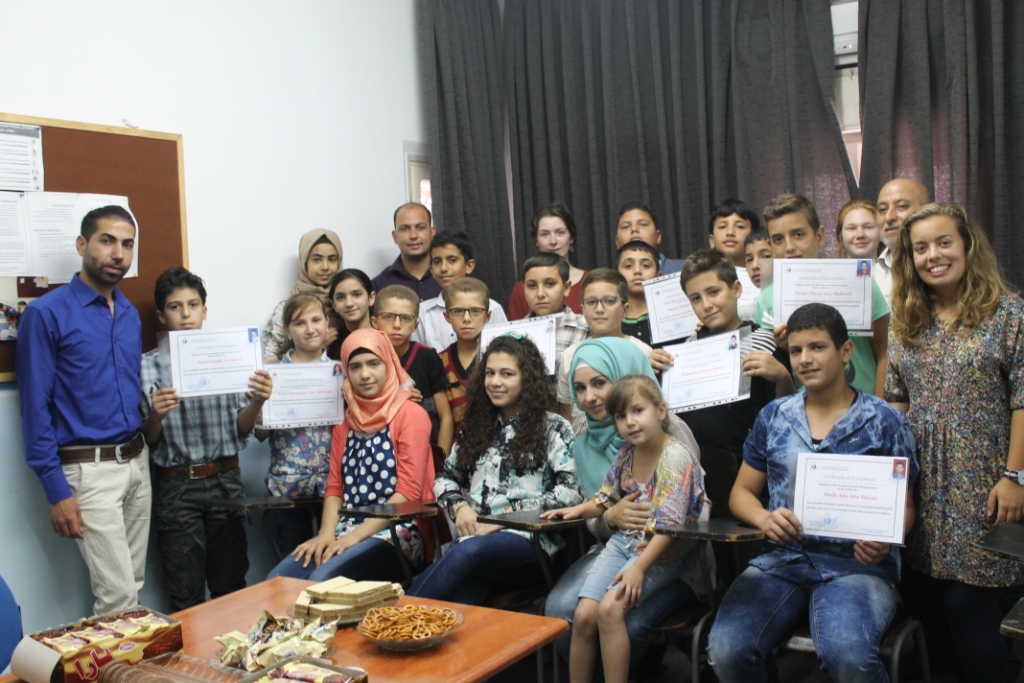 On Thursday, August 6, the Center held a small certification ceremony for the starter English class. The group, composed of Palestinian kids, ranging from ages 8 to 15, had completed a total of 30 hours of studying conversational English at the Excellence Center.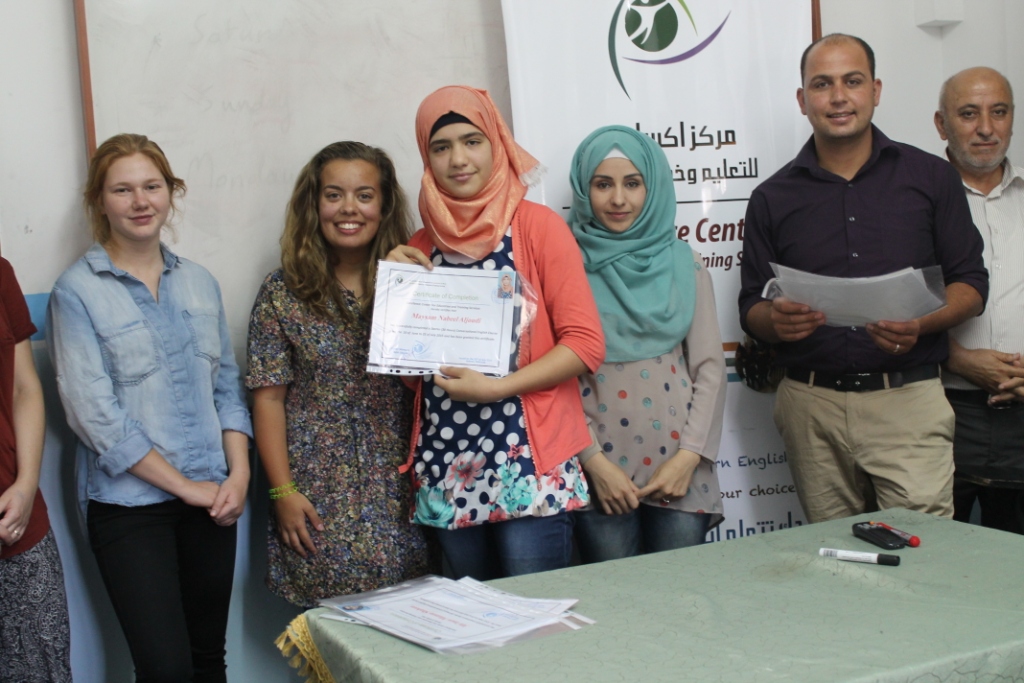 During the ceremony, the students sat at their desks while the Director of the Center, Rafat Shantir, gave some remarks about their accomplishments. A couple of students came up in front of the class to demonstrate their developing English skills. Most students stepped in front of the class and recited a short introduction of themselves, noting their names, their age, and a couple of their "favorites," such as favorite food, color, or hobby. Some of them also mentioned what their future plans were. One girl told the class that she planned to be an engineer, while her younger sister sat at her desk, beaming at her.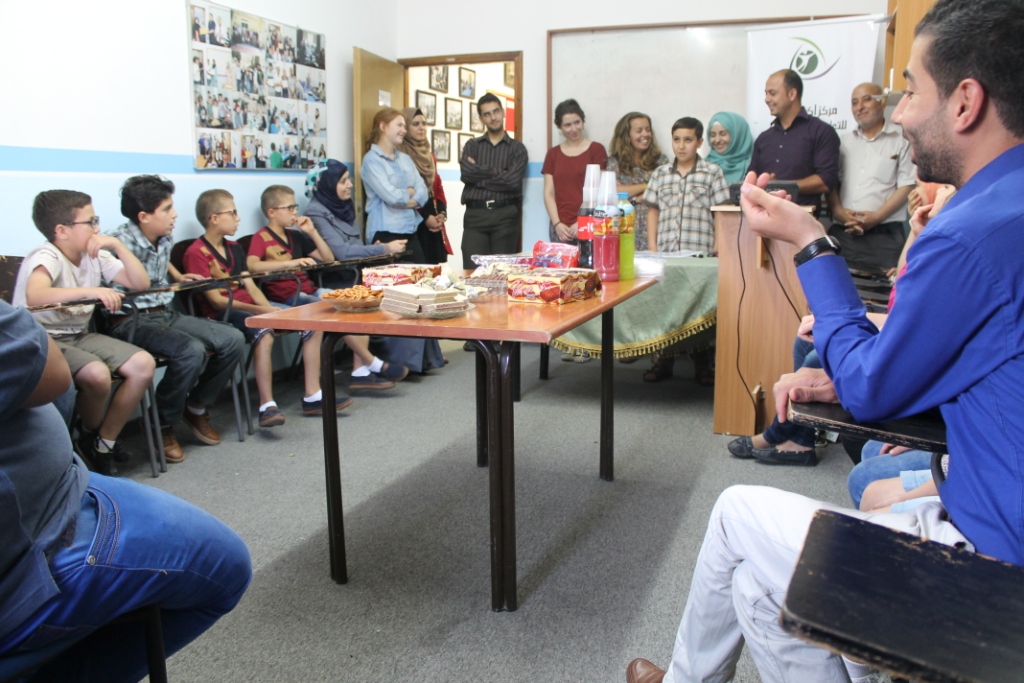 After this, the students each came up to the front of the class to receive their certificates, which state that they have successfully completed their Starter Conversational English Class as Palestinian students at the Excellence Center. The teachers and volunteers took turns giving the students their certificates as they got their pictures taken. After they had all received their certificates, each of the volunteers and teachers made short comments to the class about students' success and the future of their studies.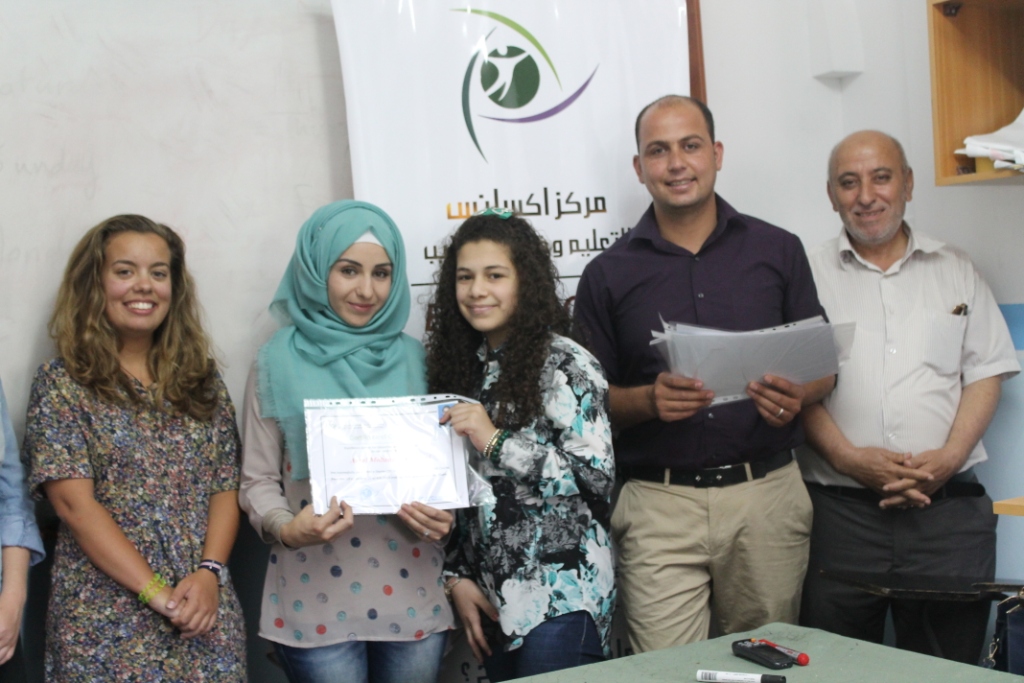 The teacher, Alaa Doudin, was very proud of her students, and it showed. During the ceremony, she stood close to the students, quietly giving them suggestions for what to talk about. One of the volunteer teachers, Stina (from Norway) who assisted several times throughout the course, said that during the class "some [of the students] were very nervous, but also eager to talk and eager to learn." She continued, "It was nice to see them succeed."