"I participated in the Teach English Speak Arabic program from November, 2014 to February, 2015. I thoroughly enjoyed my time I had spent with the Excellence Center. The staff were great and I never encountered a problem that could not be rectified. They were more than willing to help me and offer solutions to living in a new country. My Arabic teacher was very kind and patient with my lack of foreign language acquisition skills.In addition, the native Arabic teachers were fun to work with also. I have taught in 4 different countries and I had the best time in Hebron. My students were amazing and very generous. I went to cafes with them, their homes for dinner and their businesses. Moreover, I even went to Bethlehem and Jerusalem with them. They were motivated and eager to learn English; I looked forward to each and every class, because I love interacting with new and stimulating people. My host family was great and very helpful. I have made some lifelong friends in Hebron and without a doubt will return". Mohammad Davies from Canada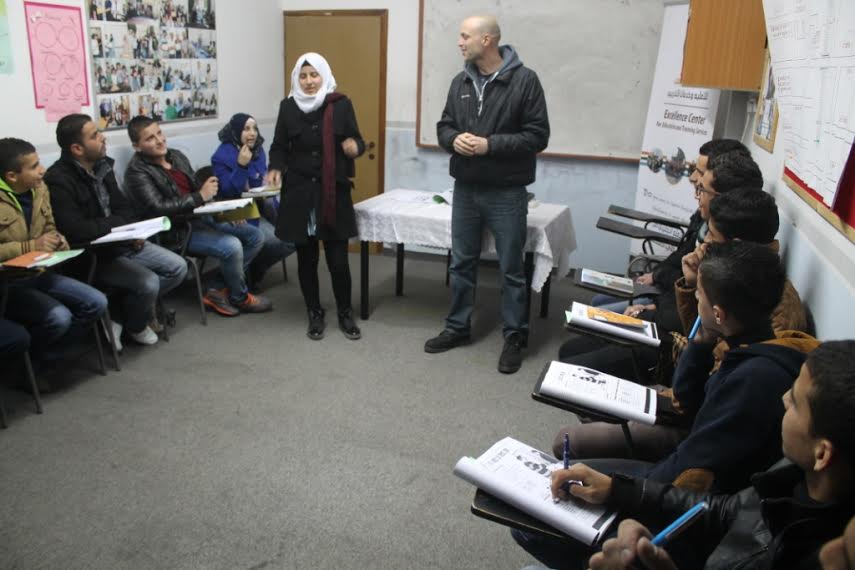 "This was my fourth time to Palestine, but my first time to stay for an extended period. It was probably one of the best decision I ever made. I not only made friendships that will last a lifetime, but I now have a new perspective on life. The center offered many opportunities to visit places in and around Hebron and also allowed for us to do things on our own. The people are amazing and I now feel like Hebron is my second home". Jolennda from the USA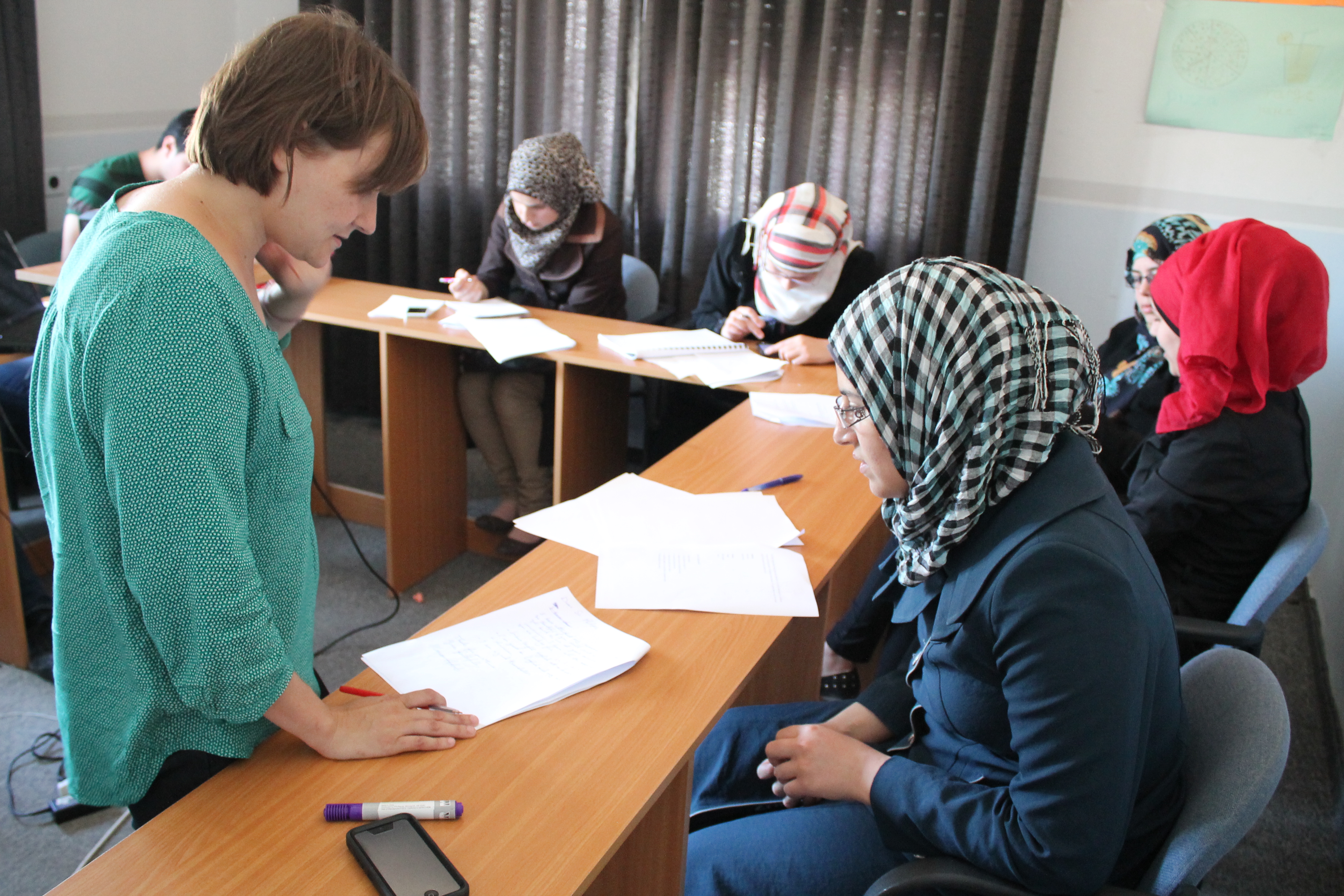 "I imagine everyone who visits the West Bank has a unique experience. Everyone brings their own perspective and engages on different levels. My decision to intern in Hebron was fueled by a desire to learn, so I could better understand the condition of life in the West Bank and the lives of its people. Excellence Center enabled me to do just that. Working with the young people in Hebron, every day was educational–both for me and for my students–and I am really appreciative I had the opportunity to engage on so many levels! Not just through classes at the center, but also through partnerships with other NGOs and universities. (Not to mention our weekend adventures around the West Bank–and abroad–as well.) It was definitely an experience that impacted my perspective and life on a multitude of levels, and one I will never forget". Courtney Lefebvre from USA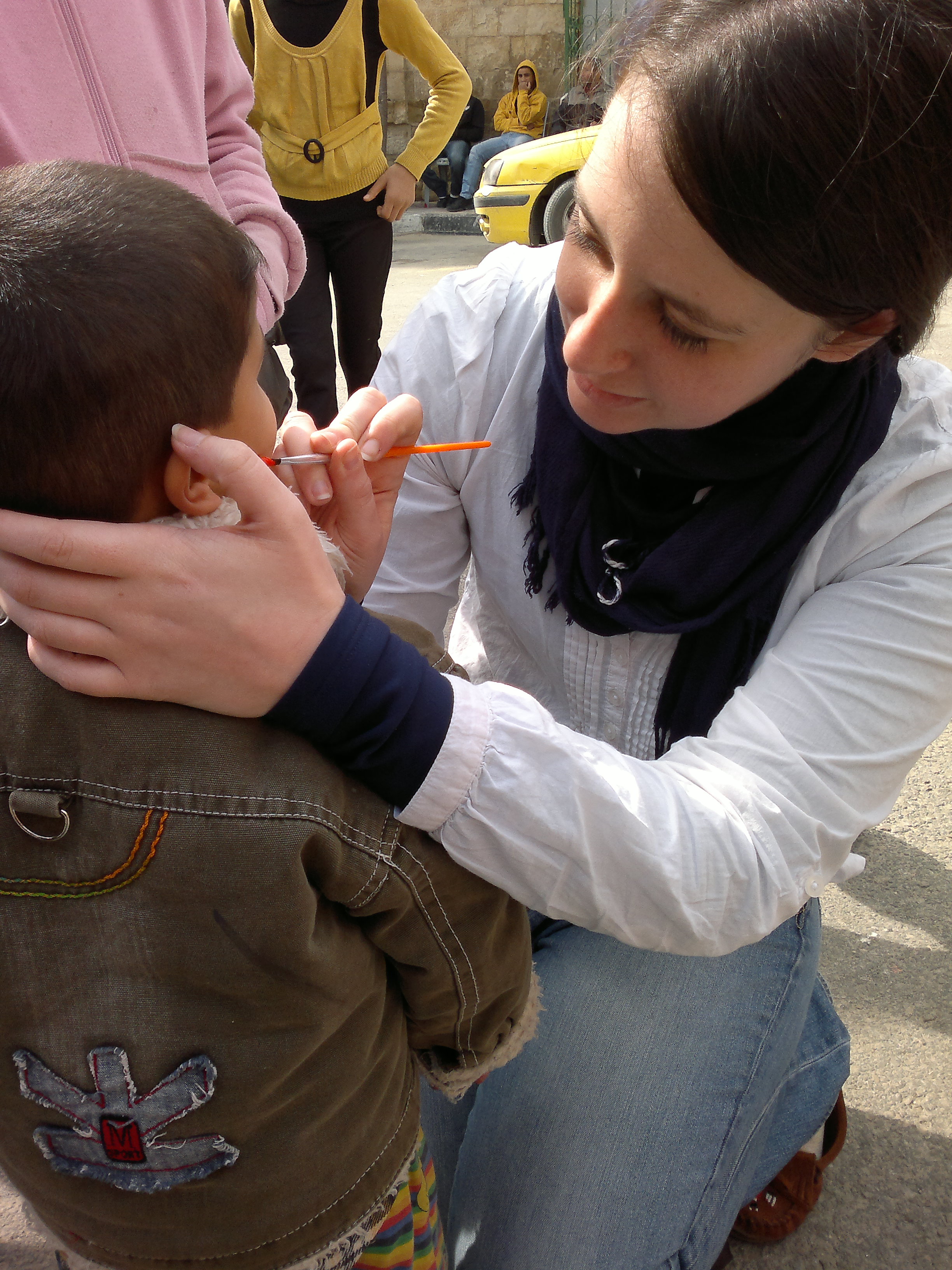 "The Excellence Center gave me the opportunity to expand my skill set while living in and experiencing a new and beautiful place and culture. My love for Palestine and the Palestinians began at my home, the Excellence Center. I consider the while team at the center my dear friends and I cherish my time with them deeply". Simon Skold from USA.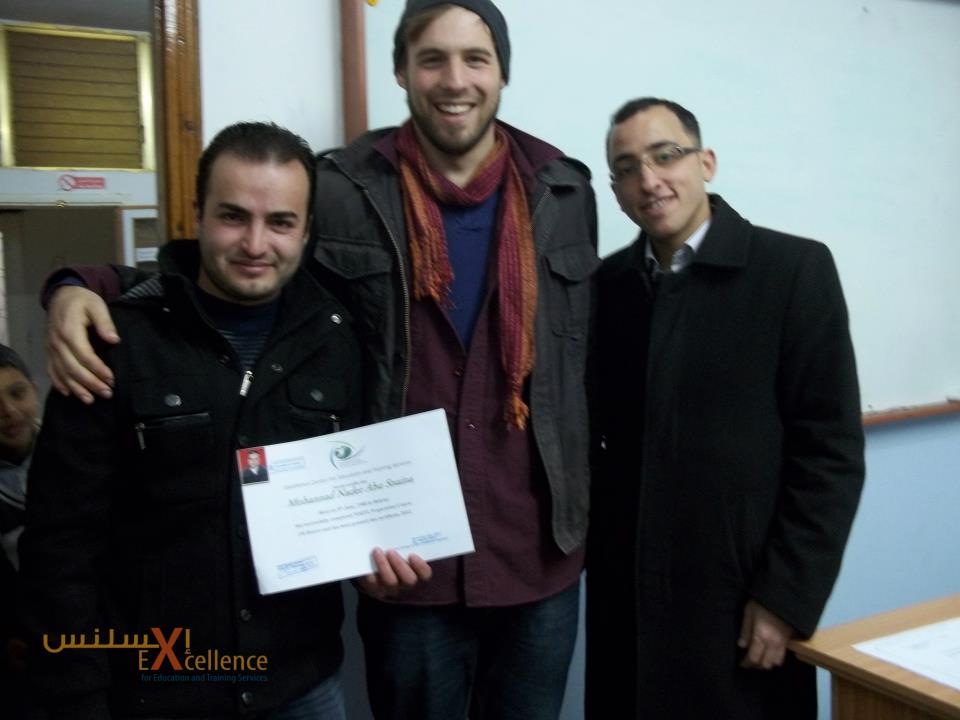 "In the spring of 2012 I participated in the TESA program at the Excellence Center. During my time there I was able to gain valuable professional experience, learn first-hand about Palestinian culture, and explore neighboring countries. I led classes, workshops, live radio lessons, and helped expand the Center's programs. I was also able to learn Arabic, visit with Palestinian families, and make Hebron feel like home. I would highly recommend the program to individuals who want to learn more about themselves and the world around them". Derek Smallwood from USA
"My time at Excellence Center was invaluable in so many ways. While it helped me grow professionally, it also gave me the opportunity to meet wonderful people, many of whom I still am in contact with today, experience Palestinian culture, and better my Arabic. I felt like a part of the city, and for all of this I am truly thankful for my time at the Center". Cristina Violante from USA
"My time as an intern and teacher at the Excellence Center in Palestine was truly remarkable. The Palestinian people are some of the most hospitable that I have ever met, and the students have a serious and genuine interest to learn English which makes teaching them incredibly enjoyable. I will never forget the friends I've met in Palestine and even to this day I am always thinking about my next visit to this alluring country". David Flores from USA.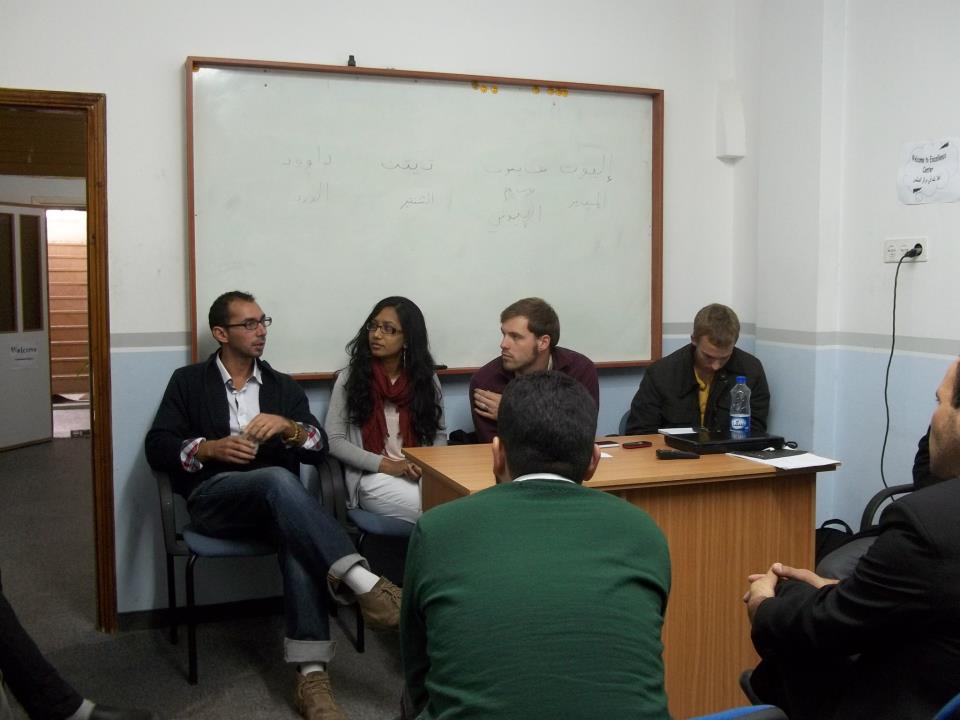 "My experience at Excellence Center (EC) was unique and one that cannot be replicated elsewhere. Within the context of guiding the English language proficiencies of students so eager to learn, I was embedded within an environment which is the subject of controversies worldwide. I found myself in a land with a topography that is gigantic, monumental, thrusting, and as tumultuous as the politics of the region. Within this venue EC provided me with a sense of family belonging with staff and other interns. Relationships were always cordial, warm, and tightly-knit. We all bonded quickly and closely. EC did its utmost to meet my desires and needs, from day-trips, such as Nablus where my obsession for finding the gravesite of poetess Fadwa Tuqan was fulfilled by staff navigating not easily trodden cemetery landscape, to a trip to Ramallah and environs beyond to satisfy my desire to visit a centuries-old village at the literal end of the trail! The reward at the end of that trail was, not only the village itself, but the most magnificent sunset I've ever seen! On a more mundane level, EC made sure that I had the basic necessities I required and I was never without. People were warm, hospitable, generous, and always kind to me – without exception. I cannot count the times I was told by people, "Ahlan w sahlan" – welcome – from taxi drivers to friends of friends, to people in my neighborhood. I returned home nine weeks after arriving in Palestine a person with an expanded vision, and a more direct understanding of an oft-times misunderstood part of the world. I owe this once-in-a-lifetime experience to the Excellence Center. I look forward to visiting them again – Ensha'allah!". Lora Beseler, Wisconsin, USA
"Teaching the students was an easy way to meet a lot of local Palestinians, and most of the friends I made came through my classes at the Excellence Center". Tim Sturtevant from USA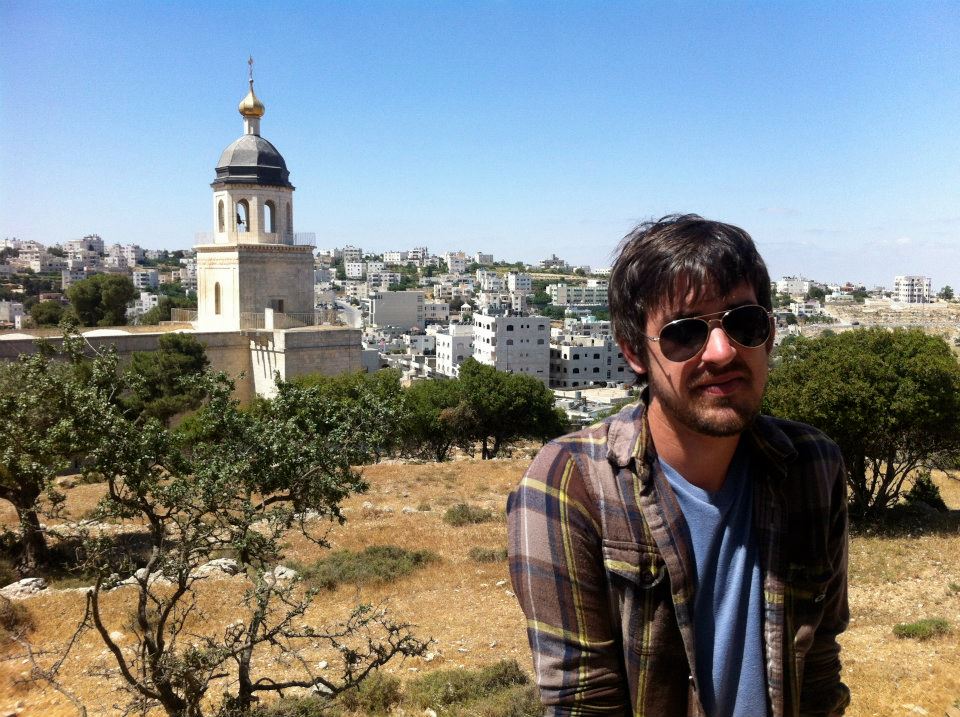 "The part I liked best during my internship at the Excellence Center was interacting with students. It was nice to get to know them. I think there was a good relationship between us and I enjoyed teaching them. It was also nice to get to go to coffee shops with them and spend time outside the center with them. Visiting Palestine and walking around the old city was nice too".  David Johnson from the USA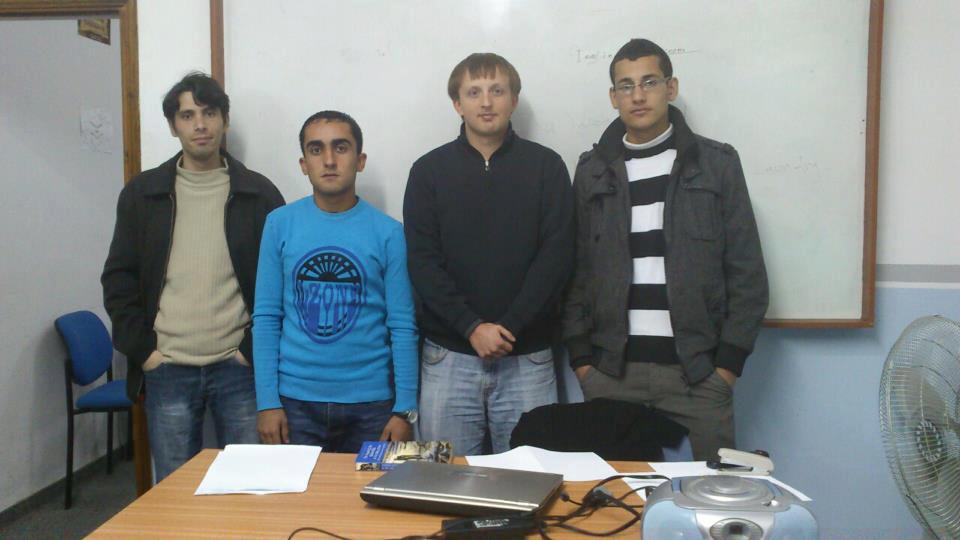 My time at the Excellence Center provided me the opportunity to experience a culture and a way of life that is often misrepresented. I was completely overwhelmed by the warm hospitality and generous spirit of the Palestinian people, who not only opened their homes, but their hearts. The Excellence Center allowed me to create lasting friendships, while encouraging the improvement of many professional skills, such as public speaking, research, and the use of the Arabic language. I feel very proud to have made an impact on many students' lives through English instruction and am forever grateful to the Excellence Center for making it all possible". Mark Trick from the USA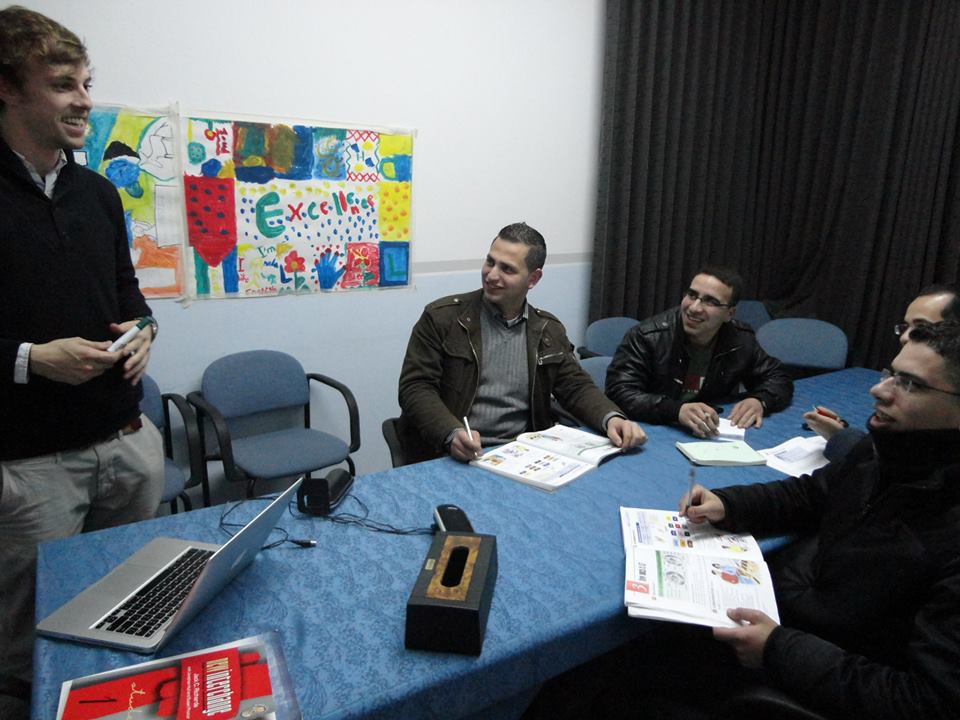 ""I gained a whole new perspective on the situation in Palestine – mostly through talking with a wide rang of People whose attitudes affected me deeply and increasing my communication skills.  Instead of meeting with bitterness and despair, I met with dignity, self-reserve and generosity – an amazing trip in a beautiful country!". Irene Stevenson from USA.