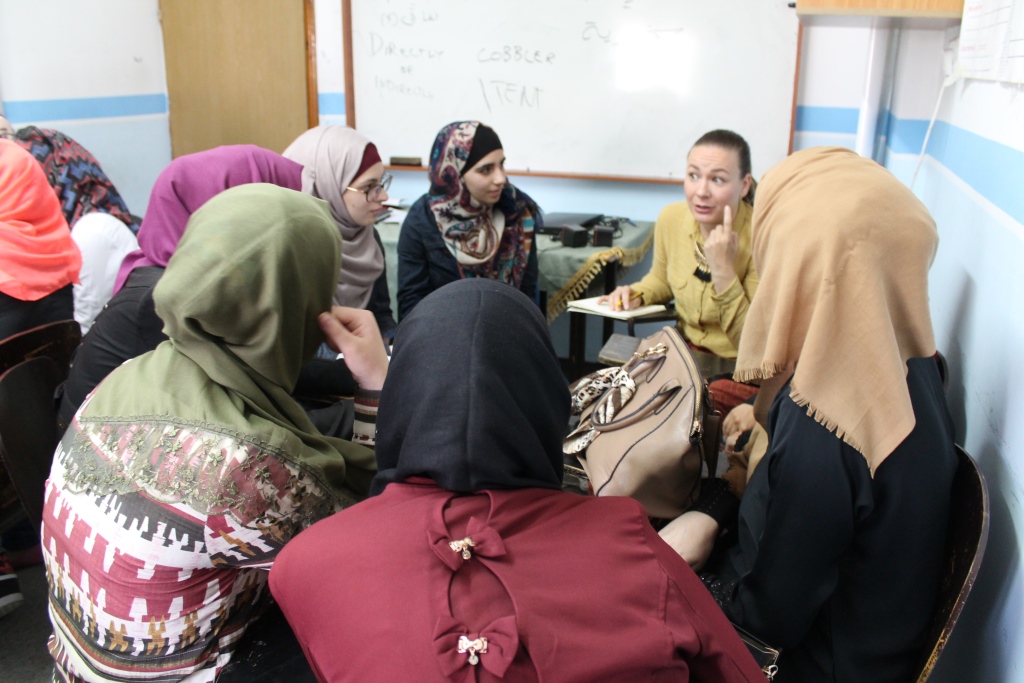 Tarita was involved with the 'Volunteer in Palestine' program for one month.  She chose Palestine, because she had been interested in the region and wanted to come and see it with her own eyes and experience it with the Palestinians.  Tarita felt that:
"One can learn by reading and following the news only so far, so I wanted to learn and understand more so I thought coming here would allow me to do that. Also, I wanted to learn more Arabic and thought Palestine is a good place to learn that. I have wanted to come here for a long time now and finally my life situation allowed me to take the break and come here".

During her stay at the Excellence Center Tarita contributed by facilitating interactive and engaging English classes for students. She also facilitated different workshops in essential life skills, for example, for writing CVs and cover letters or job applications. She was able to do this as she works as a Management Consultant, which means she has a good knowledge and background in giving this type of advice.  
"I will contribute to the Excellence Center's work by being a motivating teacher and giving fun and memorable lessons for the students. I will also be a good "ambassador" for the Center by maintaining a good relationship with my host family and all people involved with or hearing about the work of the Excellence Center. I could also write promotional articles for the Center and help to promote it that way too. Finally, I will also be a good team player with other volunteers so we can do the work efficiently".
On her days off she also travelled around Palestine.
The experience is also helpful for Tarita's future aspirations in trying to work for a non-governmental organization. She is now a business consultant, but would like to leave business life and have a job where she can make a real difference and help people. She says that:
"Having the experience and learnings from Palestine makes me a better candidate for such organizations, for example for the Red Cross.  Also, I work for the Red Cross in Finland as a volunteer where I often need Arabic skills, so learning Arabic here helps me in doing that volunteer work in Finland with refugees".
Tarita hopes that her work will make a difference and that her presence and her motivating teaching style will spark self confidence for her students in learning and actively using the English language. She would also like to provide real practical lessons, for example CV writing for the students. She says:
"I cannot solve all the problems by coming here, but I want to believe the Palestinian students will benefit a lot from the Excellence Centers work".