Saying Goodbye to Four of Our International Volunteers
|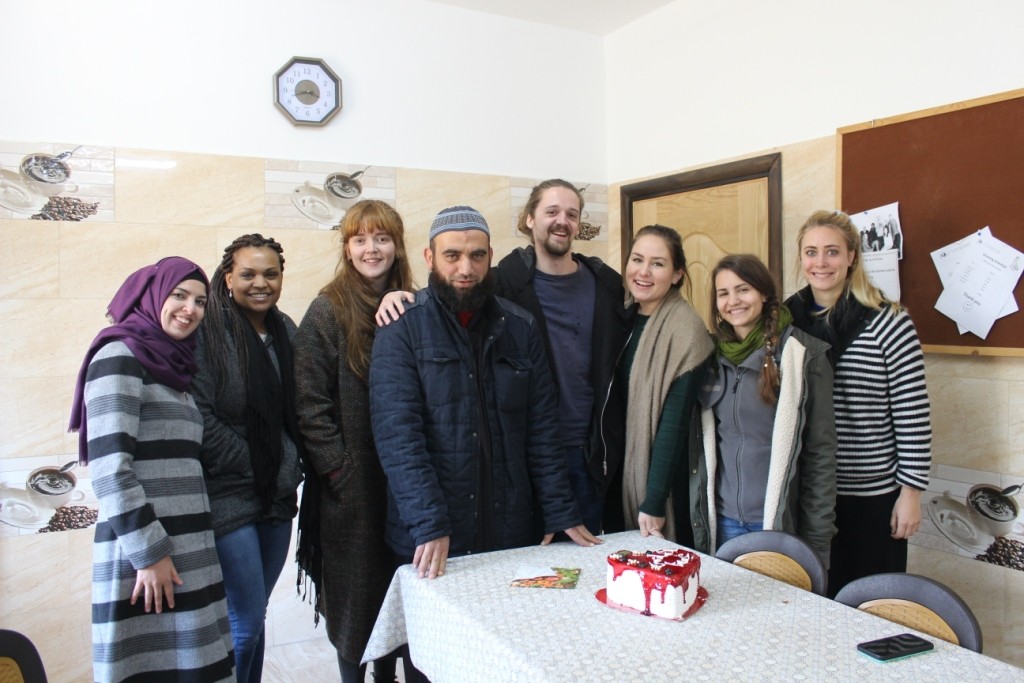 Saying Goodbye to Four of our International Volunteers: On Sunday we at the Excellence Center will regretfully bid farewell to four of our current international volunteers. Ola from the United States participating in our "Intern and Learn Arabic in Palestine" program, Victor from Belgium who participates in our "Teach English and Learn Arabic in Palestine" program, Coco from Germany who is here to study Arabic in Palestine with us and Paulina from Finland who has brought her expertise in the study of healthcare to us.
Coco and Ola plan to take some travels together following the end of their stay in Hebron. They will go to Nazareth then they will spend Christmas in Jerusalem and Bethlehem, following the holiday will make their way to Haifa and following that spend a few days in Tel Aviv. Coco will then fly out of Tel Aviv back to Germany where she works as a midwife. Ola, who has been at the Excellence Center for two months will then head to Jordan for several months and she is currently looking for work there, "hopefully with a small grassroots organization." Ola tells us that one of the main gifts she received from volunteering with us is that, "I understand more of what I want to do with my future and what type of work I want so I am very excited to continue on this path." Ola is also greatly looking forward to, "continuing my travels because my time here has really shown me what I can learn from traveling and meeting new people and also of course continuing with my Arabic."
Victor has been teaching English at the Excellence Center for three months. Victor is a professional teacher and he spends his time traveling around the world teaching in different schools. Two days before his flight he plans to leave Hebron and spend time in Bethlehem and Jerusalem and then spend one day in Tel Aviv, where he will the following day fly back home to Belgium. Victor will spend one month at home before continuing with his work as a teacher in India. Victor tells us he is, "excited to spend Christmas and New Years with friends at home, it has been six years since I will have been home during the holidays!" Additionally Victor tells us he is most excited to head back to India where he has spent years teaching in the past, "it is like my home away from, also it is exciting because my students don't know I am coming and I will get to surprise them.
Ola tells us she what she will miss most about her time here in Hebron with us at the Excellence Center, "Marwa [center director] and all the people in general." She continues, "and how much tea everyone drinks! My Arabic lessons and also how cheap and delicious pomegranates are here." Victor tells us, "definitely the people: the other volunteers, students and my colleagues."