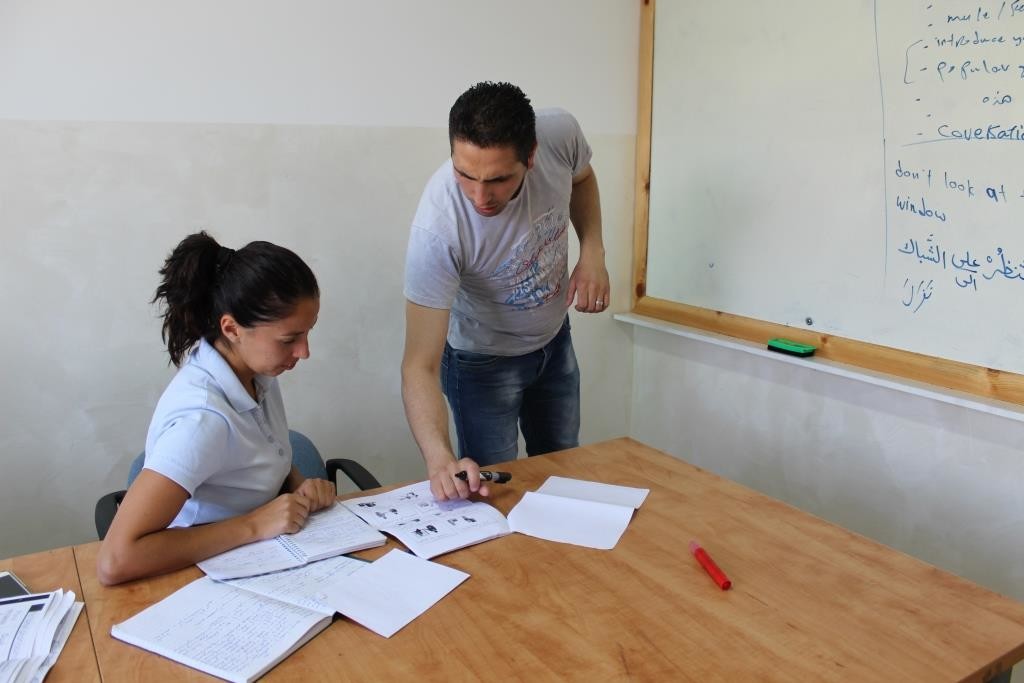 My First Impressions of Hebron, West Bank: "My name is Cynthia, and I am an American university student who studies International Relations and Arabic. I am participating in the Teach English, Speak Arabic volunteer program through the Excellence Center. For two months, I will live with a host family in the city of Hebron, assist in teaching conversational English classes, and take a few Arabic classes a week in order to improve my language skills. I'm excited for this opportunity to teach English and learn some Palestinian dialect while I stay here in Hebron.
I arrived in Hebron only a couple days ago, after a long series of flights, bus rides, and taxis. Once in Hebron, I had a hard time explaining to the taxi driver about where the Excellence Center was, which made me nervous about my future ability to navigate the city and participate in society. However, over the past couple of days I have found that the people in Hebron are always willing to help you and are very patient when you don't understand something at first.
During my stay, I will live with a host family in an apartment building twenty minutes away from the center by car. Every morning this summer, I will take the bus from my house to the downtown area and then walk from there to the center. Before I visited Hebron, I had heard horror stories about the instability of the West Bank and the danger that I was getting myself into for being in Hebron. However, none of these stories ended up being remotely true! I feel safe at home and in the city, so much so that the idea of walking to the Excellence Center by myself does not bother me. My host family is patient and very helpful, and the fact that I am Christian and they are Muslim does not pose a problem at all.
In my host family, there are seven children ranging from ages 10 months to 19 years, and they are all very excited to have me here. In the mornings, we spend time cleaning the house and I teach them some English before it is time for me to leave to go to the Excellence Center. In the evenings, since it is still Ramadan, we break fast with the family members and friends of my host family around 8, before returning home to spend time watching TV or sitting outside drinking Turkish coffee, smoking argila, and talking about life in Hebron and about the English language. It is a little tiring being here and adjusting to a different culture, lifestyle, and schedule, but I am learning a lot and I am enjoying my time immensely. After just a couple of days of being in Hebron, I feel safe, comfortable, and excited to be working with the Excellence Center this summer. Because of this, I am greatly looking forward to the next two months while I teach English and learn Arabic."