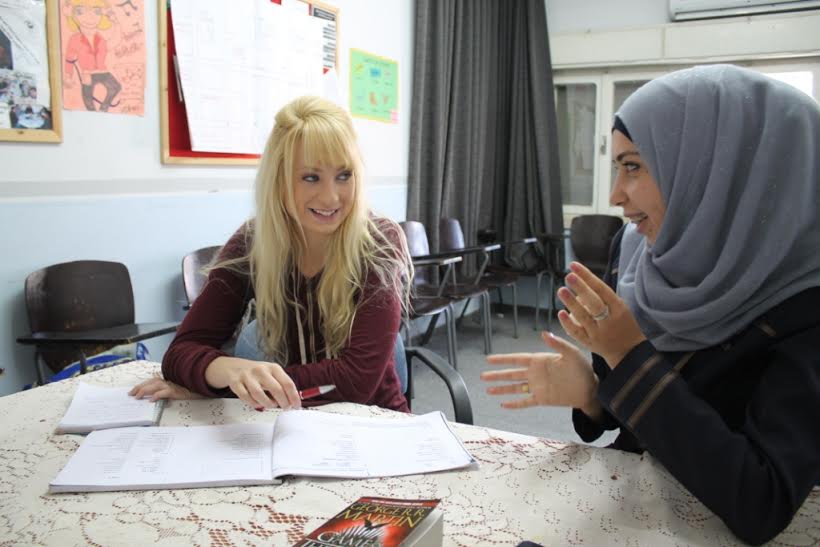 "My first impressions of Hebron were of the typical charm of a place that has existed way past its prime. It smells of spices, cooked meat, and construction. The Mosques lit up with neon lights cast a warm glow on the street below, clustered with packs of people winding their way through the city. Upon arriving on the street of my host family's house my host father, a big cheerful man, smiled brightly at me and proceeded to guide up and down a maze of staircases until eventually I found myself in front of a large cast iron door. With a quick turn of the key, I was herded into a large cave like room which had a twin bed, small closet, vanity, and a private bathroom. I smiled gratefully at my host father as he pointed out all the features of the room, secretly dreaming of a steaming hot shower and crawling into the twin bed for the rest of the night.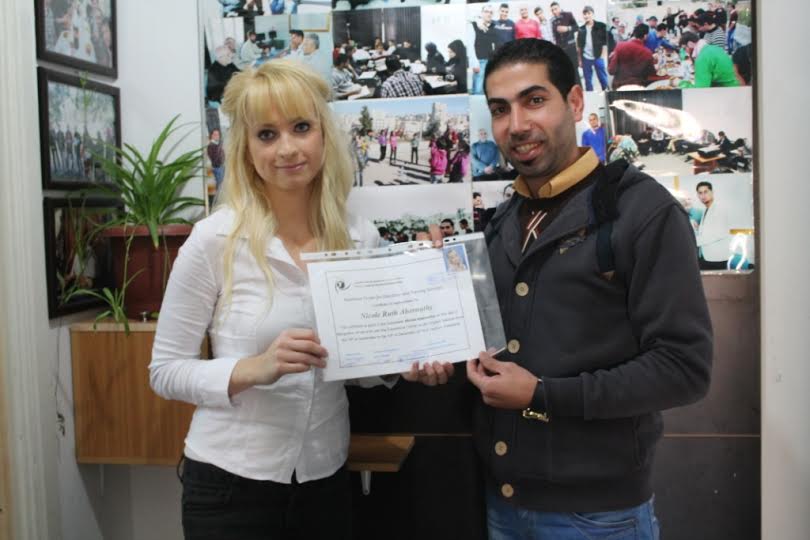 This thought was quickly pushed aside as streaming through the room three young girls rush to greet me, giggling profusely as they introduced themselves in Arabic. In the haze of the evening they disappeared as quickly as they had come, and as the door closed in front of me, I found myself alone. I tore off my clothes, hot and dirty from twenty-four hours of traveling and twisted the knob for hot water in the shower. The water was ice cold. I waited anxiously, but the water remained freezing. "Perhaps they don't have hot water" I thought disparately, and weighed how badly I wanted to be clean in my head. Very badly. I stepped into the shower and took a painful plunge into the cold icy water and just as I was adjusting to the temperature when there came a loud knock at my door. "One minute" I yelled. Indistinguishable Arabic followed and loud knocking. I sighed. As I starting getting out of the shower I realized there were no towels. I sneaked to my suitcase dripping wet, grabbed a t-shirt, dried myself and on pulled on the first items of clothing I could find. Damp and bedraggled, I pulled open the door to find the three girls standing questioningly in front of me. "Yes?" I asked them, "Hamza" they said, pointing upstairs. "Hamza?" I repeated. They began to chant, "Hamza, Hamza, Hamza" demanding I leave my room and follow them. "What on earth could a Hamza be?" I thought to myself as I made my way up a set of stairs and into the home above my room. Hamza, it turned out, was the eldest brother of the family. In total I my host family consisted of 2 brothers and 3 sisters. The girls were the youngest, ranging from 6 to 16, and the host brothers were 18 and 20. The family ended up being perfect for me.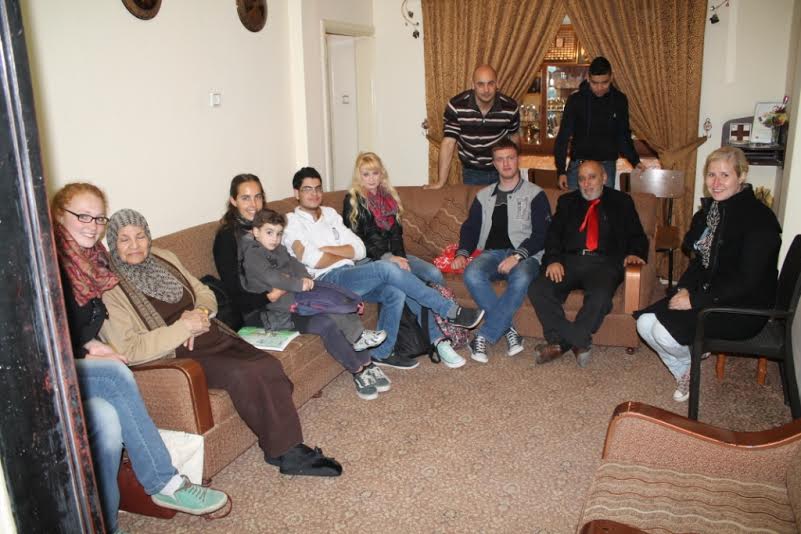 They became my protectors and advisors, my close friends and confidants. Some nights I will sit on their couch and play with the girls, others we will all crowd into the kitchen laughing about the day and eating bread and hummus. Don't get me wrong, it is not always easy, but somehow living in a small house with a large family turns you into a more forgiving person.  Every morning from my room I trek out into the bright sunshine and walk down the many flights of stairs until I reach the street. There, I have a taxi waiting to take me to the Excellence Center. It's a relatively short and chaotic drive, passing donkeys attached to carts and cars weaving through the narrow streets. The sound of honking echo constantly, reflecting a conversation between the drivers of the cars. Once we pull up to the center I let out a hearty "shukran, masallem" (thank you, bye) and march through the door and up the stairs to the center. When I arrive at 10 more often than not I am alone as Palestinians seem to have a habit of always being late. I set my bag on the table and take a moment to relax or spend some time cleaning off the table from the previous night so it is ready for breakfast. Everyone at the center is very friendly and welcoming, and they always give a cheerful good morning when they arrive everyday. Eventually the tea is made, the bread has arrived, the eggs cooked, and everything is placed on the table ready for consumption. Everyone gathers round we take the opportunity to catch up on each other's day while eating a delicious Palestinian breakfast. After that, depending on the day, I might wash the dishes from breakfast and then prepare myself for whatever I have scheduled that day.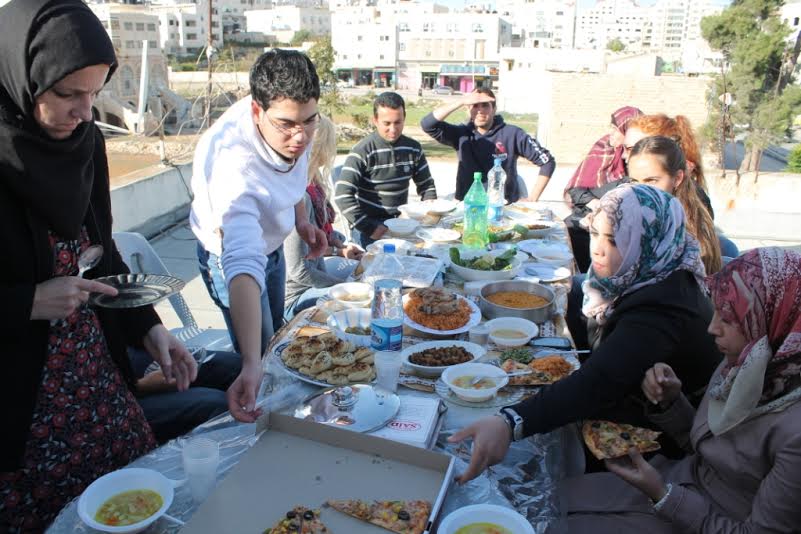 The classes at the center are roughly 2 hours and consist mainly of reading through examples in the books or writing vocabulary on the board, depending on the teacher's needs. Two days of the week I work with the University of Hebron continuing education program, a program which is designed to specialize graduate students in specific fields. Here, I and another intern Runa, help teach conversational English to students who are specializing in English. Another two days of the week Runa and I go to Palestinian middle schools were we have a conversation day and get the opportunity to talk with young students who are surprisingly good at speaking English. I enjoy these trips because the students are so enthusiastic, even if they won't admit it, about learning. We often go on excursions, places like glass factories, refugee camps, nature reserves, and other fun actives with everyone at the center.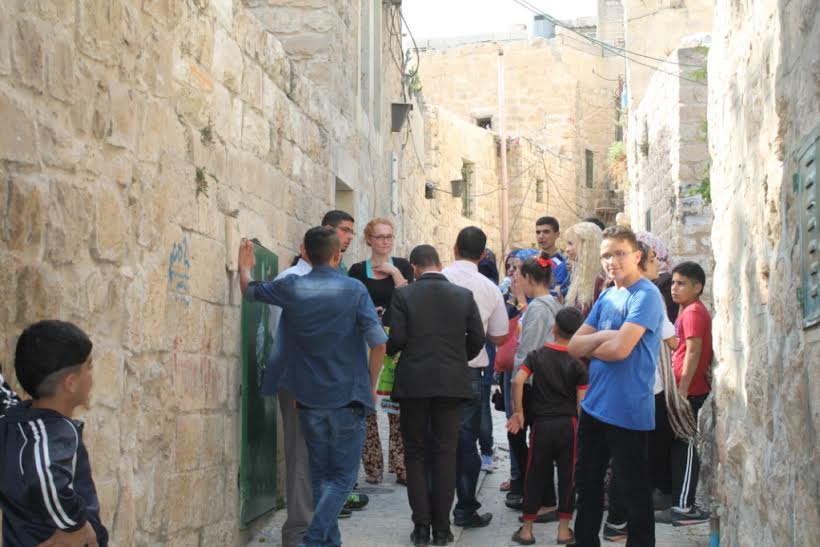 Recently we went a glass and ceramic's factory were we had the opportunity to watch a man create vases and bells as well as woman paint elaborate art onto ceramics. In addition to all of these activities we also often go to different schools and are given tours of important places so as to both advertise the center as well as have a new learning experience. Once I am finished I return home, where I can work in my room or help around my host family's house.  Then I crawl into bed and sleep and began the process over again the next day. Thus far the experience has been truly wonderful and I am thoroughly enjoying my stay in Hebron". Nicole Abernathy from the USA