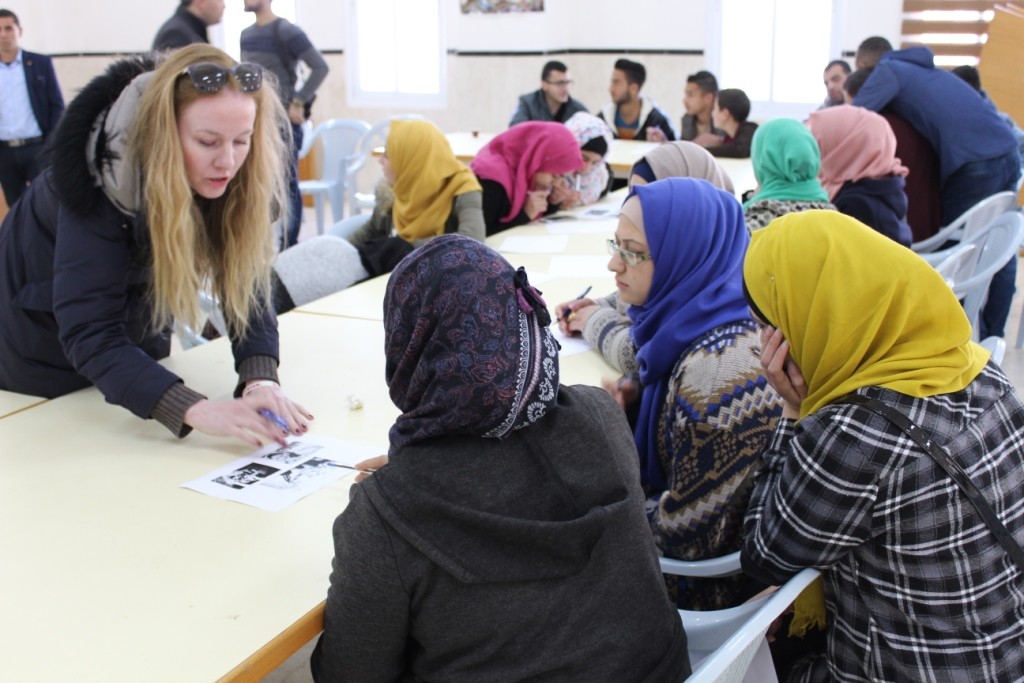 "My name is Tanya and I am originally from New York but live in Berlin now. I am participating in the TESA program here at the Excellence Center and have just started my second week. I will be in Hebron for a total of eight weeks. My experience in Palestine so far has been very positive and the program is meeting my standards in every way.
My main motivation to come here was to learn Arabic and achieve this while living in the Middle East. I have a Masters in Middle Eastern Studies and started learning Arabic ten years ago with a crash course in Cairo but unfortunately never continued taking lessons afterwards. I always regretted this and decided 2017 was going to be the year I finally attempt to learn to speak this beautiful language. I feel that learning to speak the Arabic language will help me in my career in the future.
In January, I began my research online, googled volunteer positions in the Middle East and the Excellence Center came up immediately. Browsing the website, I was extremely impressed with the detailed descriptions of the different programs Excellence Center offers, including many testimonials and videos of former participants and students. I was particularly drawn to the idea of living with a Palestinian family during the program and being able to organize my stay as soon as possible. This flexibility and quick pace helped fuel my enthusiasm and excitement about coming to Palestine.  In addition private lessons, custom-tailored to my needs, were also a big pull for me.
I was able to organize the trip in only two weeks following two Skype interviews with the Center and before I knew it, I was on a plane heading to Tel Aviv. I flew El Al and was subject to many questions about my trip in Berlin at the airport. I was warned about this by the Center so it was not a surprise but nevertheless, it is detailed scrutiny all participants should be prepared for. However this is the greatest challenge I have faced until now and should definitely not deter anyone from coming to wonderful Palestine!
Before my trip, people had told me how special Palestinian hospitality is and how friendly Palestinians are. Being on the ground has only confirmed these wonderful characteristics. Being half American, I already have quite high standards regarding friendliness in people but Palestinians have surpassed my expectations and are especially kind-hearted and welcoming. My host family is absolutely lovely and I could not be happier with the feeling of total immersion in their home. I live with a family of six children and from day one I was adopted into the family and continue to be included in all daily meals and family gatherings. I could not be happier being surrounded by Arabic all the time. In the evenings, we all sit together in the living room, talk about our day and watch TV in Arabic. My host mother speaks English so she can translate words I do not understand. It is absolutely up to me how much I would like to practice. It boils down to discipline and courage. I am definitely attempting to speak more in my second week and it is so exciting to already be able to converse in Arabic.
I decided to come in February despite being warned about the cold. This is definitely a legitimate concern since the bedrooms and classrooms are often not heated. I wear my winter coat during the day even while teaching and sleep with several blankets. It is a good idea to bring a hot water bottle or an extra travel blanket. Having said this, I am very happy to be here when there are not that many internationals at the Center. I am sure the cold is a deterrent for many. We are only six internationals and have a wonderful feeling of community, all bound by our passion for the Arabic language and the desire to learn it. Even when I am walking to the Center from home in the morning, which is a twenty-five minute walk, I do not see anyone who looks like me on the bustling streets of Hebron and this is the total immersion I had hoped for and was promised.
Teaching has also been an extremely rewarding experience. I do not have any teaching experience but the Center and other internationals are very supportive and have quickly shown me the ropes so I can feel confident in my classes. The Palestinian students ranging from high school boys and girls to adults are so very eager to learn English and their excitement is truly contagious. Their gratitude can be felt every day.
Last but no the least, I think my Arabic teacher Shayma is terrific! We have two sessions per week and her bubbly personality coupled with her passion for teaching motivates me even more to learn Arabic. I chose to learn the Palestinian dialect with her and every day I can apply new phrases and grammar I have learned at home with my host family. It is immediate gratification at its best and I could not be more thrilled with my choice of coming to Hebron to join the Excellence Center".