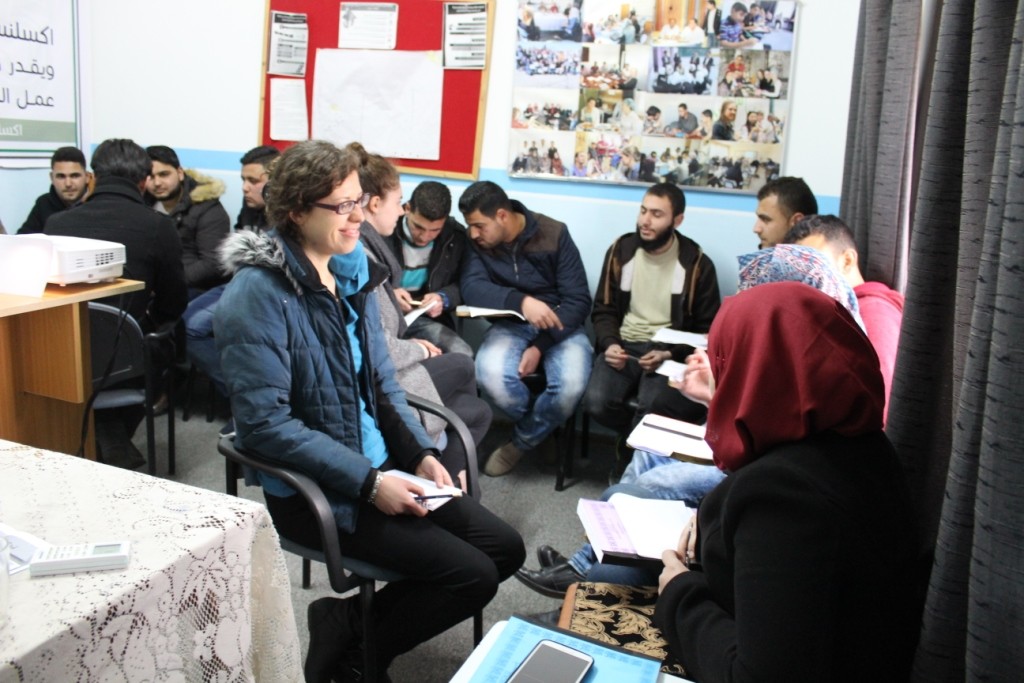 "My name is Sharon, I am from the United States, and I'm excited to be volunteering at the Excellence Center. I graduated in Human Biology and also studied music as an undergraduate. Currently, I work as a leasing agent for a property management group and I enjoy it. But lately I found myself needing a change of pace. Serving others is something I value, and traveling abroad has always been appealing to me. All these reasons lead me to the Excellence Center. In my search for volunteer opportunities I became very interested in teaching English. And since I had previously studied for a semester in Jerusalem, I decided I would love to return to the Holy Land as a volunteer. Something about the land and the people seem to catch my attention and draw me here.
My flight to Hebron was eventful and as a result my arrival was delayed. I did not get here until late at night, yet the Center's staff was still here to greet me and make me feel welcome. Due to how late I got into Hebron I stayed one night with a family close to the Excellence Center. I have found that the staff and other volunteers are concerned with helping new volunteers and interns make a smooth transition to the life and culture here.
Palestine has a rich culture that takes some adjusting to as a foreigner. Hospitality is a major part of the lifestyle, as is hard work yet taking life at easygoing pace. Structured schedules are not a high a priority. But hard work and achievement are the standard for most Palestinians. This holds true for the Excellence Center, where you find people working to help individuals gain English skills that can benefit their life and the lives of their families.
As a foreigner with no background in Arabic, I have lost my way many times both en route to Hebron and while living here. Someone has always helped me find my way, which I think speaks of their welcoming mindset. Also, public transportation is readily available but it's wise to get an idea about prices, especially for private taxis as they are usually more expensive.
As far as safety in Palestine, the only danger I fear is hypothermia. The winter months are very cold due to the humid climate. And having lived in very cold climates before I thought I could tough it out. However, the cold tends to be more piercing since homes and businesses do not have central heating. Other than that it seems a person just needs to be smart on the streets, as in any large city. And as a single foreign woman I have learned the appropriate way to act on the streets. Also, I find that the world's understanding of the conflict here is very different from what I have experienced so far.
During my time here I plan to teach English, learn some Arabic, and become more familiar with the culture. Living with a host family has been the perfect opportunity to be immersed in the culture and learn the language."