Meet Nazeer from South Africa
|
My Name is Nazeer Kamdar, I am a university student from South Africa. I studied Business Science, specialisng in Finance and Accounting at the University of Cape Town and have just graduated. I have lived in South Africa for my whole life and sought a life-changing experience after I left university and before I started working. I wanted to learn about other people, other cultures and other ways of life and so I volunteered for 1 month at the Excellence Center in the Palestinian city of Hebron.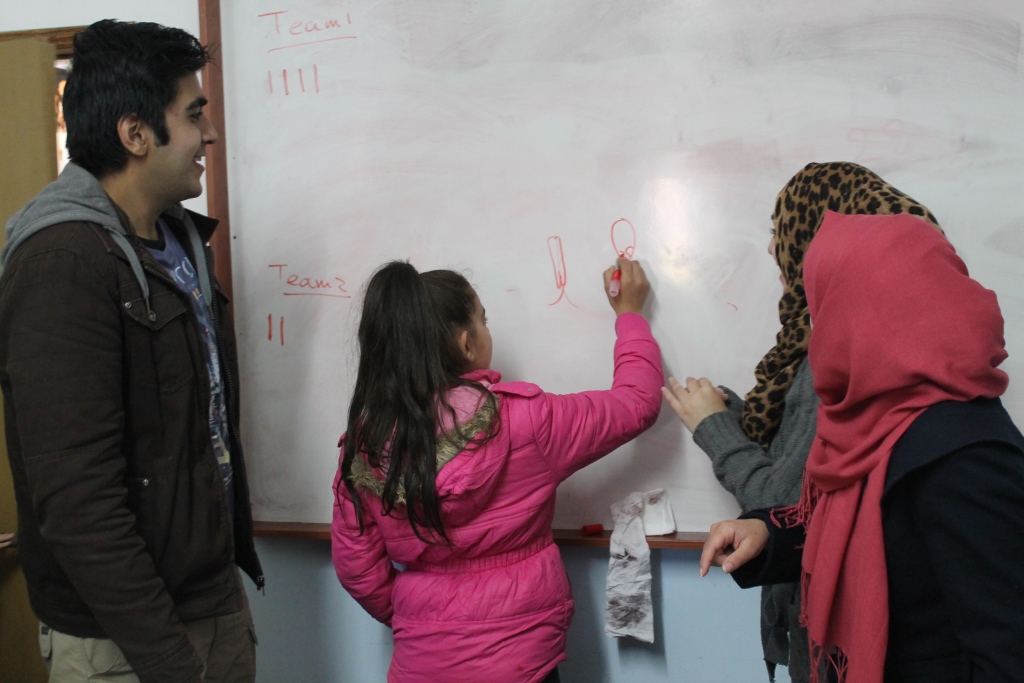 How do you feel in Palestine?
When I first arrived in Palestine, I felt quite uncertain due to being in this new and foreign environment as well as knowing the situation surrounding me, politically speaking. Within a very short space of time though, I discovered that these feelings were quite unfounded. Palestine is an incredibly rich and beautiful land with people so warm and welcoming, I couldn't believe I felt so worried beforehand.
Safety is always a concern whenever you travel, but this is the case for any destination around the world. Just as you would avoid going to certain areas past certain times at night in Europe or Asia, you do the same here – if you keep your wits about you, you will be absolutely fine. This is because no matter where you are, or who you are for that matter, there is always someone willing to help you find your way. "Welcome to Palestine!" they'll shout out to you when you walk down the street; "You must come visit my family" others will say; and you will simply be left astounded at the caring nature of these people towards a complete stranger. In Palestine, I honestly feel at home.
What did you do in Palestine, what did you teach and for whom?
I was based at the Excellence Center in the city of Hebron where I was assisting a number of teachers with their English classes. The Center offers a wide variety of English preparation courses for people of all ages who seek to improve their language skills; in my time, I was assisting one of the Center's regular teachers Ibrahim Abueisheh with his Beginner and Intermediate classes as well as several of his private classes. I had also taken on a private student of my own, who wanted to build up his conversational English to use in his business. There were also times when I found myself free and a teacher required assistance and so I would jump in and help where I could. I myself was not teacher back home, however I found teaching to be a great learning experience – especially when there is a language barrier, as it forces you to become creative and innovative in getting your points and ideas across.
Teaching is your primary role at the Center, but this role provides an invaluable opportunity to socialize with and to learn more about Palestinians. No matter the size of the class, every students wants to learn more about you and in turn share more about themselves. Even the teachers themselves are so willing and open to share their stories and experiences over breakfast or tea. It's a wonderfully relaxed atmosphere that makes teaching and working such a delight. The students themselves love talking with you, and often invite you to their homes for dinner or to meet their families.
Which cities have you visited in Palestine?
Being based in Hebron, I initially spent my time exploring this city and its surrounding regions. As I grew more comfortable, I started visiting several of the other major Palestinian cities including Bethlehem, Ramallah and East Jerusalem. I will be travelling extensively over my last week to Ramallah once again, Nablus, Qalqilya and Jericho.
I implore anyone visiting the West Bank to explore as much of the region and to soak up as much of the history as you can. Each city holds an incredible amount of historical significance that can only be discovered through venturing out and exploring. Bethlehem, Jericho and even Hebron itself hold some of the most astounding historical sites in the world. Each city though has its own unique charm, and chatting to people and walking through the streets of each one is its own delight.
Did you feel safe in Palestine?
Absolutely; Palestine, and especially Hebron are very safe areas. Just remain aware and conscious of your surroundings and don't do anything silly, just as you would anywhere else in the world. Even travelling to different cities was a pleasure in terms of safety because of the amount of advice the locals would give you. Obviously, the first thing anyone thinks about are the stories seen on the news relating to the situation caused by the occupation, especially in Hebron. Truthfully though, the reality could not be more different. There is so much life and activity in Hebron and indeed in other cities, that safety concerns are soon dispelled as soon as you arrive.
Your overall experience in Palestine?
I absolutely loved my time in Palestine; so much so that I don't want to go home! The warmth of the people, the beauty of the surrounding areas and the richness of the culture and history have all allowed me to develop a special love for Palestine. There is just so much that isn't said about this area, and so much of what is said just isn't true. Every day brings with it a new adventure: either a new story, a new area visited, or new food to taste. Every city brings its own charm and character. There is just so much more to Palestine than I had ever imagined, and I absolutely loved that.
Did you learn some Arabic?
As part of my time in the Center, I took beginner Arabic classes with one of the Center's teachers, Ala Doudin. I used to speak Arabic when I was a child, but slowly forgot most of it, so it felt very good getting back into this language. Ala's classes proved very useful in daily life, but most especially when travelling to other cities. In my experience, I found that conversing with Palestinians in even broken Arabic goes a long way and so learning Arabic was also a great way to indirectly connect with the people around me.
Your experience living with a Palestinian host family?
My living arrangement was very well-organized. I was living in an apartment belonging to the host family, who lived on the floor above me. This allowed for regular interaction with the family, and their wonderful kids but also meant I could have my privacy whenever I wanted it. It was always such great fun to come home from work and play around with the family kids whenever they were outside – not many spoke English which made things even more fun! I was always welcomed into their home, and was never allowed to leave until I had at least 3 cups of tea. They were really caring towards me, and were always ready to help out with anything I might have needed. Its one thing working in Palestine, but it is another thing entirely to live with a Palestinian family, and I cannot recommend it enough.
What can you say about Palestinian people?
The people of Palestine truly amaze me and fill me with so much hope and optimism. They live in the most extraordinary of circumstances, and have to face the harshest of challenges simply to live an ordinary life. Yet, Palestinians are some of the warmest and kindest people I've ever met. Whether I'm grocery shopping, or buying a falafel, everyone is interested in you and where you come from. Palestinians are equally as interested in you learning about their culture and history and so you will find yourself facing a large number of invitations to dinners and family outings – and you should go to as many as you can! If you're ever lost, there is always someone to help you, even in the most unlikely of places. I've experienced this warm, open and welcoming nature from the first day to the very last and it was truly moving to feel so welcomed in a place that was at first so foreign to me.
One thing I have to say though, is that no matter what problems you might think you'll experience here, food will not be one of them! Whether its through an invite to a family barbeque or a food day at the center, you will find yourself treated to all of the wonderful food that Palestine has to offer. Palestinians take a lot of pride in their heritage and that pride extends to their food; so go ahead and try as many dishes as you can!
Your experience with the Excellence Center and its staff?
After the experience of working here, the people of the Excellence Center are more family than staff to me. Everyone here helped me feel so at home, and so happy to be in Palestine. Every morning started with breakfast together, and every evening ended with those still left in the center having tea together. Its things like these that make me miss working at the center the most; that sense of family and togetherness. Marwa is the most organized person you'll meet and always has a smile on her face; Osama is exceptionally resourceful and always goes out of his way to make sure that you're alright; and each of the teachers are so passionate about what they do in their own right. The people of the Excellence Center do absolutely incredible work and reach so many people through their courses. It's such a wonderful organization to have been a part of and I've enjoyed my time here immensely.