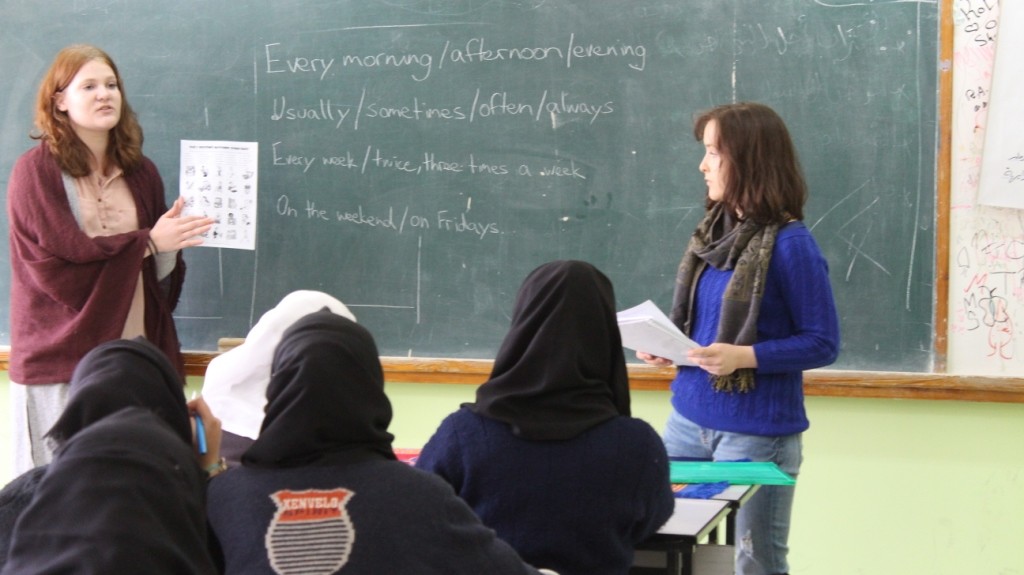 "My name is Jana Lindner. I am 19 years old and I am from Germany. I am a university student of Political Sciences and Middle Eastern Studies where I learn about the Middle East; its history, language and politics.
I came to Palestine this week where I am teaching English classes at the center. I have taught English previously in Tanzania, where I volunteered for six months in 2016.
I have always been interested in the Middle East and Arabic countries in general. I have previously travelled to Tunisia, Lebanon and the UAE and have come to Hebron as I want to learn about both sides of the Palestinian and Israeli situation.
The whole situation is not portrayed in a neutral way in the Western media, so I am very excited to learn about the truth while also improving my Arabic by being able to actively use it in Hebron while learning the Palestinian dialect.
I learnt about the Excellence Center online, when I was looking for information about Palestine. The program looked very nice to me and also the chance of living with a local host family was very appealing.
Palestine is very different to all the countries I have visited so far. People are generally super friendly and welcoming as I have found in many other Arab countries. At the Excellence Center, I have always felt taken care of and have been provided every essential care by the staff. I unfortunately don't have enough time here, but even now, after just a few days, I feel like I will come back as soon as I can.
In my time in Palestine I hope to learn about the culture and about the experiences of the people who are living in a difficult environment like this. I like hearing peoples' stories and I am glad to be able to be a part of their journey, and maybe, encourage them to go and fight for their dreams.
My host family is very nice and I feel very comfortable around them. Hebron is a nice place in the middle of the West Bank that has a lot of different sites and nice villages around that, for sure, should be visited by more people.
I hope more people will learn more about Palestine and be open to see the whole situation from a different point of view, not just how the western media wants us to see it. Therefore, I hope that a lot of people will take the chance to come visit, explore and love Palestine, just as I have.
Don't be scared, just be open minded and all of the good things will come to you -thanks to the Excellence Center for providing this opportunity to people and for always making sure everything is fine."