Maud From France Shares Her Interests to Volunteer in Palestine
|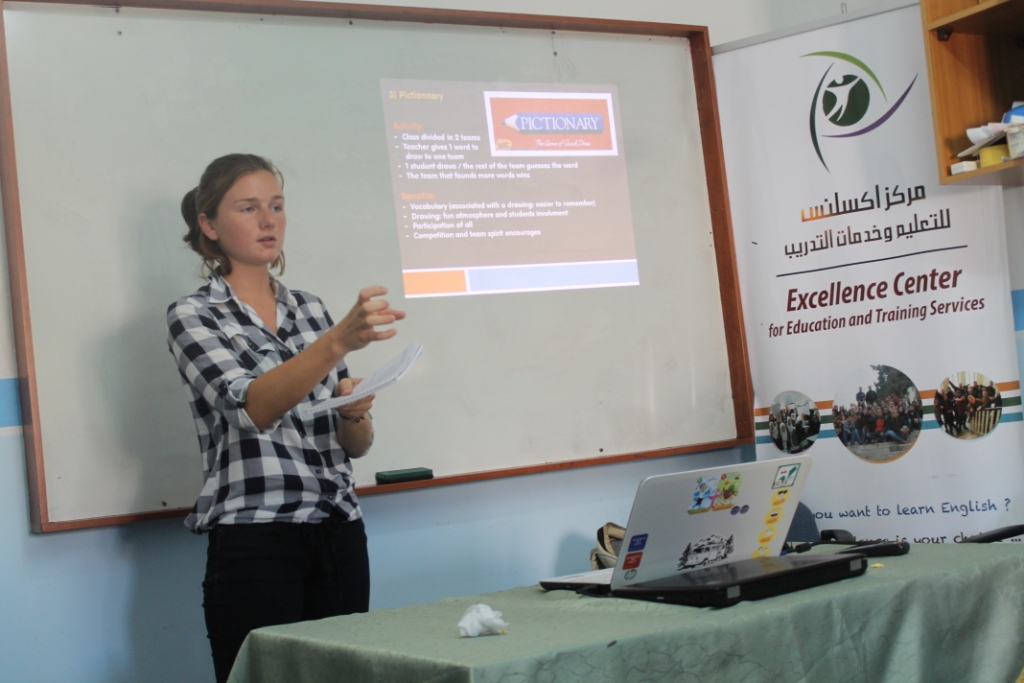 "I decided to volunteer in Palestine this summer and more precisely at the Excellence Center for many reasons that I will explain in this letter.
First of all, I wanted to work in Palestine for several reasons. I am more than interested in Arabic and Muslim culture so I really wanted to work in an Arabic country, stay in a local family to discover the religious and cultural traditions (traditional meals, prayers, customs, family relations, gender issues etc.) and learn Arabic. I lived in Qatar for three years and my father speaks Arabic so I always had this connection and fascination for the Arabic world. Now it is time for me to improve my knowledge and language.
Moreover, since three years now I have been studying Political Science, International Relations, Conflict Resolution in the Middle East and the Arab-Israeli Peace Process in my home university. Thus, as I study these subjects, I wanted to live in Palestine in order to discover the country by myself and see how the conflict if felt here on the ground. According to me, it is way more useful to learn about Palestinian culture and quality of life by coming directly on the ground.
Lastly, it was important to me to work in Palestine because I studied in Tel Aviv the whole year so I travelled a lot the last months to Palestine (Nablus, Jericho, Bethlehem, Hebron, and Ramallah), visited the historical famous places and met a lot of families. I was always extremely well welcomed in host families and working here is a way for me to give back to the Palestinian community. I was studying in a right-wing and biased university in which I did not always agree with the lessons I was taught so it is really important for me to finish my exchange year with an activity which is closer to my convictions and beliefs in which I feel useful to people that need my help.
Secondly, I chose the Excellence Center because I think teaching a necessary language as English is one of the best ways to help a community of young people. Is it not only assisting them materially, it is giving them the means for entering later the labor force and business world and increase their quality of life in general. Having a basis of conversational English is really something essential nowadays in order to be able to travel and work abroad, which is a plus for the young Hebron community.
Furthermore, I personally really love to teach and especially the young ones and I am pleased to be able to do it here as I totally agree with the Excellence Center's way of teaching. I think that learning through experimentation and experience in a student-centered lesson which includes a lot of participation is the best way to make the student feel concern and motivated. Encouraging more than punishing and using games and unconventional activities help to have a good atmosphere in the class and students, for sure, learn faster and enjoy at the same time.
To conclude, my fascination for the Arabic world and the special concerns I developed towards the Palestinian community this year pushed me to decide volunteering in Palestine. I am more than glad to work at the Excellence Center because teaching English is for me the best help I can offer and I totally agree with the Center's views of teaching young students. I am more than motivated to be part of this cultural exchange and human experience and I will do my best to teach students English skills". Maud JOVET  from France who is participating in the Volunteer in Palestine program this Summer 2015.