Lær arabisk Online via Skype: Å lære arabisk via Skype passer mange mennesker som ønsker å lære arabisk, men som ikke har tid til å gjennomføre regelmessige arabisk-timer i klasse. Å lære arabisk online sparer tid, penger og anstrengelser. Folk rundt om i verden ønsker å ta daglige arabisk-timer på nettet, og de trenger ikke reise langt, for de kan snakke og lære arabisk fra lokale arabisktalende mens de sitter hjemme.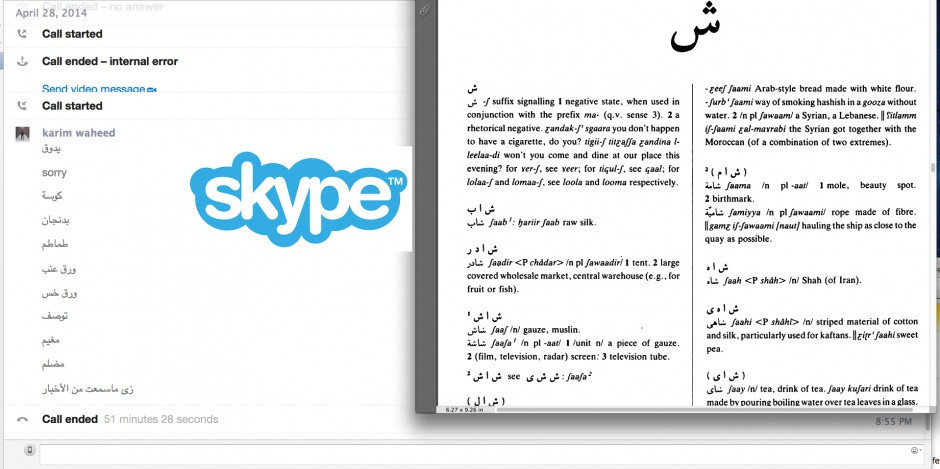 The Excellence Center i Hebron i Palestina tilbyr utlendinger muligheten til å lære Palestinsk arabisk, Standard Arabisk, og andre arabiske dialekter online via Skype.  Dette senteret i Palestina har 8 palestinske lærere som alle har bred erfaring med å lære bort arabisk til ikke-arabisk talende. Utenlandske studenter kan skreddersy et kurs basert på deres eget nivå, ønsker og øvrige preferanser. De kan også bestemme hva slags arabisk de ønsker å lære.
Å lære arabisk online via Skype er en god mulighet for internasjonale studenter som ønsker å forbedre sine arabisk-kunnskaper med lokale arabisk-talende personer fra Palestina.  Studentene har også muligheten til å lære mer om palestinsk kultur, politikk, og dagligliv ved gjennomføring av et slikt kurs. Våre palestinske lærere ivrer etter å møte nye mennesker og dele sine erfaringer med dem.
Online Skype Arabisk-kurs tilbyr også internasjonale studenter muligheten til å praktisere sin arabisk som de tidligere har studert ved et Universitet eller språkskoler, og de kan snakke fritt med en palestinsk lærer.  Online kurset er basert på et «en-til en» prinsipp. Når det gjelder tidspunktet for undervisningen, så avtaler student og lærer seg imellom og kommer frem til tidspunkter som passer dem begge, i tillegg til antall timer per uke. Normalt pleier studentene å gjennomføre 3-4 timer i uken.
The Excellence Center i Palestina tilbyr studentene en prøvetime uten kostnad. Du kan deretter bestemme deg for om du ønsker å fortsette å studere arabisk online på senteret, eller ei. Lærerne formidler i det første møtet progresjonsplan og metodikk, og studentene blir spurt hva de ønsker å lære slik at det kan lages en fremdriftsplan for kurset.
Ved fullføring av et online arabisk-kurs , vil The Excdellence Center utferdige et diplom for gjennomført kurs som kan legges ved i din CV.
Å lære arabisk online via Skype er en ypperlig mulighet for deg til å begynne, eller å fortsette å utvikle deg i arabisk språk.  Ved The Excellence Center i Palestina er vi overbevist at du vil ha stor nytte av kurset som du vil gjennomføre med våre palestinske lærere.
Ønsker du å gjennomføre et online arabisk-kurs på The Excellence Center i Palestina. Vennligst send en epost til: Rafat@excellencenter.org  og vi vil da sende deg søknadsformularet som du fyller ut og i etterkant av det vil vi organisere første prøvetime.
Du kan også finne all nødvending informasjon i denne artikkelen:http://excellencenter.org/online-arabic-classes/