Intensive Arabic Program in Palestine
|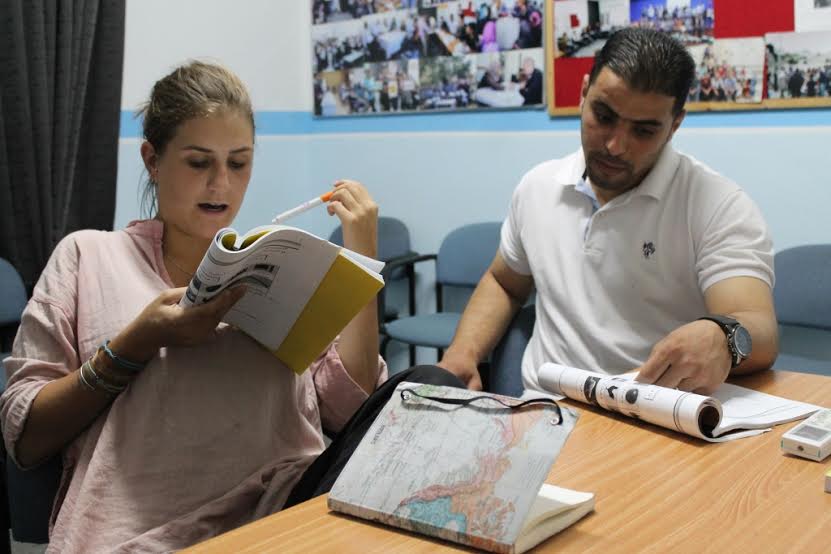 In addition to English Courses the Excellence Center also offers an intensive Arabic program in Palestine in Hebron Palestine. Students can take one-on-one private classes that are flexible and personalized to their needs. For example  many internationals living and working in Hebron for other organizations such as TIPH, Temporary International Presence in Hebron, come to the center to develop their Arabic language skills in the evening after work.
The Center also offers an intensive Arabic program in Palestine  for internationals to come live and study Arabic for as little or long as they'd like. Students can attend private classes for 25 to 30 hours a week with qualified teachers who implement a variety of methods. Rasha, a teacher at the C enter for 3 years, uses videos, pictures, dialogues,stories and conversation to help the students learn to speak fluently.
The Study Arabic program attracts many different kinds of Arabic learners such as university students studying the Middle East and Ph.D. students doing research in Palestine. One student currently in the program, Karl from Sweden, is learning Arabic for his job in Europe on the Migration Board. He wants to be able to help them and communicate with them in their language to teach them about the culture in Europe and to help them get around. About the program he says, "The private teaching is really effective. I'm learning a lot and have really developed my knowledge of Arabic."
Students also have the opportunity to experience total cultural immersion by living with a host family and participating in many of the cultural events and activities with the Center. These activities include field trips to the refugee camp, tours of the old city, as well as some local points of interest like the glass blowing factory, camel sandals factory and the kufiya factory.