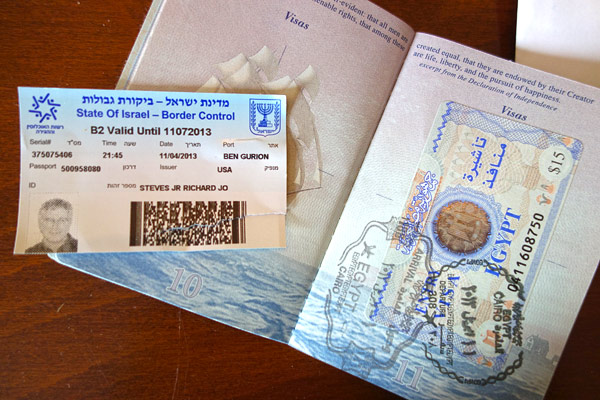 How Can I Renew my Israeli Visa? People who come to Palestine are usually granted a three month visa by the Israeli authorities upon their arrival. The Israeli government and its authorities are responsible for providing you with a visa either upon your arrival or through its embassies/consulates prior to your visit.
Visas are routinely granted upon arrival at Ben Gurion International Airport (Tel Aviv) if you are a citizen of an exempted country, or at the Allenby-King Hussein Bridge border crossing. Hamas controls the border in Gaza with Egypt. Tourist visas are valid for 90 days and most Americans and Europeans are issued three-month visas upon arrival and clearing customs.
Some people, especially those who come to volunteer or pursue an internship, want to prolong their stay to more than three months and they wonder how to do so. Normally you have two options to extend your visa. First, you can travel to Jordan as a visitor for couple of days where you get the chance to visit another country and discover its attractions. By crossing the border from Jordan and back to Palestine again, you will get a new tourism visa for a new three-month period.
In addition, you can also travel to Egypt and come back in couple of days, getting a new tourism visa in the process. The other option is to extend your visa through the Ministry of Interior in Jerusalem at Shlom Tzion HaMalka Street in West Jerusalem. However, the possibility of obtaining a new visa is not high.  
Therefore, it is recommended that you travel either to Jordan or Egypt and come back where you will receive a new tourism visa up to another three months upon your arrival.