The Foods You Will Eat in Palestine:  The place where you will be fed food, food, more food. Here in Palestine, the food is flavorful, fresh, and a huge part of the culture. People are constantly gathering around the table for a shared meal and great conversation. Because the land is fertile and prime for vegetation, there is a wonderful variety of fruits and vegetables available. We hope that you intend to come hungry to Palestine. There are many traditional dishes that will likely be served while here and we will share some of them with you today.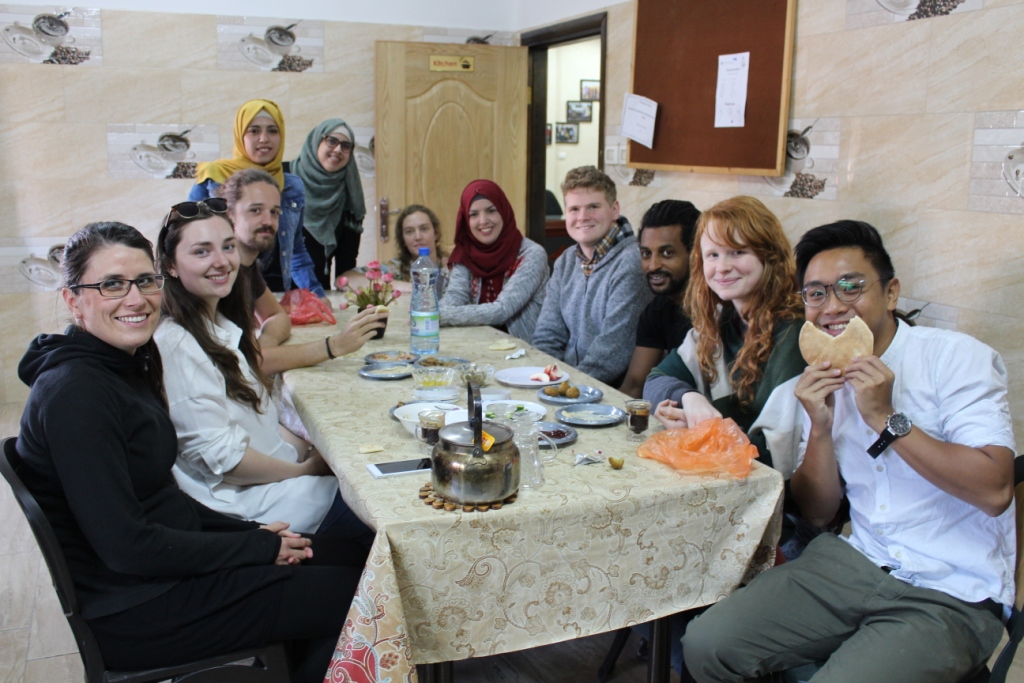 Starting with breakfast, a traditional Palestinian breakfast includes a spread of pita bread, hummus, olive oil with za'atar, and sliced cucumbers and tomatoes. You may also be served fried eggs, cheese, jam, falafel and/or foul. Many of these items you are likely already familiar with; however, za'atar and foul may be new ones for you. Za'atar is a delicious blend of dried thyme, oregano, sumac and sesame seeds. You eat za'atar by dipping a piece of pita bread into olive oil, then into the spice mixture. Foul, another breakfast food you may be unaware of, is a dish of mashed fava beans. It is very well-known around the Arab world.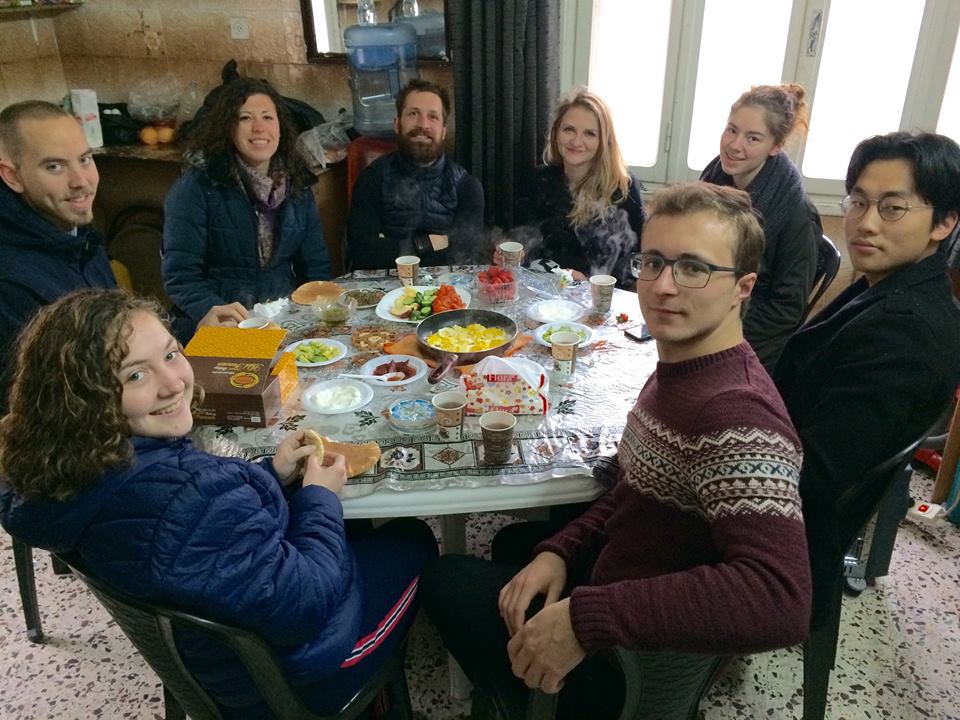 For lunch, some on-the-go favorites are falafel or shawarma sandwichs. Sold on the streets and in cafes, falafel and shawarma are found around nearly every corner. When in Palestine, you can find many different salads as well. The produce is incredibly fresh and tasty in Palestine. Another popular food in most Levant countries is Manakish. Manakish looks similar to a pizza and is most commonly topped with za'atar. However, it can consist of other toppings as well, including cheese or meet.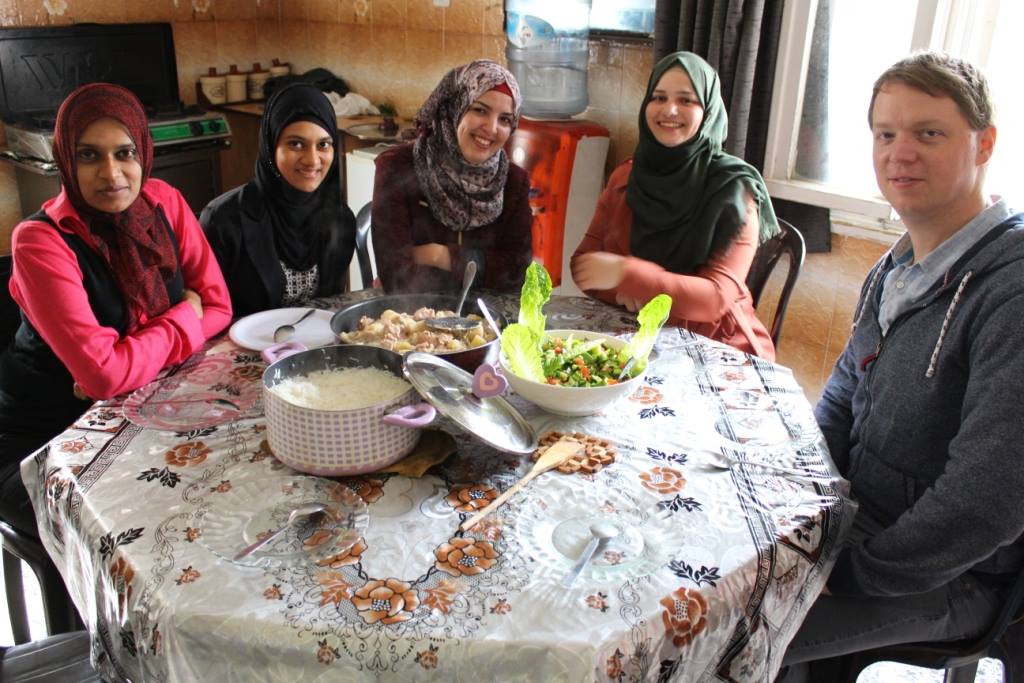 Maqloubeh, which means "upside down," is a widely famous dish in Palestine as well. It is a one-pot rice dish with various spices, vegetables, and meat. You may also try studded grape leaves while in Palestine. These soft rolls are stuffed with rice, spices, herbs, and sometimes meat. Should you want a snack throughout the day, you cannot go wrong with hummus or baba ghanoush with pita.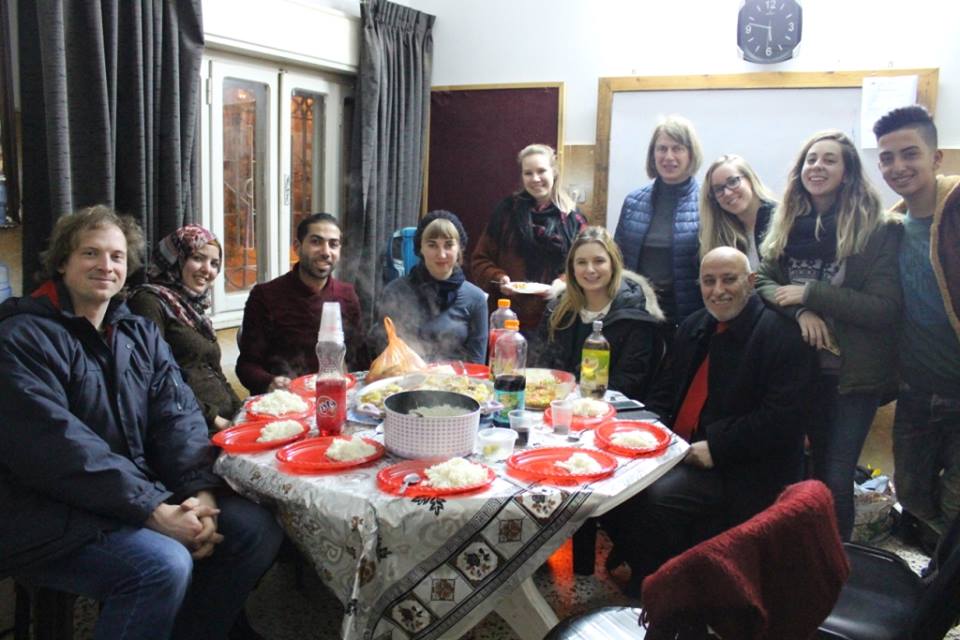 If you go into the home of a Palestinian, you are sure to be served snacks such as nuts, cookies, pastries, or fruit. Speaking of sweets, we hope you have a sweet tooth. Palestinians don't mess around when it comes to their sweets. Kanafeh is a very famous dessert in Palestine, though it is especially associated with Nablus. Should you find yourself in Nablus, be sure to get some kanafeh. Another famous sweet is baklawa. Filled with chopped nuts and sweetened with honey, these tasty treats are commonly found in Palestine.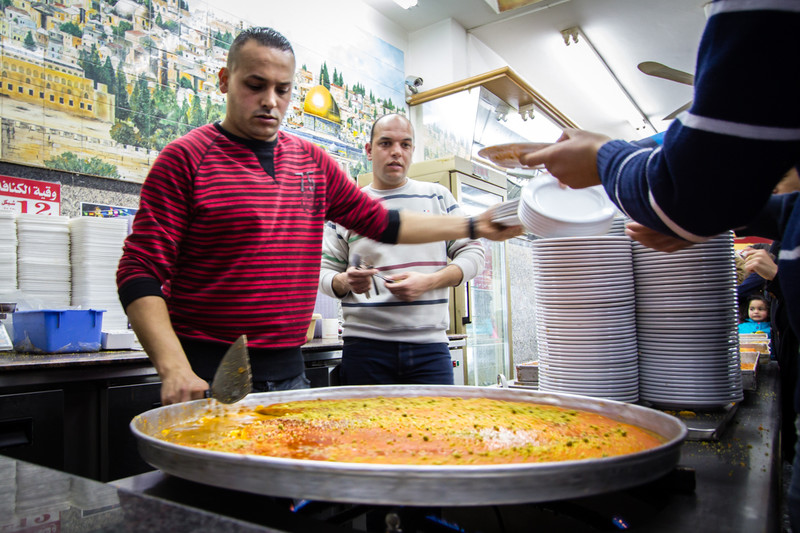 There are many dishes that are favorites in Palestine. Food is a huge part of the culture and any gathering will involve some type of meal or snack and, of course, coffee or tea. The Palestinian diet does not consist of many processed foods and travelers tend to enjoy the clean, unprocessed meals that are found here. We have a feeling you will too.