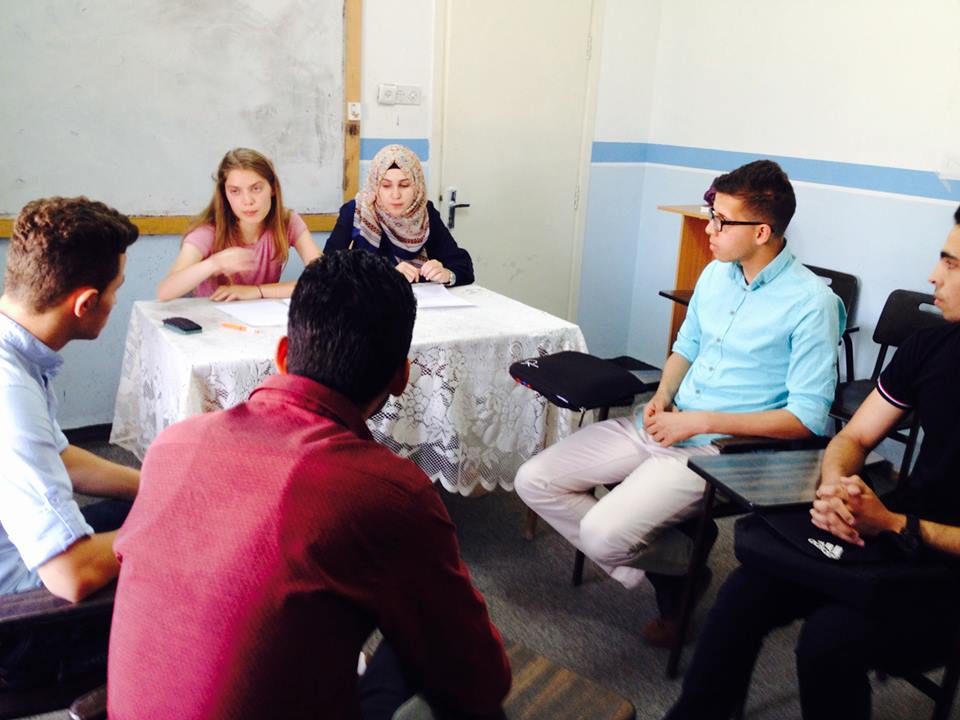 On Tuesday afternoon the Excellence Center conducted interviews to select students for the next English Club organized by the center. The English Club is a great opportunity for intermediate level English students to practice their conversational English skills, because students in Palestine have limited opportunities to use their English informal settings.
The interview day was immensely popular as over 40 students participated in the selection process. Out of this group, some 25 students were selected for the English Club based on their English level. The selection interviews were carried out by a group of international volunteers from two different continents, Caelan from the United States, Francesca from Italy, and Matti from Finland.
The locals students came from a variety of different backgrounds, but most of them were first and second year university students. Some study English and Literature at university, while others were engineering or accounting students.  As Francesca from Italy put it, "It is a truly amazing experience to meet so many young Palestinians from so many different backgrounds". The students' English level also varied from person to person. Some were beginners while others were more advanced. As Caelan – a volunteer who studies Arabic at the center – put it, "If my Arabic was even half as good as the English of some of these kids, I would be so happy".
The English Club will be organized twice a week for a period of one month. International volunteers from a variety of countries and backgrounds, such as Scotland and Kosovo, will organize each club session. The English Club will cover a multitude of different topics selected by the international volunteer organizers. As David, 26 form Scotland said, "Finally, I have an opportunity to each other people about the wonders of Scotland. We are so much more than the Loch Ness Monster and bag pipes".
By providing an informal setting to practice English, the students will have the opportunity to discuss topics which interest them and are relevant to their daily lives and future aspirations. Making students learn vocabulary that is relevant to their lives and personal to them, improves their ability to quickly learn new words and phrases. The English Club serves as a great example of the Excellence's Center use of non-traditional and innovative teaching methods.