English Club Concludes with "Food Day" Celebration
|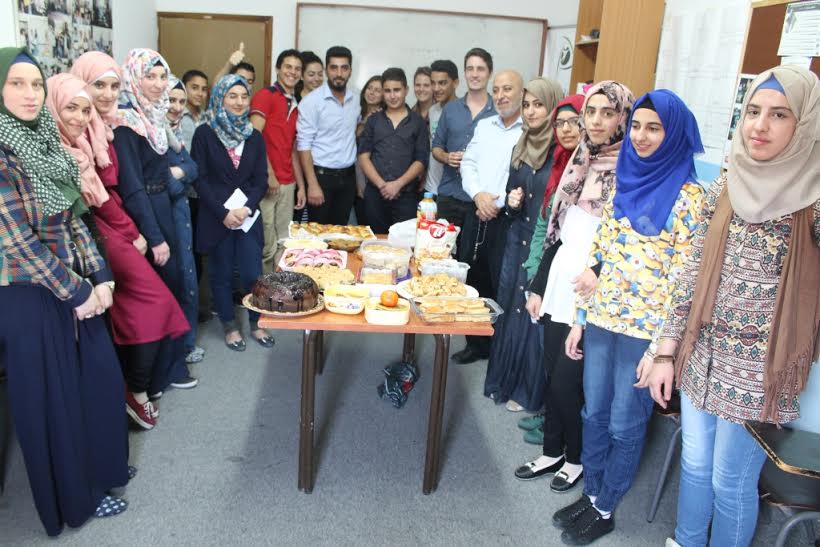 On October 17th the Excellence Center's English Club held a special "Food Day" to commemorate the conclusion of the season, and to celebrate the achievement of its students.
The English Club has met at the Excellence Center weekly, with lessons and discussion topics organized by international volunteers from Belgium, England, and America. Of the thirty-four students ages 15-17 who participate in English Club, twenty students have completed twenty hours with the club, and will receive a certificate recognizing their dedication and success.
At the beginning of the "Food Day" celebration, volunteer Monica from America gave a presentation on common foods and food categories in the United States. Next, students gave presentations in English, on popular foods in Palestine. Volunteers discussed the presentations with students, reviewing English words that students were unfamiliar with, and asking questions about Palestinian recipes. Finally, to conclude the lesson, students brought out traditional Palestinian dishes that they had prepared at home to share with their peers and teachers. Students and volunteers ate together, enjoying the many delicious offerings.
"Ahhh…my stomach," moaned volunteer Jan from Belgium contentedly after feasting, proudly declaring that he had tried every dish. The volunteers were thrilled to have the opportunity to consume so many different Palestinian delicacies, and students were excited to teach the volunteers about their culture through food. The event was a good conclusion of English Club for the season, typical of the Excellence Center's interactive approach to education.