Cooking Course in Palestine: Are you interested in coming to Palestine? Do you have a passion for cooking and a particularly appreciate for cultural cuisine? Do you want to experience life with a Palestinian host family? If you answered 'yes' to the questions above, then we have a wonderful experience waiting for you in Hebron, Palestine. The Excellence Center is looking for someone with an interest in cooking, culture, and Palestine to participate in our Cooking in Palestine Program. If you are planning a trip to Palestine or Israel, consider visiting Hebron for a few days to gain a rich and authentic cultural cooking experience at the Excellence Center.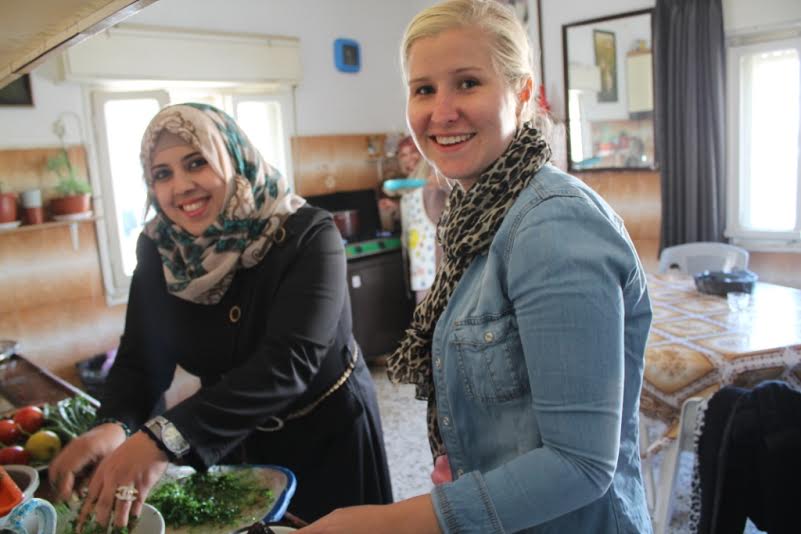 Brief Information about the Program
As a participant in this program, you will spend your days experimenting in the kitchen as you learn how to create tasty, traditional Palestinian meals. Maqluba, mansaf, hummus, falafel, Arabic coffee, and tea are only a few of the possibilities. We will walk you through, step by step, how to prepare the most famous Palestinian dishes. By the time you complete the program, you will walk away with satisfied taste buds and new recipes to add to your collection.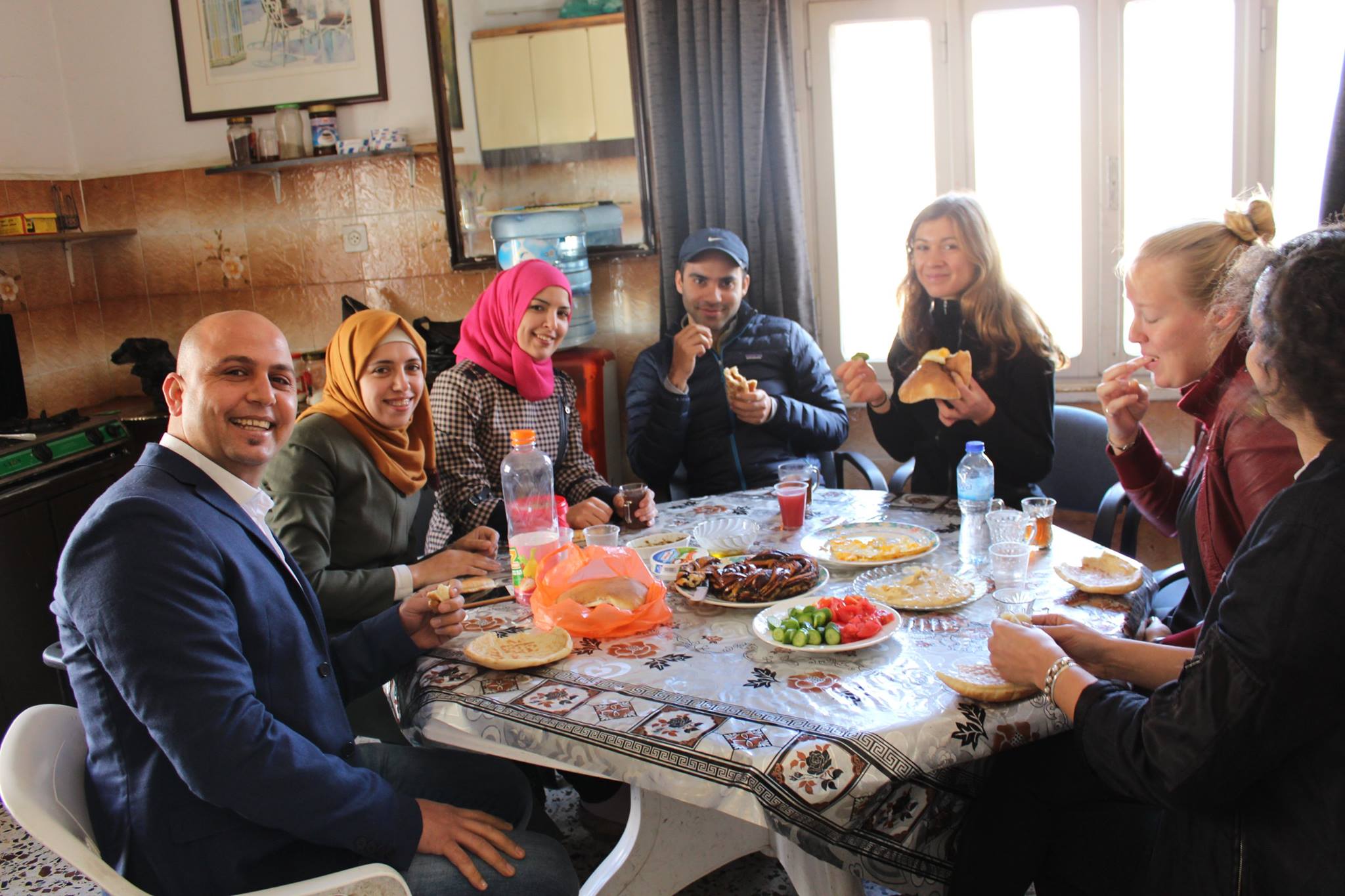 Food is a central part of Palestinian culture. Much of the gathering occurs around the table for a shared meal and great conversation. With this program, not only will you gain knowledge about Palestinian cooking, culture, and customs, but visitors have the opportunity to live with a host family during their stay in Hebron. Host families provide an exciting way for visiting internationals to learn more about Palestinian culture, meet new people, and improve their Arabic language skills.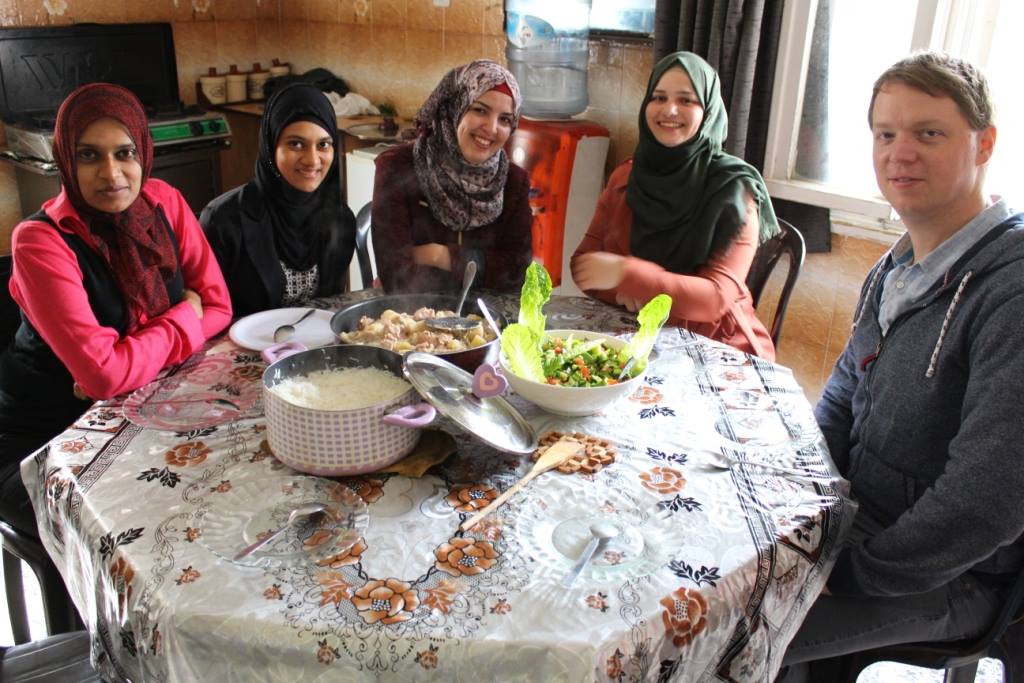 You can join the Excellence Center at any time throughout the year. We will work with you to find a time that suits you best. With this program, you choose when you would like to start and end your cooking adventure in Palestine. If you are in the midst of planning a trip Palestine, consider staying a day, two days, or several days in Hebron for a one-of-a-kind cultural cooking experience. From your first meal, our hope is that you would enjoy your time in Hebron with the Excellence Center.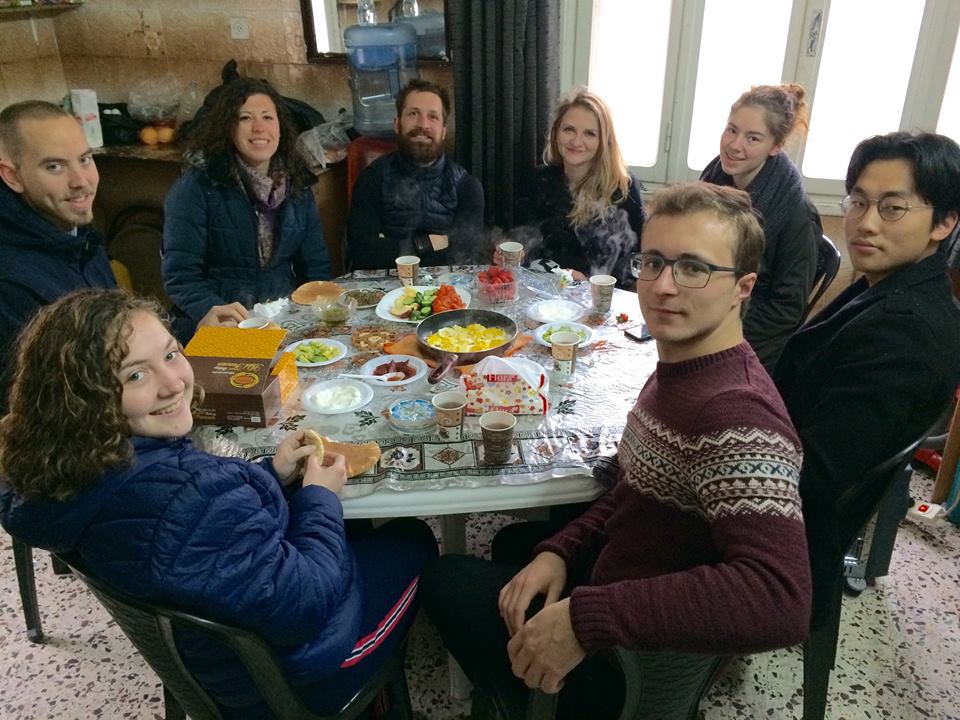 Location of the Program: Hebron, Palestine
Project Length: 1 day to 7 days
Arrival Airport: Ben Gurion Airport (Tel Aviv, Israel)
Age: 18-70
Program Fees: 400$ a week 
The Cooking Course in Palestine fees include: pre-departure support, accommodations with a local host family, breakfast, assistance and coordination while residing in Palestine, three hours of Arabic lessons, and some visits to different sites in the city of Hebron.
As stated above, the program fee will include 3 hours of private Arabic lessons. If you are interested in continuing to study Arabic after the Cooking in Palestine Program comes to an end, then we at the Excellence Center are more than willing to organize this for you. At the Center, we host Arabic students year-round who come to Palestine to enhance their language skills.
Traveling to Palestine on your own?
No worries, you've come to the right place!
You will easily meet many Palestinian university and school students as well as community members with a variety of interests. Especially in Hebron, Palestinian people love to meet new people from different cultures and exchange ideas and experiences.
Moreover, the Excellence Center hosts many international visitors from all over the world who will be studying, volunteering, visiting or interning at center. Of course, you will engage with them in some educational and community activities that the Center organizes.
Everyone at the Excellence Center – Palestinian students, international visitors, and staff – are like one family and there are always activities to do together. Hebron is a good place for international visitors to stay at and offers a great social atmosphere
Which Airport Should I Start Checking for Flights to Palestine?
The easiest way to get to the Excellence Center in Hebron, Palestine is to fly to Tel Aviv Airport (Israel). It takes about two and half hours from the airport to the Excellence Center in Hebron via shared Taxi.
You can also fly to Amman, Jordan and then cross to Palestine, but it takes more time and is more expensive.
Visa to Palestine 
Upon your arrival at Ben Gurion Airport (Tel Aviv Airport), Israel, you will be granted a tourist visa valid for 90 days. There is no need to obtain a visa ahead of time.
How to get further information
Should you have any questions about our Cooking Course in Palestine, please do not hesitate to contact at Rafat@excellencenter.org
Whatsapp:+972599479880
Instagram: www.instagram.com/theexcellencecenterinpalestine/
For more information, please visit our website: http://excellencenter.org
Excellence Center's Facebook page: https://www.facebook.com/ExcellenceCenter
Excellence Center's Facebook account: https://www.facebook.com/RafatECHebron
Watch us on Youtube: https://www.youtube.com/channel/UCsQSLdFZWZcBm6Uj0XMYuKg
Visit and Explore Palestine: https://www.facebook.com/ExplorePalestine