Cara from the US: I Would Like to Help Palestinians to Learn English
|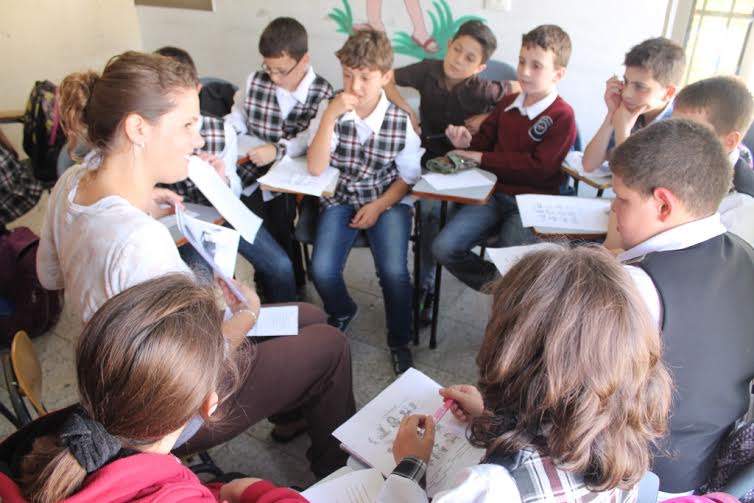 Cara VanDusen started to volunteer at the Excellence Center in October 2015, she would like to share her interests and motivation to participate in the Volunteer in Palestine Program:
"This morning I arrived in Hebron, ready to begin one month with the Excellence Center's Volunteer in Palestine program. I have only been here a few hours but have shared a meal with the staff and volunteers here, already experiencing their friendliness and hospitality. I am so excited to see what my time in Hebron holds, and to be a part of the work here at the Excellence Center.
I have always been interested in learning about and experiencing different places and cultures, but recently have become especially interested in Arab and Muslim cultures. My Christian faith is important to me, as is Christ's command that we should love our neighbors. Unfortunately, however, most Christians in America do not seem motivated to understand or to spend time with their Muslim neighbors. By volunteering in Hebron I hope to build friendships and gain a better understanding of the Palestinian people, perspective, and way of life. I know that the conflict here in Palestine is important to Arab peoples around the world, and I feel that this is an especially meaningful place to experience life in the Middle East.
I am a psychiatric nurse in the United States and do not have any formal experience in teaching, but am eager to assist the English teachers here at the Excellence Center and to help wherever I might be useful. Being from the United States, I am able to give local students the opportunity to practice speaking English with a native speaker. In addition to learning from the people here I also hope to promote cross-cultural understanding, encouraging students I work with to ask questions and gain a deeper understanding of my own culture and life. I am thankful to the Excellence Center for giving me this opportunity to both work with and to learn from the people of Hebron".