"My stay in Hebron lasted for about two months and the first three weeks were spent learning Arabic at the Excellence Center. I was attracted to the Study Arabic Intensive Program for three reasons :
– a one-to-one teacher
– living in a host family
– cultural activities in the city
… and I was absolutely not disappointed! The people there are warm, welcoming, friendly and laid-back. They took me under their wings right away so I did not feel any homesickness. They are simple and at the ready if we need anything, and they still display a strong professional behavior in their programs and services. I loved my Arabic teacher with whom I had many interesting conversations. I learned as much about the language as I did about the culture, and being hosted in a Palestinian family was perfect for practicing Arabic, and meeting Palestinian people. I've made great friends there thanks to the people I met through my host family.

Hebron is a fascinating place due to its rich history and its wonderful inhabitants.The beauty of the old town leaves you speechless and humbled. The fact that it is still inhabited makes for some extraordinary sight and experiences. For instance, I have been driven around there in a car and I still can't quite get over how that was possible … the roads are so narrow. Go see and you will know what I mean. That's the sort of fun experience you can enjoy there – and not the least.
Unfortunately it is also invaded by human garbage (israeli soldiers and settlers). As internationals, we are safe there – but it is very important to go and witness the disastrous realities of the occupation. Choosing to visit Palestine is not a random choice – and Hebron is the only city in the West Bank that has settlements within. You can read a thousand books about it but once you get there and see for yourself the settlers having a nice walk around the part of town they stole, wearing rifles on their backs like normal, and the soldiers protecting them and monitoring and intruding on every aspects of Palestinians lives at best (and at worse…), you just cannot fathom how such a thing can be. In short, if you have the will and the means, do take this course. It is worth it – for the mind, the heart and the intellect". Caroline from France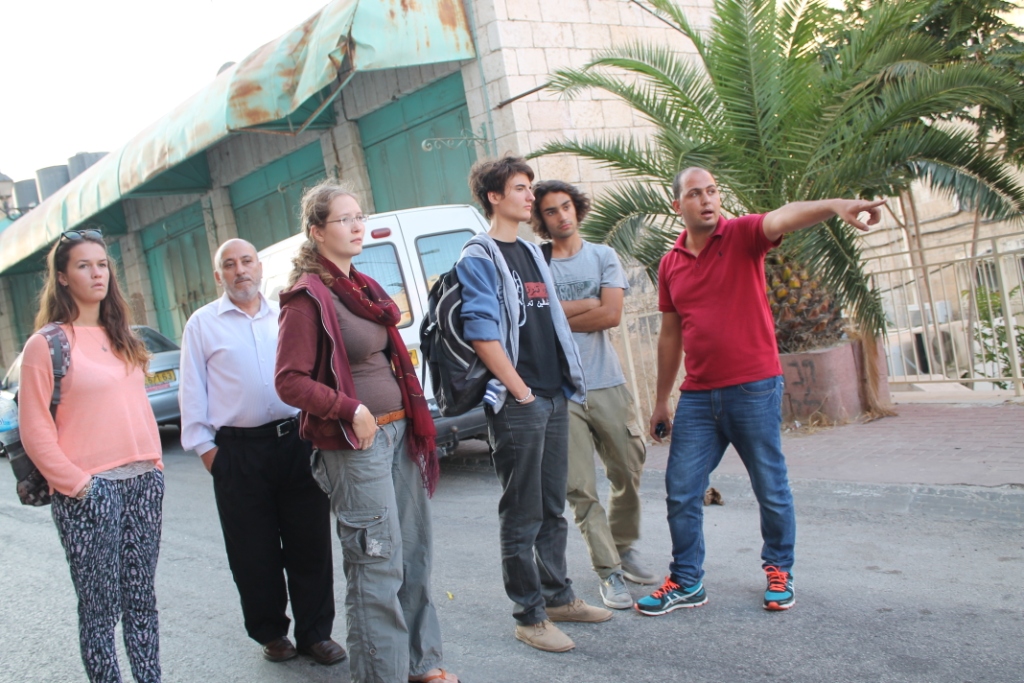 "During my stay in Hebron, I learned a lot: because of my stay at a local Arab host family, I learned a lot about Palestinian culture and family life. Due to the visits with the center manager to various sites of interest in the city, I also learned specific things about Hebron, such as handicraft. Also I learned about the difficulties caused by the settlements in the middle of the city. Visiting certain controversial places was very interesting and educative, but also a very impressive and intense experience. The Arabic course was very good, I learned a lot because I studied several hours per day". Heidi Berkes form the Netherlands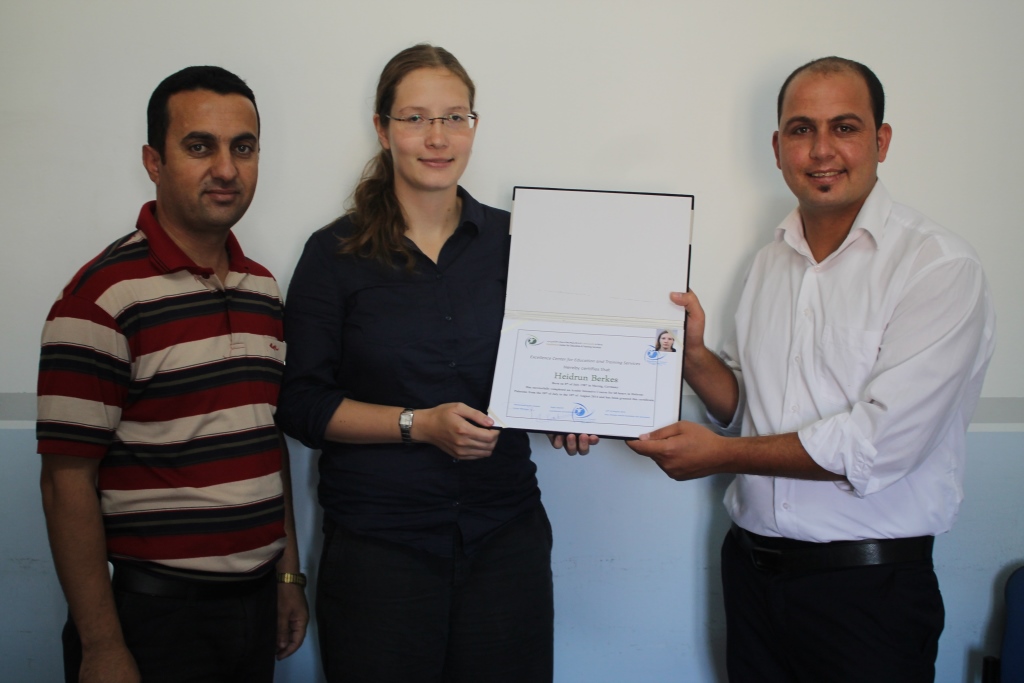 "My journey to Hebron was one that I know I will remember for a very long time. I met the most amazing and kind people, from my teacher and the staff at the Excellence Centre to my host family. I would have to say that the highlight of my trip was the people that I met. The Centre are very accommodating and willing to make your studies as comfortable as possible for you. I had already studied Arabic prior to my trip to Palestine, so my teacher chose books that matched my level of knowledge. The city itself is beautiful, (especially in Ramadan!) and has tons of history for you to explore. The Centre organise loads of trips to various sites in and around Hebron for their students, which was brilliant, and my teacher would adjust my lesson times whenever I wanted to travel to other cities. Each volunteer/student that I met told me their host family was the best, and I still think the same about mine. I couldn't recommend this programme, the Centre or the country enough, I'm already mentally planning another trip!". Naadirah from the UK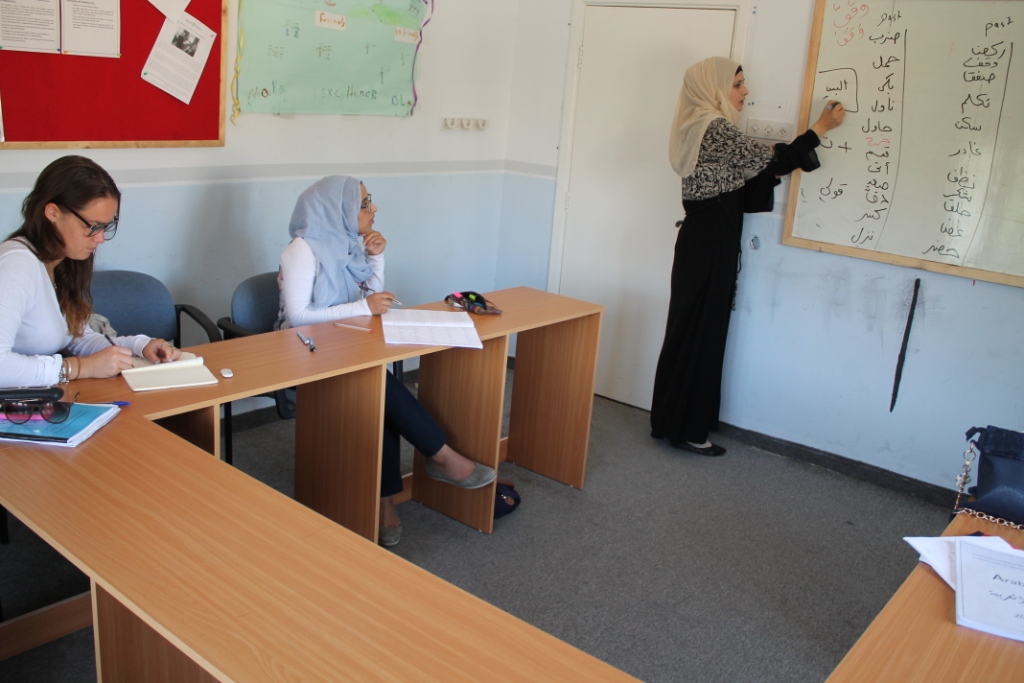 "I spent a month learning arabic in Excellence Center, I didn't expect the staff and people in the place to be so welcoming, so that, added to the fact of seriousness about teaching and commitment to making people feel comfortable, makes a perfect mixture for anyone to be in a superb environment for learning arabic, whatever the level might be. Apart from the learning program, living in Hebron and getting to know Palestine is an experience itself, one really worth it, and the center provides means for that, and much more". Aitor from Basque Country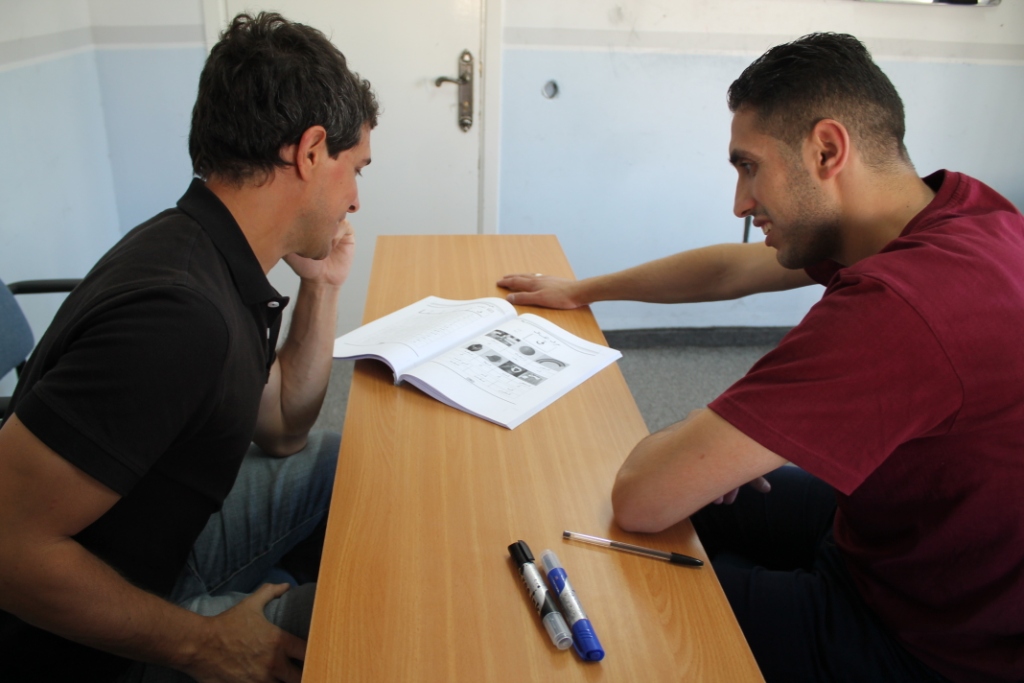 "I had a wonderful week at the Excellence Center in Hebron. My host family was very nice and they tried very hard to speak a lot of Arabic with me and my friend. Everybody at the Center was very welcoming and some trips were also included in the program. As there are not so many tourists in Hebron, it is a great city to get to know Arabic culture which is not yet spoiled like other mass touristic areas. People were very friendly there and it is great to practise your Arabic skills."  Christine Gruener from Austria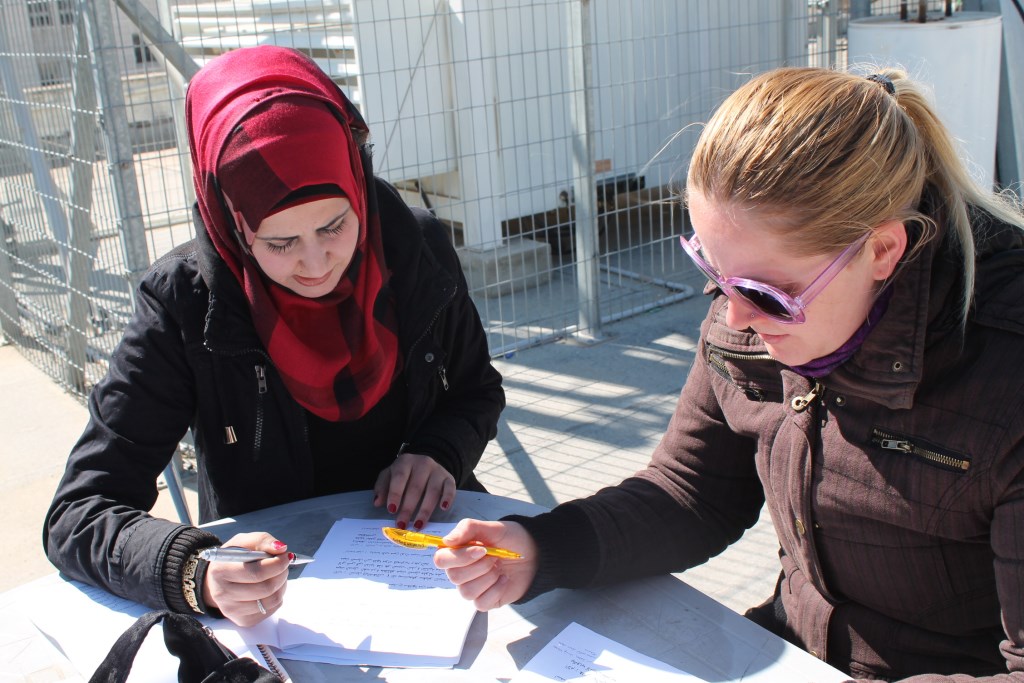 "It was one of those things …. I wished on Internet and found exactly what I was looking for … a month living with a family in Hebron, custom made Arabic lessons and good company to show me around. After a chat on Skype, Rafat of The Excellence Center arranged for all of that and more; for a great teacher, who was also a very special person; a wonderful family who welcomed me into their home and who let me share their lives, their wonderful food, their families; and a 'guide' and a friend with whom I went around the Hebron area to see the interesting and important sites and places. I am very grateful for this unforgettable month … and Hebron and the Excellence Center have not seen the last of me !!!!". Francesca Koomen from Netherland